Coast Guard commissioning pair of combat-ready cutters
by
Wyatt Olson
August 23, 2019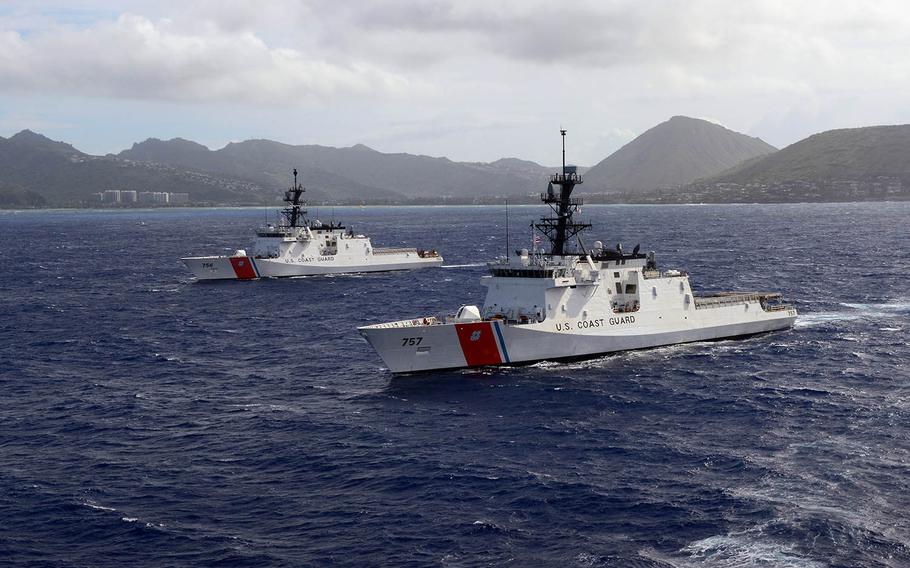 FORT SHAFTER, Hawaii — The U.S. Coast Guard will hold a dual-commissioning ceremony for two Legend-class national security cutters Saturday at U.S. Coast Guard Base Honolulu.
U.S. Coast Guard cutter Midgett arrived in Honolulu from Pascagoula, Miss., on Aug. 16, joining its sister ship U.S. Coast Guard cutter Kimball, which has been in Hawaii since December.
This new generation of cutters is designed to perform a wide range of missions beyond the Coast Guard's traditional search-and-rescue work, such as homeland security and defense.
They are replacing the 378-foot, high-endurance Hamilton-class cutters that have been in the Coast Guard fleet for more than 50 years.
National security cutters are much longer, at 418 feet, with a top speed of more than 28 knots, or about 32 mph. They have a range of 13,800 miles and hold a crew of up to 160. They can stay at sea for three months.
Two Legend-class cutters, the Bertholf and the Stratton, have tag-teamed one another the past year in deployments to the western Pacific Ocean, where they and their crews served with the U.S. Navy 7th Fleet based in Japan. The ships have taken part in training exercises with Pacific island nations and helped enforce United Nations sanctions on certain commodities, like coal, headed for North Korea. The Bertholf in March passed through the Taiwan Strait, along with a guided-missile destroyer.
When the Kimball arrived in Hawaii last year, the Coast Guard touted the new Legend class as ready for actual combat. They are "the flagships of the Coast Guard's fleet, capable of executing the most challenging national security missions, including support to U.S. combatant commanders," the Coast Guard said in a new release then.
They are armed with a 57-millimeter gun, which can fire more than 200 rounds a minute and can be used against a high-speed, maneuvering surface vessel. Other arms include a 20-millimeter gun and four .50-caliber machine guns.
The Midgett and its crew did not wait for commissioning to begin proving the value of the beefed-up cutters.
During its sojourn to Hawaii, the Midgett busted two go-fast vessels in separate incidents on July 25 and 31. The crew seized a combined 6,700 pounds of cocaine, estimated to have a street value of more than $89 million.
"The national security cutter gets you further faster and delivers more capability once on-scene than any other cutter in the history of our service," Capt. Alan McCabe, commander of the Midgett, said in a news release after the seizure. "I am incredibly proud of the crew's efforts making these two seizures possible, and we are eager to conduct future operations throughout the Pacific."
olson.wyatt@stripes.com Twitter: @WyattWOlson