Clinton embraces US exceptionalism, veterans issues in American Legion speech
by
Travis J. Tritten
August 31, 2016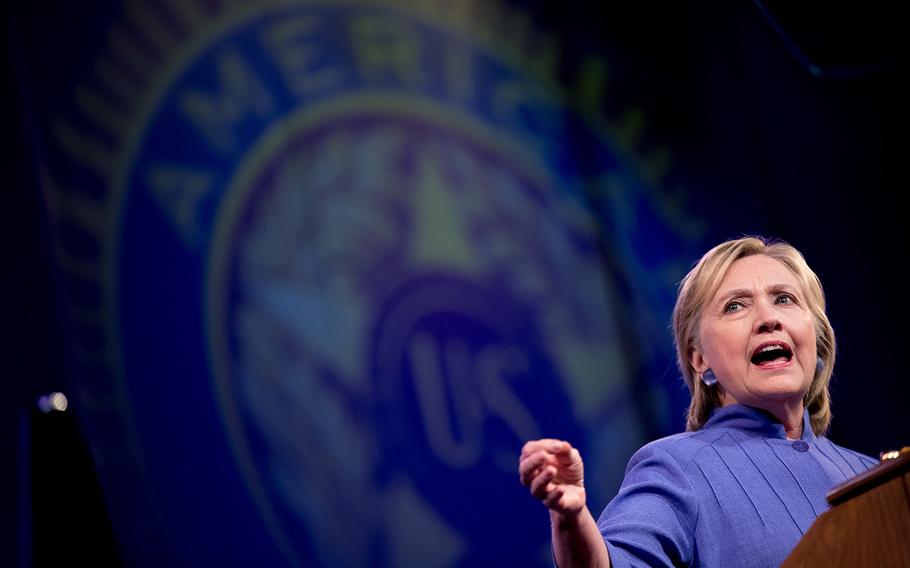 WASHINGTON — Hillary Clinton appealed to Republican veterans in Ohio on Wednesday, saying that the United States remains an exceptional nation and top global leader but Donald Trump is threatening to undermine its standing.
The Democratic presidential nominee, speaking to an American Legion convention in Cincinnati, said Trump kowtows to Russian President Vladimir Putin and would risk international alliances forged by American troops who fought and died — two issues that have rankled members of Trump's own party.
She said her own experience as secretary of state and senator make her the right choice to guide the country and its relationship with the rest of the world.
Dozens of Republican foreign policy experts who back a more traditional role for the United States abroad have come out against Trump due to the GOP nominee's brash foreign policy proposals and incendiary rhetoric. Trump's campaign has resonated most strongly with voters who want to see a major shakeup in American policies and governing.
Clinton took the opportunity before a politically mixed crowd of veterans to appeal repeatedly to anxious Republicans in a bid to draw supporters from the party.
"Now, I know some of you are Democrats and some of you are Republicans and some of you are Independents," she said. "I suppose there are some of you who have never voted for a Democrat before, I get that . … We can disagree without being disagreeable."
Clinton said her career in the Senate and State Department was based on the concept of American exceptionalism, which posits that the country is so powerful and influential that it has a responsibility to lead.
Veterans have a unique appreciation of the concept, Clinton said.
"Now, all of this may seem evident, especially to men and women who have worn the uniform," she said. "You may wonder how anyone could disagree, but in fact my opponent in this race has said very clearly that he thinks American exceptionalism is insulting to the rest of the world."
It was an apparent reference to comments made by Trump to CNN in 2013, which made new headlines in August.
During the cable news interview, Trump praised an op-ed by Putin in the New York Times that criticized U.S. foreign policy in the Middle East, and Trump called President Barack Obama's reference to American exceptionalism "very insulting" to other nations.
On the campaign trail, Trump has criticized Clinton and Obama for weakening the country's standing around the world and failing to defeat the Islamic State group. He has vowed to press for better deals with allies and said he might not honor the NATO alliance unless members pony up more military funding.
Clinton sought to contrast Trump's foreign policy proposals — and the Republican divisions surrounding them — with her own experience as a senator from New York who sat on the Armed Services Committee for about six years and secretary of state under Obama.
The Iran nuclear deal, reductions in Russian nuclear weapons and a national coalition to fight the Islamic State group without getting the United States involved in another group war in the Middle East have all been successes of American foreign policy during that period, according to Clinton.
"You don't build a coalition by insulting our friends or acting like a loose cannon," she said.
At one point in the speech, Clinton walked the audience through her experience sitting beside Obama during the 2011 Navy SEAL mission to kill al-Qaida founder Osama bin Laden.
Clinton also addressed a raft of veterans issues.
As in past speeches, she pledged to reduce the national epidemic of suicides, help veterans get civilian jobs, put more resources into post-traumatic stress and traumatic brain injury treatment, and protect the Department of Veterans Affairs health care system from privatization.
"We are going to reform and strengthen [the VA], not privatize it," Clinton said.
Trump was scheduled to address the convention on Thursday following a trip Wednesday to Mexico, and both candidates are set to take part in a rare veterans' issues forum next week sponsored by Iraq and Afghanistan Veterans of America.
In July, they addressed the Veterans of Foreign Wars national convention in Charlotte, N.C., and the presidential campaign is again shining a spotlight on veterans as it barrels toward the fall.
On Wednesday, Trump met with Mexico President Enrique Pena Nieto amid public backlash over Trump's plans to deport 11 million undocumented residents from the United States and build a wall along the border -- paid for by Mexico. He has also said he might try to renegotiate the NAFTA trade agreement.
Trump was also set to make a speech in the United States to clarify his immigration policy proposals, including deportation plans that have been a cornerstone of his breakout candidacy.
tritten.travis@stripes.com Twitter: @Travis_Tritten