Civil rights groups sue Trump over transgender ban
by
Nikki Wentling
August 28, 2017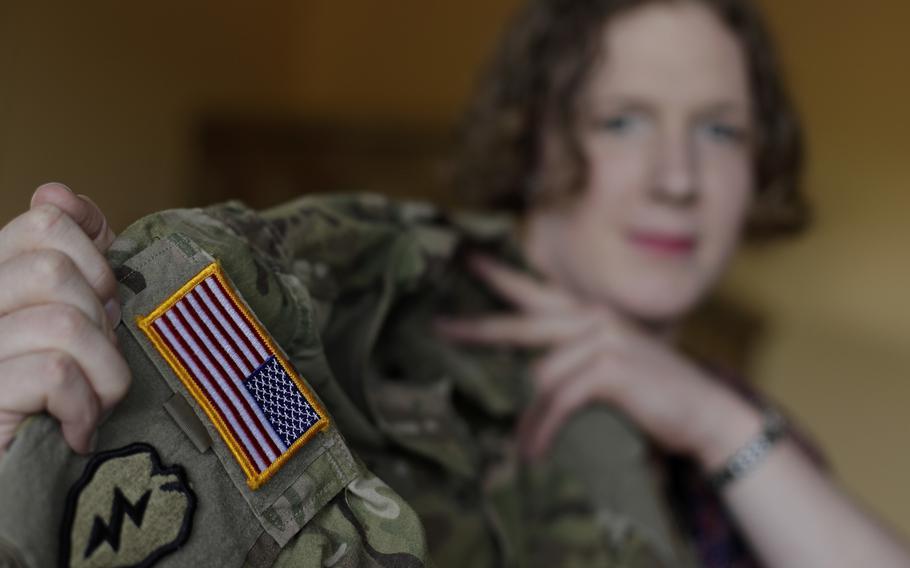 WASHINGTON – The American Civil Liberties Union and two LGBT rights groups filed lawsuits Monday against President Donald Trump over his new ban on transgender servicemembers.
Lambda Legal and OurServe-SLDN filed a challenge U.S. District Court on behalf of one current transgender servicemember and two transgender individuals who want to join the military. It argues that the ban violates the Equal Protection Clause of the Constitution, as well as due process and free speech.
The ACLU filed its complaint on behalf of five current transgender troops, also citing violations of equal protection and due process. The lawsuits ask that the courts issue an order preventing the Defense Department from implementing the ban.
An Aug. 25 White House memorandum, signed by Trump, gave Defense Secretary Jim Mattis six months to implement a policy barring transgender people's entry into the military. It also directs Mattis to stop spending on sex-reassignment surgeries, except for servicemembers already in treatment. The Pentagon previously provided sex-change operations to transgender servicemembers when it was deemed medically necessary.
Plaintiffs in both lawsuits called the ban discriminatory and un-American.
"It is an unconscionable and unconstitutional breach of trust for the president to single out brave transgender servicemembers and able recruits for discrimination," said Sarah McBride, press secretary for Human Rights Campaign, which joined Lambda Legal and OutServe in their complaint. "The harm that this administration is causing to both these courageous Americans and our national security must be stopped."
Transgender servicemembers were granted the right to serve openly in June 2016, under President Barack Obama's administration. Trump first made known his intentions to reverse the policy and ban transgender servicemembers in a three-part tweet on July 26. He cited costs and disruption to military units in justifying his decision.
"After consultation with my Generals and military experts, please be advised that the United States Government will not accept or allow Transgender individuals to serve in any capacity in the U.S. Military," the president tweeted. "Our military must be focused on the decisive and overwhelming victory and cannot be burdened with the tremendous medical costs and disruption that transgender in the military would entail. Thank you."
The ACLU included screenshots of those tweets in its lawsuit. The organization argued Trump's decision was not based on studies or consultation with military officers. The ACLU accused Trump of using it to gain political points with conservative legislators to get more votes for his proposed wall on the Mexico border.
"The Trump administration has provided no evidence that this pronouncement was based on any analysis of the actual cost and disruption allegedly caused by allowing men and women who are transgender to serve openly," the ACLU complaint states.
Researchers behind a 2016 Rand Corp. study estimated there were 2,450 active-duty transgender servicemembers and 1,510 in the reserves.
The ACLU lawsuit includes servicemembers at various stages of sex reassignment. Army Staff Sgt. Kate Cole, 27, is going through hormone therapy and is scheduled for surgery in a few weeks deemed medically necessary for her transition, according to the lawsuit. Navy Petty Officer First Class Teagen Gilbert, 31, was planning to seek approval for sex-reassignment surgery. Navy Petty Officer First Class Brock Stone, 34, is close to finalizing his transition and was expecting to have surgery in 2018.
Cole, Gilbert and Stone have all completed deployments in Afghanistan.
The Lambda Legal and OutServe lawsuit was filed on behalf of 22-year-old Ryan Karnoski of Seattle and a 16-year old in Corpus Christi, Texas – both of whom are transgender and want to join the military.
Another plaintiff, Staff Sgt. Cathrine Schmid, 33, has served in the Army for more than 12 years and has applied to become a warrant officer. According to the lawsuit, she was informed after Trump's tweets that her application was put on hold.
"Thousands of transgender servicemembers are serving honorably in this country's Armed Forces," the ACLU lawsuit states. "Some perform critical roles in intelligence analysis, disaster relief, medical care and pre-deployment training. … Others have deployed to combat zones. All have answered the selfless call of service to our nation by putting themselves in harm's way to protect the rights and freedoms fundamental to this country."
Earlier this month, five transgender servicemembers filed another lawsuit against Trump and top pentagon officials challenging the ban. They were identified only as "Jane Doe" Nos. 1-5.
The suits were filed in Washington state, the District of Columbia and Maryland.
On Aug. 1, 56 retired generals and admirals argued against the ban, claiming it would harm military readiness.
It's also drawn ire from Democrats in Congress. In a statement, Sen. Tammy Duckworth, D-Ill., a former Army helicopter pilot, said, "When I was bleeding to death in my Black Hawk helicopter after I was shot down, I didn't care if the American troops risking their lives to help save me were gay, straight, transgender, black, white or brown."
Republican Sen. Susan Collins, R-Maine, signed a letter with Democrats in July, urging Mattis to stand against the ban. Sen. John McCain, R-Ariz., chairman of the Senate Armed Services Committee, has also criticized the reversal in policy.
Wentling.nikki@stripes.com Twitter: @nikkiwentling