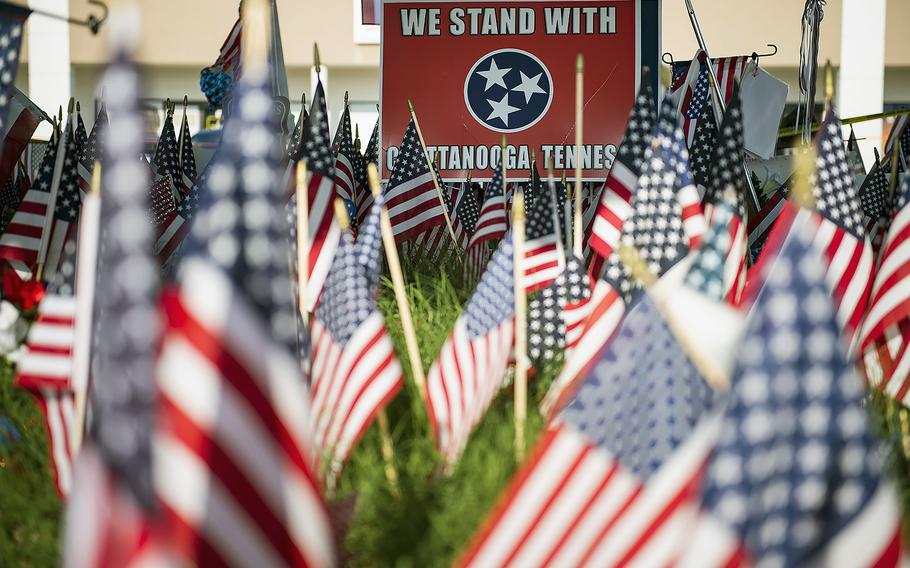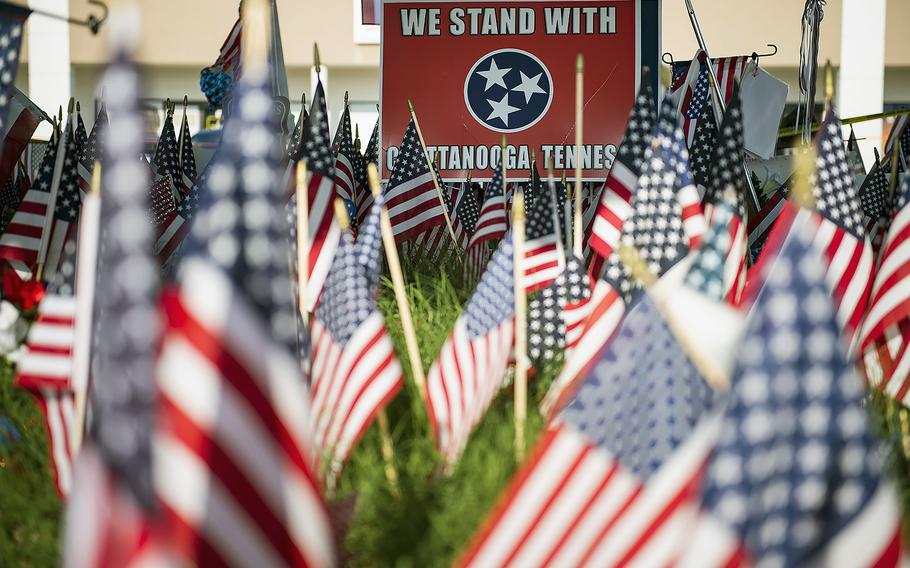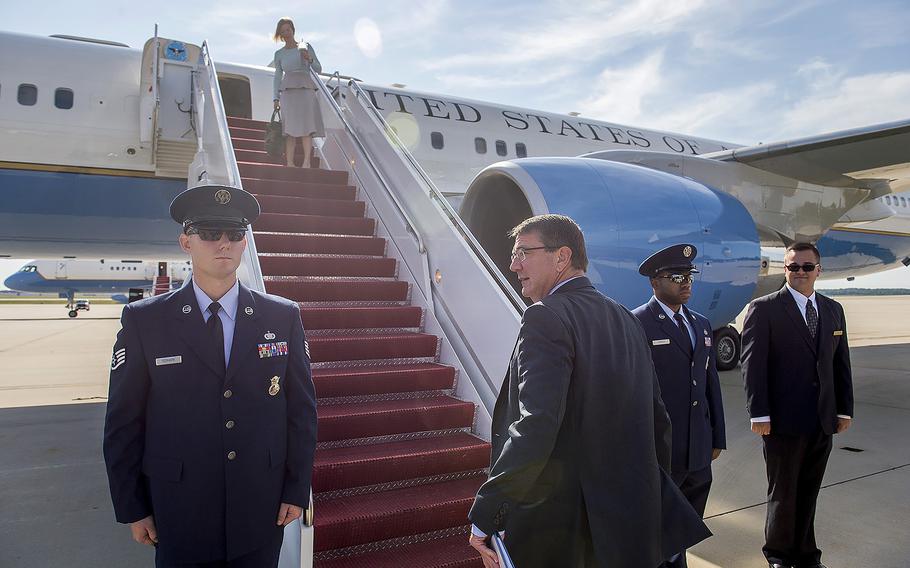 CHATTANOOGA, Tenn. — On a gray and rainy Saturday, Chattanooga gathered once more to honor its five slain servicemen and their grieving families, and acknowledge a community forever changed by a lone gunman one month ago.
The July 16 ambush at the Naval Operational Support Center took the life of Navy Logistics Specialist 2nd Class Randall Smith, 26, husband to Angie and father to three young girls, Lyla, Ella and Kyla.
The gunman also took the lives of four Marines. Lance Cpl. Squire K. "Skip" Wells, 21, had become a Marine just eight months before. Sgt. Carson Holmquist's wife, Jasmine, and young son, Wyatt, had welcomed the 25-year-old home from his most recent deployment to Afghanistan in May. Staff Sgt. David Wyatt, 35, and his wife Lori had been married 10 years and had two children, Rebecca and Heith. And Gunnery Sgt. Thomas Sullivan was a Marine who'd already earned two Purple Hearts in combat in Iraq, and was a beloved son and uncle in his Springfield, Mass., community.
"We come together as fellow citizens to honor these five fallen patriots. To mourn with those who loved them," said Secretary of Defense Ash Carter, as he, Vice President Joe Biden, new Chairman of the Joint Chiefs of Staff Joseph Dunford, Secretary of the Navy Ray Mabus and several thousand others paid tribute in a national memorial service for the men.
Five battle crosses, four with sand-colored Marine combat boots and one with the dark black boots of the Navy stood alone and silent center stage, with portraits of the lost men above them. In the many rows above two sailors in dress whites stood watch the entire time in section 204 of the Chattanooga arena.
"The meaning of their killing is yet unclear, what combination of disturbed mind, violent extremism, and hateful ideology was at work, we don't know. Perhaps it will never be fully known," Carter said. "But I do know this … that those who attempt to inspire fear or terror will find no satisfaction, have no success, in the United States of America. Instead, we come back – we come back from tragedy – stronger and more united than before."
All five were killed when Mohammad Abdulazeez, 24, fired on the Naval Operational Support Center in Chattanooga. Abdulazeez forced his way onto the facility after shooting at a nearby military recruitment center, where Marine Sgt. DeMonte Cheeley was shot in the leg. The shooter then led police on a chase to the operations support center. Abdulazeez entered the facility with an assault rifle and handgun, killing the five before he was shot and killed by law enforcement.
During the ceremony, more details both heartbreaking and honorable emerged. Mabus revealed that Sgt. Holmquist's widow is expecting their second child. The commanding officer of the Marine unit training at the base that day, Maj. Michael Abrams of Battery M of 3rd Battalion, 14th Marines, noted that several of the Marines responded to the gunfire by rushing to protect children at a nearby playground, "and quickly moved the families out of harms way."
"In the chaos of that moment they were selfless," Abrams said. "They were not victims, they were Marines."
Biden, who recently eulogized his own son, Army National Guard Maj. Beau Biden, was emotional during his speech, telling the Chattanooga families, while he had not met their lost soldiers, "I knew them; they were my son."
Serving their country, Biden said, "was stamped in their DNA. Being a sailor, being a Marine, its not what they did. It was like all of you; it was who they are."
Biden, who is widely speculated to be considering a presidential run, was at times both mournful and forceful. He ended his remarks with a stern warning to anyone who might hope attacks like Chattanooga will disrupt the U.S. will to fight: "Never underestimate us, it's always been a bad, bad bet to do that."
copp.tara@stripes.com Twitter: @TaraCopp
---
---
---
---