Changes, cancellations and closures: How the military is fighting coronavirus
---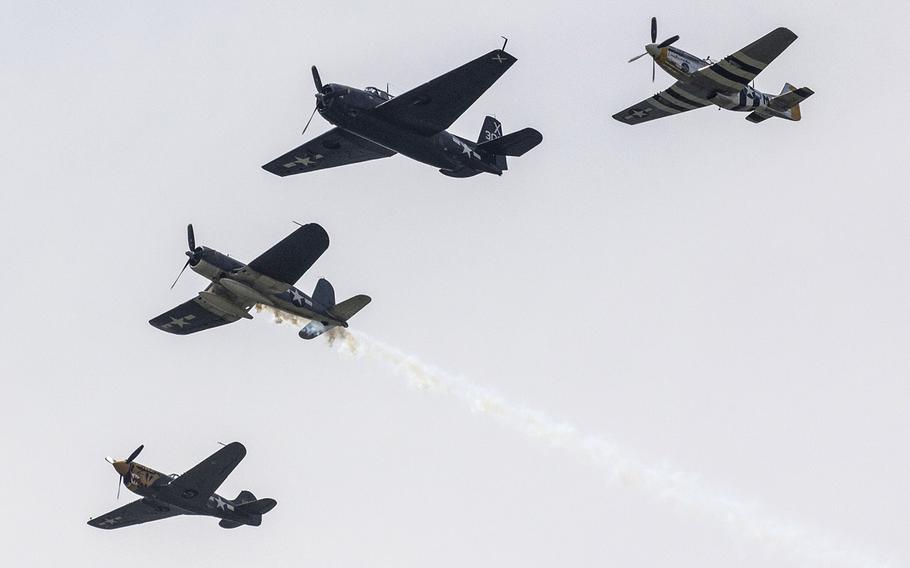 Stars and Stripes is making stories on the coronavirus pandemic available free of charge. See other free reports here. Sign up for our daily coronavirus newsletter here. Please support our journalism with a subscription.
The following is a list of military exercises and events that have been canceled or curtailed in an effort to limit the spread of the coronavirus:
• Beginning Monday, March 30, all eligible service members and veterans who are buried at Arlington National Cemetery will receive military funeral honors. Military funeral honors with escort are curtailed until further notice. The elements of military funeral honors include: a casket team (body bearers/pallbearers, usually six service members); a firing party (seven service members); a bugler (one bandsman); folding and presentation of the U.S. flag (same personnel from casket team); a non-commissioned officer or officer in charge; and a chaplain if requested by the family. These personnel will perform their mission with the appropriate level of social distancing. Dependent honors remain unchanged. ANC also requests that families limit funeral attendance at each service to comply with CDEC and DOD guidance against large gatherings of people. Family members who have questions regarding their upcoming scheduled funeral or who wish to reschedule a service should call 1-877- 907-8585.
• The Arsenal of Democracy Victory Gala and Washington, D.C. flyover commemorating the 75th anniversary of the end of World War II have been postponed from May to September. The Victory Gala is now scheduled to be held at Ronald Reagan National Airport on Thursday, Sept. 24, while the flyover and ceremony at the National World War II Memorial will take place on Friday, Sept. 25. Other events and a display of some of the planes will take place at the Smithsonian's Udvar-Hazy Center in Chantilly, Va., on Saturday, Sept. 25. See more details about the events at www.ww2flyover.org/.
• All U.S. military cemeteries and monuments the American Battle Monuments Commission administers will be closed until further notice. The ABMC maintains 26 cemeteries and 30 monuments in more than 10 countries overseas, from the Philippines to Europe and North Africa. The next big events hosted at the cemeteries are the Memorial Day ceremonies at the end of May. If they will take place depends on the situation in the various countries. The ABMC suggests checking its website for further information.
• Vandenberg Air Force Base is limiting access to the installation to only essential services and personnel. The 30th Medical Group Pharmacy, commissary and Base Exchange will remain open to all authorized beneficiaries, which include retirees, veterans and family members of active duty personnel who have a valid ID card.
• The DODEA-Europe spring sports season, which was originally supposed to begin March 13, was canceled by the organization Wednesday afternoon in a letter sent out by Kathlene Clemmons, the DODEA-Europe athletic coordinator. The season for track, softball, baseball and soccer teams was supposed to conclude with championships at the end of May.
• The dedication of the new $145 million Dwight D. Eisenhower Memorial in Washington, D.C., has been postponed. The event was planned for May 8, the 75th anniversary of the day Allied forces declared victory in Europe during World War II. Former Secretary of State Condoleezza Rice, Sen. Pat Roberts, R-Kan., and two of Eisenhower's grandchildren were scheduled to speak.
• Military Child of the Year awards gala, set for April 2, has been canceled. A virtual event will be held later.
• Air Force Wounded Warrior Trials, scheduled March 20-28 in the Las Vegas, Nev., area, have been postponed.
• U.S. Africa Command has now canceled African Lion, one of the largest military exercises in Africa that was set to start March 23 in Morocco. The exercise had previously been scaled back.
• The U.S. Navy Reserve has postponed all regular weekend drills through May 11. Official orders for annual training, active-duty training or inactive-duty training travel between March 16 and May 11 must be deemed mission essential. Selected reservists who return from Level 2 or 3 countries will be quarantined at home for 14 days.
• The Sea-Air-Space 2020, an annual Navy and industry conference hosted by the Navy League, has been canceled. The Maryland conference is rescheduled for April 12-14, 2021.
• Naval History and Heritage Command has temporarily closed all seven Navy museums until March 31. Locations include the National Museum of the U.S. Navy at the Washington Navy Yard, the National Museum of the American Sailor at Naval Station Great Lakes, Ill., and the U.S. Naval Academy Museum in Annapolis, Md.
• The USS Constitution Museum at the Charlestown Navy Yard in Massachusetts is expected to be closed through March. Public tours of the ship also are closed.
• The Department of Veterans Affairs postponed hundreds of events in late March and early April to commemorate Vietnam War Veterans Day on March 29.
• The National Museum of the Marine Corps in Triangle, Va., closed, along with the Semper Fidelis Memorial Park and playground that are on museum grounds.
• The National Museum of the U.S. Air Force in Dayton, Ohio, closed, and its programs and events will be postponed until further notice.
• The National Veterans Memorial and Museum in Columbus, Ohio, is closed to visitors until April 8.
• National Medal of Honor Day ceremonies scheduled for March 25 in Arlington, Va., including presentation of the Citizen Honors awards, have been postponed until a date to be determined.
• Public graduations at both Marine Corps recruit depots, Officer Candidates School and The Basic School have been canceled, Marine Corps officials confirmed.
• U.S. Africa Command has canceled this year's iteration of the annual Obangame Express exercise, the command said Saturday. Hosted by AFRICOM and led by U.S. Naval Forces Europe-Africa, the exercise in West African waters is the largest of three annual "Express" series maritime-policing training events. The other two are Cutlass Express in East Africa and Phoenix Express in the Mediterranean.
• The Naval Academy announced that it would immediately cancel all public worship services, including weddings and funerals, through April 7.
• All Air Force Academy cadets, except seniors who graduate in May, will continue their studies remotely for an undetermined period, said superintendent Lt. Gen. Jay Silveria said in an email Friday.
• The James W. Foley Foundation Awards, set for April 1, have been postponed. The nonprofit foundation will look to reschedule the event this fall. Foley was kidnapped in 2012 while covering the Syrian civil war, held hostage for 21 months and murdered in 2014 by members of the Islamic State. Event details: www.jamesfoleyfoundation.org.
• The Code of Support Foundation's Toast to Our Troops Gala, originally scheduled for April 28, has been rescheduled for Sept. 24 in Washington. Anyone who purchased tickets can attend in September, request a refund or offer the cost of the ticket to the Code of Support Foundation as a charitable donation.
• The Virginia War Memorial Foundation in Richmond postponed three events, including its public recognition of K9 Veterans Day on March 14. The memorial itself will remain open to visitors.
• Organizers of the Future Security Forum, scheduled for April 29 in Washington, D.C., postponed the event. The forum, put on by New America and Arizona State University, brings together leaders in government, academia, journalism, the military and private sector to explore pressing issues in international security and defense.
• Events planned at various locations around the country to recognize Vietnam War Veterans Day on March 29 have been canceled. As of Friday, that included events in Maine, New York, Las Vegas, New Jersey, Ohio and Virginia.
• The U.S. Military Academy at West Point will delay the return of the Corps of Cadets from spring break until March 29.
• Arlington National Cemetery announced Thursday evening that it will close to visitors beginning Friday, March 13. Funerals will be conducted as scheduled, and access will remain open to family pass holders for visitation from 8 a.m. to 5 p.m. daily. Family members are instructed to call the cemetery at the following number for arrival information or to reschedule any services: 1-877-907-8585
• A "welcome home" event for Vietnam War veterans at the National Museum of the Marine Corps in Triangle, Va., was canceled. The event was set to take place March 29, which is nationally recognized as Vietnam War Veterans Day.
• The National Veterans Legal Services Program and the DC Mayor's Office of Veterans Affairs canceled a clinic for veterans March 31 about upgrading military discharges and medical retirements.
• Fort Sill, Okla., has closed its graduation ceremonies to family members and other guests, and graduates will not be allowed to travel with family members in privately owned vehicles after ceremonies.
• The USO is closing all of its airport lounges starting Friday until further notice. The USO operates more than 50 airport centers, which are open to active-duty service members and their families.
• The Association of the U.S. Army canceled its Global Force Symposium scheduled for March 16-18 in Huntsville, Ala. Last year, about 6,800 people attended. According to news reports, the symposium would have generated more than $3.6 million for the local economy.
• HillVets postponed its annual awards gala, scheduled for March 25 in Washington, until May 29. HillVets provides fellowships and leadership training for veterans interested in working on Capitol Hill.
• The South by Southwest festival scheduled for March 13-22 in Austin, Texas, was canceled. Two Air Force events that were part of the festival — Spark Collider and Pitch Bowl — were held virtually on Thursday. The Air Force events brought together Defense Department stakeholders with venture capitalists and small business innovators.
• The U.S. Army scaled back a drill known as Defender-Europe 20, which was set to be the largest U.S. military exercise in Europe in a generation and called for sending 20,000 U.S.-based soldiers across the Atlantic Ocean.
• U.S. European Command ended a cold-weather exercise in Norway just two days after it started. Nearly two dozen U.S. soldiers were quarantined amid fears they might have contracted coronavirus from a Norwegian service member who tested positive.
• U.S. Africa Command has now canceled African Lion, one of the largest military exercises in Africa that was set to start March 23 in Morocco.
• The U.S. Army canceled this year's Bataan Memorial Death March, an annual event at White Sands Missile Range in New Mexico that commemorates the deadly transfer of American and Filipino prisoners of war during World War II. Survivors of the march, along with thousands of supporters, usually participate. The event was scheduled March 15.
• The U.S. Air Force and Navy are closing their basic military graduation ceremonies to family members and other guests until further notice. The U.S. Army Center for Initial Military Training cancelled all graduation ceremonies and associated events across Initial Military Training, according to a statement it provided to Military.com. The Coast Guard's Training Center Cape May also suspended guest attendance at that service's graduation ceremonies and associated events, the command said in a Facebook statement. Public graduations at both Marine Corps recruit depots, Officer Candidates School and The Basic School have been canceled, Marine Corps officials confirmed.
• The Air Force Academy in Colorado Springs, Colo., will temporarily close to visitors beginning Friday evening. The academy said it was taking precautionary measures; t it had no confirmed cases of coronavirus.
• The Women in Military Service for America Memorial at Arlington National Cemetery canceled its 90th birthday celebration and open house for retired Brig. Gen. Wilma Vaught on March 14. Vaught spearheaded the fundraising campaign to build the memorial.
• The Honor Flight Network canceled nearly 70 trips to Washington through May 3, citing a Centers for Disease Control and Prevention recommendation that older adults avoid nonessential air travel. This is an extension of its original cancellation, which stopped all flights through April. The Honor Flight Network brings veterans from across the country to see the war memorials in Washington. Priority for the flights is often given to terminally ill and older veterans.
• Congress decided Thursday to close the Capitol and congressional office buildings to the public until April 1. Only lawmakers, staff, journalists and visitors with official business may enter. The White House also suspended tours.
• The Defense Department canceled all public tours of the Pentagon until further notice, DOD Press Secretary Alyssa Farah announced. The building typically sees more than 2,000 visitors each week.
• Naval Air Facility El Centro in California canceled its 50th annual air show, which was scheduled for March 14. The U.S. Navy Blue Angels were going to be featured in the event.
•A March 28 ceremony that was to reunite American and Japanese veterans of the Battle of Iwo Jima on the island now known as Iwo To has been canceled.
• The annual Marine Corps 17.75K run, along with the accompanying Motivational Dinner, originally scheduled for March 28 have been cancelled. Entrants will still receive guaranteed entry into the Marine Corps Marathon.
---
---
---
---