Carter: US will sail near Spratly Islands any time it wants
---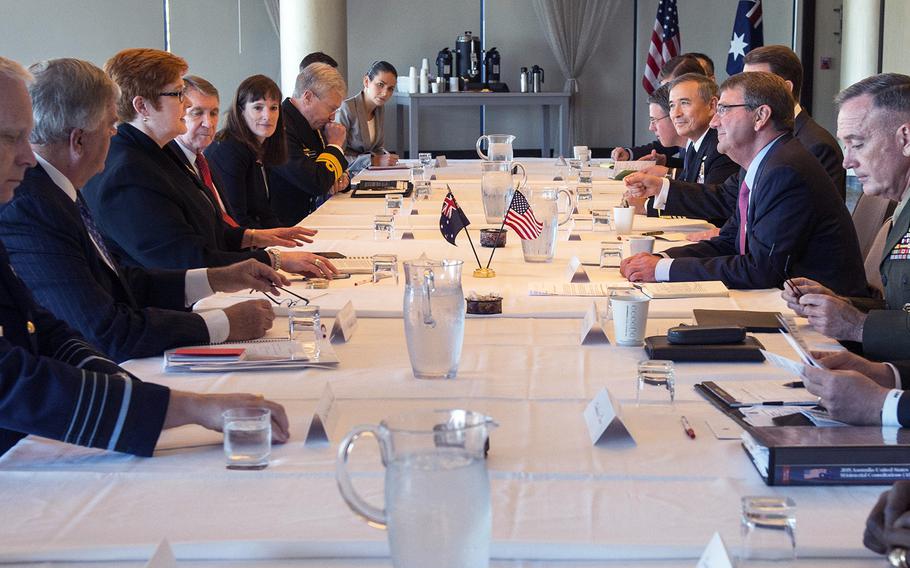 WASHINGTON — The U.S. Navy will not be deterred from conducting a close patrol of China's man-made Spratly Islands, if it chooses, Secretary of Defense Ash Carter said Tuesday.
"We will fly, sail, and operate wherever the international law permits, and we will do that at the times and places of our choosing, and there's no exception to that," Carter said in Boston, where he and Secretary of State John Kerry were meeting with their Australian counterparts. "Whether it's the Arctic, or the sea lanes that fuel international commerce widely around the world, or the South China Sea."
Carter said the United States wants China and the other countries to halt reclamation and militarization activities on the Spratly Islands, a collection of islands, rocks and elevated coral reefs. According to a recent maritime report by the Department of Defense, there are more than 200 Spratly land features, though that figure varies based on how geographers count them.
Vietnam occupies 48 of the Spratlys, Taiwan occupies one, the Philippines occupies eight, Malaysia occupies five and China occupies eight, according to the report.
China, Taiwan and Vietnam each claim all of the Spratly land features.
But it's China's rapid buildup of an airstrip on the Fiery Cross Reef that has generated the most concern. U.S. officials have begun briefing their Pacific allies on the proposed sail, which could come as close as 12 nautical miles to the Chinese buildup, according to news reports. Every nation can claim up to 12 nautical miles from its coast as sovereign territory.
Carter said the United States is not taking a position on which nations have sovereignty over the islands.
"In the meantime, the United States continues to call for all parties to halt further reclamation and any further militarization of features in the South China Sea."
Australia has interest in free navigation of the South China Sea, because about two-thirds of the country's merchandise trade passes through those waters, said Julie Bishop, Australian Foreign Affairs Minister.
"We have said consistently and persistently that the reclamation work carried out notably by China, but by any others, should halt," she said.
Carter said the effect of China's buildup on the Spratly Islands has been "increasing our maritime cooperation with many countries in the region. They're asking for more interaction with the United States and the United States Navy."
The U.S. 7th Fleet has seven combat ships — four destroyers, a dock landing ship, a littoral ship and a minesweeper — at sea in the Indo-Asia-Pacific region, Navy spokesman Lt. Cmdr. Timothy Hawkins said. One destroyer is conducting "presence operations" in the South China Sea, designed to reinforce the U.S. ship's right to be there, he said.
copp.tara@stripes.com Twitter: @TaraCopp
---
---
---
---