Carter reinforces authority to arm more troops on US installations
by
Corey Dickstein
July 31, 2015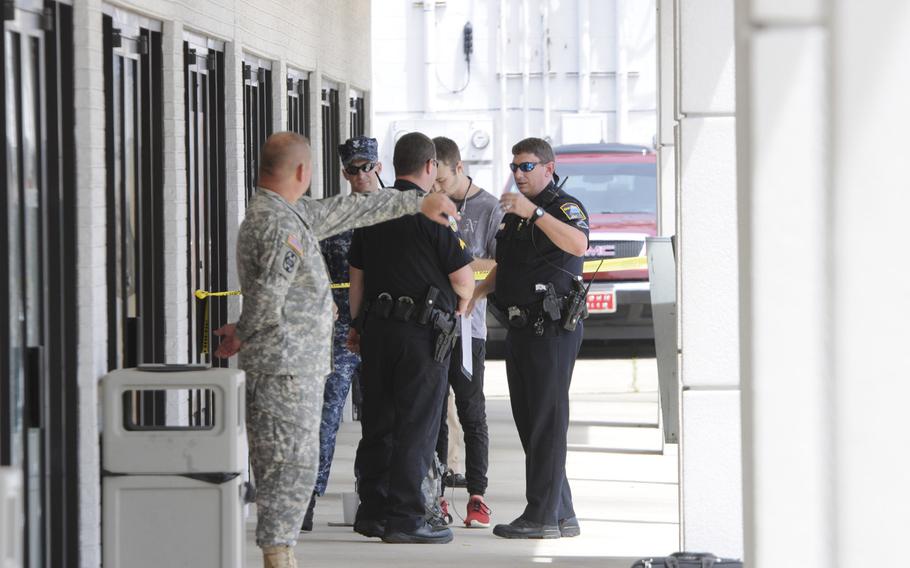 WASHINGTON — Military commanders at stateside installations can authorize more troops to carry firearms, but few changes have been made as Pentagon officials review policies in the wake of an attack that killed five servicemembers in Chattanooga, Tenn.
Citing existing policy issued in 1992, Defense Secretary Ash Carter reminded top military leaders that commanders have the authority to arm personnel for security, law enforcement and counterintelligence duties in a memo released Thursday by the Pentagon.
"Additionally, the policy allows for the arming of qualified DOD personnel (not regularly engaged in law enforcement duties) based on the threat and the immediate need to protect assets and lives," Carter wrote.
He did not indicate what the qualifications were for individuals outside of law enforcement to carry weapons on duty. Air Force Lt. Col. Tom Crosson, a Pentagon spokesman, said qualifications differ among the services.
No Defense Department policies have changed since the July 16 shooting, he said Friday. Decisions to arm additional troops would be made by installation commanders and senior leaders at off-post facilities.
The call to arm more troops in the U.S. came this month after a gunman opened fire on a recruiting office and a Navy-Marine facility before he was fatally shot by Chattanooga police.
The killings were the latest in a series of deadly incidents involving armed attacks against servicemembers, including the 2009 shooting at Fort Hood, Texas, and the 2013 shooting at the Washington Navy Yard, that have led to demands in Congress for a review of Pentagon weapons and security policies.
Lawmakers, including Sen. John McCain, R-Ariz., Rep. Mac Thornberry, R-Texas, and Rep. Scott Rigell, R-Va., have called for troops to be allowed to carry guns on base for self-protection in the weeks since Mohammed Abdulazeez killed four Marines and a sailor in the July 16 attack.
"I appreciate and support Secretary Carter's decision to allow specified service members to carry firearms on military installations as a means of enhanced force protection," Rigell said in a statement responding to Carter's memo. "The solutions (military leaders) advance should be comprehensive and equivalent to the known threat posed to our service members. Secretary Carter should move these policy changes forward deliberately and without unnecessary delay. Our service members have the right to defend themselves."
Only the Navy has acknowledged arming more troops. The service has authorized sailors at off-installation, Navy-led reserve centers to carry firearms "as a matter of prudent and necessary action toward protecting our personnel," said Navy spokesman Lt. Timothy Hawkins. That does not include recruiting stations.
"The Navy takes the physical security of our people, as well as our bases, stations, installations and reserve centers, very seriously," Hawkins said.
Additional safety measures are being considered as the Navy – along with the other services and combatant commanders -- prepares force protection action plans due to Carter by Aug. 21. It would be premature to speculate about what changes could be implemented, Hawkins said.
Spokespeople for the other armed services declined to discuss what, if any, security changes have been implemented.
In addition to the potential arming of additional troops, Carter has asked military leaders to consider physical security upgrades and procedural improvements at the DOD's 7,000 off-installation sites, such as recruiting stations, ROTC units and reserve centers. He also directed them review the use of mass warning notification systems for gaps and areas that could be improved.
Pentagon spokesman Navy Capt. Jeff Davis said servicemembers can't expect an overnight fix to these security issues. Troops, in the meantime, must continue to be vigilant and observe personal security measures.
"This is something that is going to require time and thought and plan and investment to make sure that the people who do these important missions out in our communities are able to do it safely," Davis said.
dickstein.corey@stripes.com Twitter: @CDicksteinDC