Carter proposes shorter joint service requirements for senior officers, changes to role of JCS chairman
---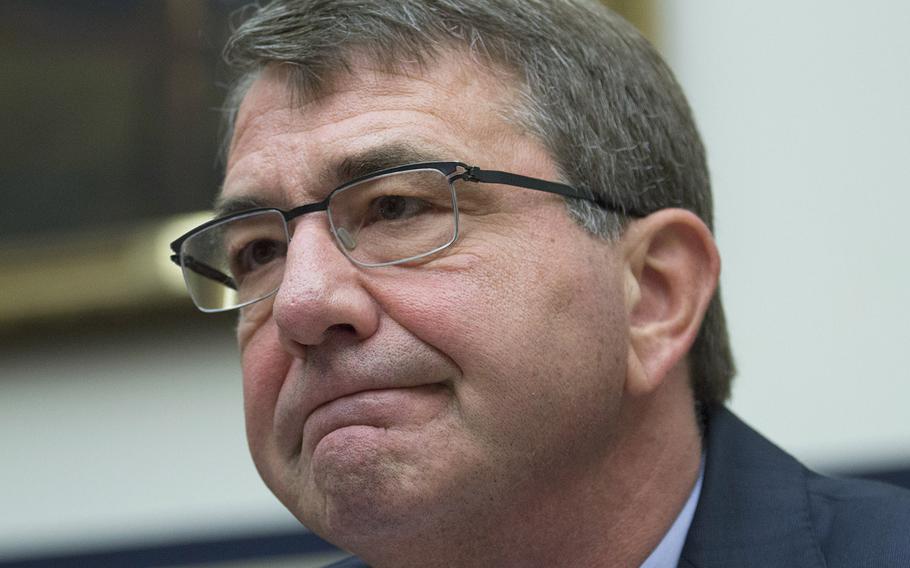 WASHINGTON – U.S. military officers would have a broader opportunity to fulfill joint assignment obligations and spend less time in those roles under proposed changes — unveiled by Defense Secretary Ash Carter on Tuesday — to the 30-year-old law that governs the Pentagon's force structure.
The changes to the joint duty requirements mandated by the 1986 Goldwater-Nichols Act were among the reforms that Carter broadly described during a speech at the Center for Strategic and International Studies in Washington. Other proposed changes included cutting some four-star command slots, further empowering the chairman of the Joint Chiefs of Staff and expanding the service chiefs' roles in acquisition.
Some changes would need action from Congress; other proposals, Carter said, would be implemented unilaterally at the Pentagon "in the coming weeks."
Carter said that adjusting the landmark Goldwater-Nichols Act, which provided the Pentagon its current structure and simplified the chain of command, is necessary in an "increasingly complex" world where wars are likely to be fought across multiple geographical regions and in multiple domains, such as land, air, sea, space and cyber.
"Instead of the Cold War and one clear threat, we face a security environment that's dramatically different from the last quarter-century," Carter said. "It's time that we consider practical updates to this critical organizational framework, while still preserving its spirit and intent."
Carter said the current joint service requirements for officers who want to be promoted to the top levels of military service remain important. But cutting them from three years to two would offer officers "more flexibility" to command troops or serve in other roles that could "broaden or deepen their careers."
The secretary also wants to expand assignments that would count toward those requirements, "which are more narrow and rigid than they need to be."
He proposed expanding duties from planning and command-and-control assignments to include joint experience in "other operational functions, such as intelligence, fires, transportation and maneuver, protection and sustainment, including joint acquisition."
He used the war against the Islamic State militant group as an example. A staff officer working for Central Command would get joint duty credit, while an officer assigned to a combined air operations center working with troops across all services to coordinate airstrikes might not receive credit.
The Pentagon, he said, will look at the number of four-star commands to determine which could be filled by a three-star general or admiral in the future. The Defense Department is already working to reduce headquarters staffs by 25 percent after they grew dramatically during the last 15 years of war. Reducing the size of those staffs and eliminating some four-star officers, Carter said, would make them more efficient and reduce the "top-heavy" nature of the department.
Carter also wants the role of the chairman of the Joint Chiefs of Staff, currently held by Marine Gen. Joseph Dunford, to be rewritten to mandate that he works with the nine unified combatant commanders to provide the defense secretary and president singular advice on the U.S. military's global needs. Under the current structure, Carter receives individual assessments from each combatant commander. The current structure, he said, worked when the nature of conflict was less complicated.
"In today's complex world we need someone in uniform who can look across the services and combatant commands and make objective recommendations to the department's civilian leadership about where to allocate forces throughout the world and where to apportion risk to achieve maximum benefit to our nation," Carter said. "The person best postured to do that is the chairman of the Joint Chiefs."
dickstein.corey@stripes.com Twitter: @CDicksteinDC
---
---
---
---