Carter calls devastating sequester cuts to military 'collateral damage of political gridlock'
by
Joyce Tsai
February 12, 2013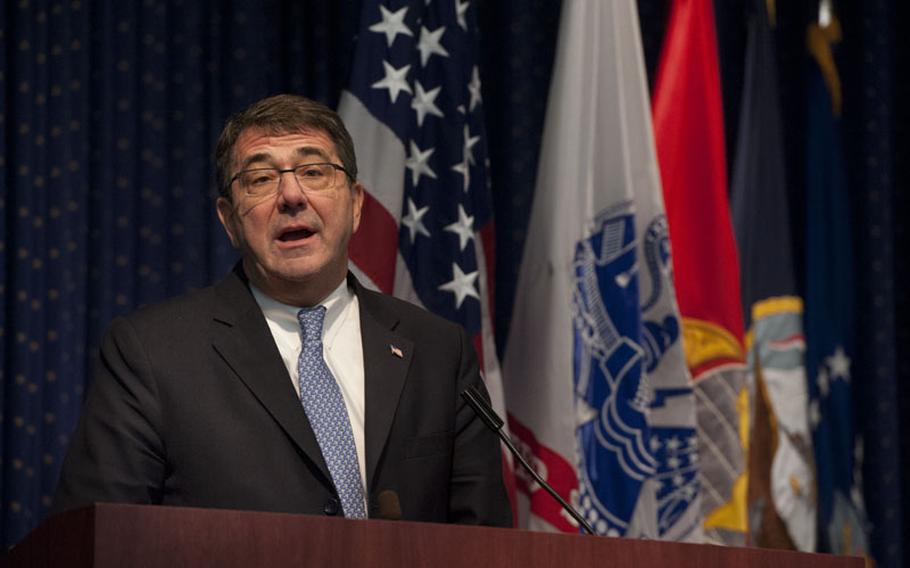 WASHINGTON – With just 16 days left to dodge the doomsday scenario of sequestration's automatic cuts, top military brass painted a bleak portrait Tuesday of how military readiness could reach a crisis point if a compromise in Congress isn't struck before March 1.
Failure to act could have devastating effects on the country's defense and economy, warned Deputy Secretary of Defense Ashton Carter, calling the automatic cuts "the collateral damage of political gridlock." He was flanked by his Joint Chiefs of Staff at a Senate Armed Services Committee hearing on Capitol Hill.
The Defense Department has already implemented civilian hiring freezes, reduced or eliminated temporary and short-term employees, deferred facilitity maintenance and begun cancelling or postponing the maintenance of ships, aircraft and ground vehicles.
If sequester is triggered, the DOD will be forced to implement civilian furloughs, cut back on flying hours and other military training, and cancel contracts, said Senate Armed Services Committee chairman Sen. Carl Levin, D-Mich.
The damage would primarily due to the "arbitrary and irrational" nature of sequestration, Levin said, which would not only weaken security and defense, but education, law enforcement and other government agencies.
An underfunded military — with fewer troops, ships, fighter jets and intelligence resources — would be incapable of supporting our current foreign policy and leave the nation vulnerable at a time of instability in the Middle East and in the Asia-Pacific region, he said.
Under the looming threat of sequester, the military is looking straight down the barrel of a broad devastating swathe of $46 billion cuts in this fiscal year ending Sept. 30 – the first in cuts of $500 billion over 10 years.
That's in addition to $487 billion in cuts over 10 years that the Pentagon had already planned to make.
Army Chief of Staff Gen. Ray Odierno said sequestration would force large end strength cuts, the extent of which are not yet known.
For fiscal year 2014 and beyond, it will result in "the loss of at least an additional 100,000 personnel, soldiers, from the active Army, the Army National guard and the U.S. Army reserve," he said. "Combined with previous cuts, this will result in a total reduction of at least 189,000 personnel from the force -- but probably even more than that."
Adm. Mark Ferguson, Vice Chief of Naval Operations, emphasized the danger in cutbacks to deployed carrier operations in the Middle East, which were implemented due to budget uncertainty. The Pentagon decided to stop the USS Harry Truman's Persian Gulf deployment, effectively ending the department's two-carrier policy in the region, which could leave the USS George Washington the Navy's only aircraft carrier ready to respond to a crisis.
In addition, the Navy has canceled ship maintenance and other projects to make up a $4.6 billion funding shortfall in operations and maintenance that it faces in 2013. A sequester would force the cancellation of 70 percent of ship maintenance in the last half of the year, affecting up to 25 ships and 327 aircraft, he said. It would also reduce by one-third the number of days at sea and hours of flight operations for ships and aircraft permanently stationed in the Asia-Pacific region.
Gen. Mark Welsh III, Chief of Staff of the Air Force, cautioned that the service will have to slash $12.4 billion this year unless Congress reaches a deal. And under sequester, reductions in Air Force spending on aircraft maintenance would be slashed by one-third. Maintenance will stop on many planes not immediately crucial to national defense, while some older missile defense ground radar installations will be turned off 16 hours a day, he said, leaving the nation more vulnerable to attacks.
Lawmakers and military leaders emphasized the urgency of averting these cuts, which Sen. John McCain, R-Ariz., called "Orwellian" and Sen. Angus King, I-Maine, likened to "Alice in Wonderland," in its setting of an imaginary, self-imposed deadline that could devastate troop readiness, morale and retention.
"The cloud of uncertainty hanging over the nation's affairs," Carter warned, "is already having lasting and irreversible effects."
Chris Carroll contributed to this article.
tsai.joyce@stripes.com Twitter: @JoyceTsaiDC