Carolina Army Guard troops move into eastern Syria with Bradley Fighting Vehicles
---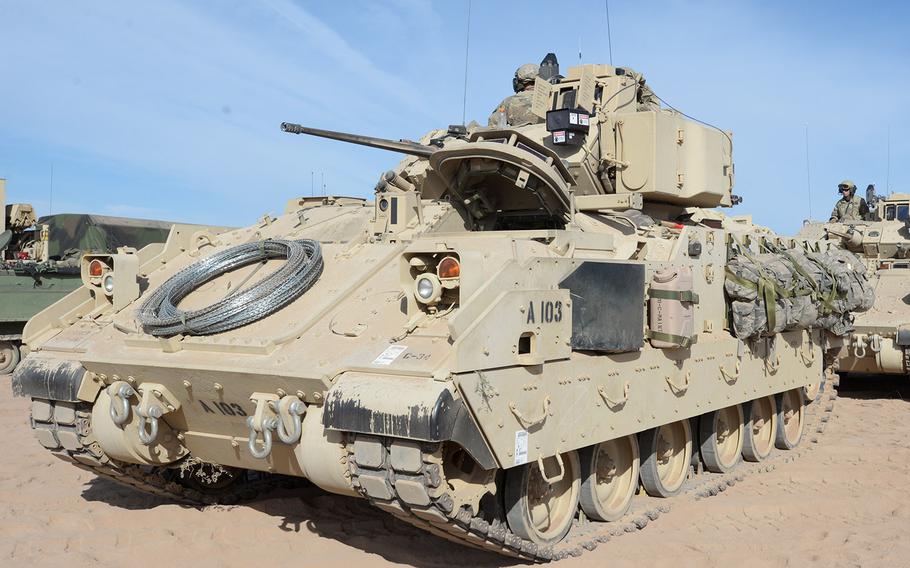 WASHINGTON — National Guard members from North and South Carolina began moving into eastern Syria with heavy armored vehicles on Thursday as part of the Pentagon's new mission to secure oil fields wrestled from the Islamic State, a military spokesman said.
Soldiers with the North Carolina-based 4th Battalion, 118th Infantry Regiment and the South Carolina-based 218th Maneuver Enhancement Brigade were deployed to Deir al-Zour to protect American-held oil fields around that city, Army Col. Myles Caggins, the spokesmen for the U.S.-led anti-ISIS mission known as Operation Inherent Resolve, tweeted Thursday. Caggins' tweet included photos of soldiers loading M2A2 Bradley Fighting Vehicles onto Air Force C-17 Globemaster cargo jets to be used on the mission.
The deployment consists primarily of infantrymen, said a Pentagon official, who spoke on the condition of anonymity. That official and a Pentagon spokesman declined to say how many troops would be deployed into eastern Syria, where American special operators left in recent weeks by order of President Donald Trump. The officials said the number of troops had yet to be decided, though they insisted the force would remain below the 1,000 or so troops that remained in Syria recently.
Defense Secretary Mark Esper on Monday said he expected the new crop of troops to be less than that amount. He declined to speculate how long troops would remain around oil-rich Deir al-Zour, the former ISIS stronghold about 80 miles southeast of Raqqa along the Euphrates River. He insisted, as Trump has, that eventually those troops would "be going home."
For now, the new deployment will not include M1 Abrams tanks, the Pentagon official said Thursday.
The 4-118th Infantry Regiment is part of the 30th Armored Brigade Combat Team, which includes about 4,200 soldiers from Army National Guard units from North and South Carolina and West Virginia. The entire brigade deployed to Kuwait during the summer for a nine-month rotation in support of Operation Spartan Shield, during which it conducted desert training operations. That brigade includes armor units with dozens of M1 tanks. The Pentagon official said Thursday that military planners had not ruled out moving some of those tanks into Syria.
Esper said Monday that the troops' new mission would to be ensure the oil fields, once used by ISIS as its major revenue source to finance terrorist campaigns around the world, did not fall back into the terrorists' hands. While ISIS lost the last remnants of its so-called caliphate across parts of Syria and Iraq in March and its top leader Abu Bakr al-Baghdadi was killed Saturday, the group has retained dangerous cells across both countries, military officials have warned.
Esper said the troops would also protect the oil fields from falling into the hands of the Syrian regime or its Russian or Iranian backers. He argued revenue from oil production could fund operations for the Syrian Democratic Forces, the Kurdish-led militia that the United States heavily relied on to fight ISIS in Syria. SDF missions include detaining thousands of imprisoned ISIS fighters, he said.
The SDF has expressed concerns that the United States was abandoning it. American troops withdrew from SDF positions near Syria's border with NATO-ally Turkey ahead of a Turkish military invasion into the country launched Oct. 9 and aimed at the Kurdish forces. Turkey considers the Kurdish fighters, who have been backed since 2014 by the United States, a terrorist organization.
Esper said Monday that U.S. military would not abandon the SDF. Nonetheless, the SDF announced this week that it had struck a deal with Russia and the Syrian regime in an effort to protect its forces from Turkey.
dickstein.corey@stripes.com Twitter: @CDicksteinDC
---
---
---
---