Bracelet outshines Medal of Honor at ceremony for Kyle White
by
Jon Harper
May 13, 2014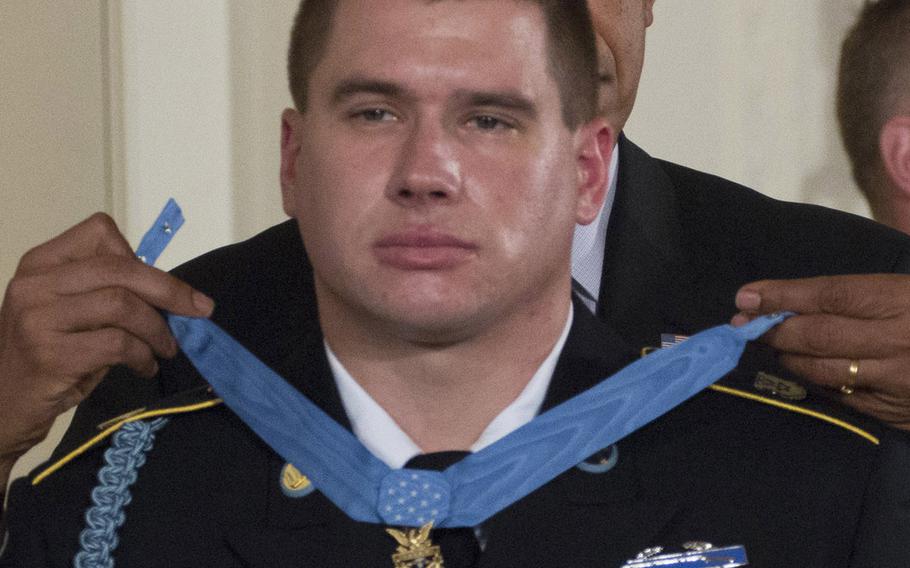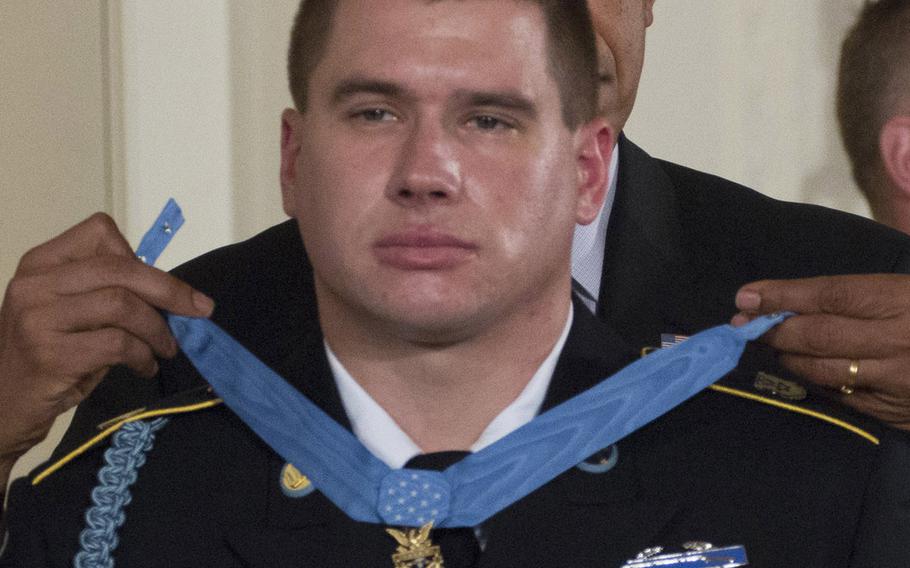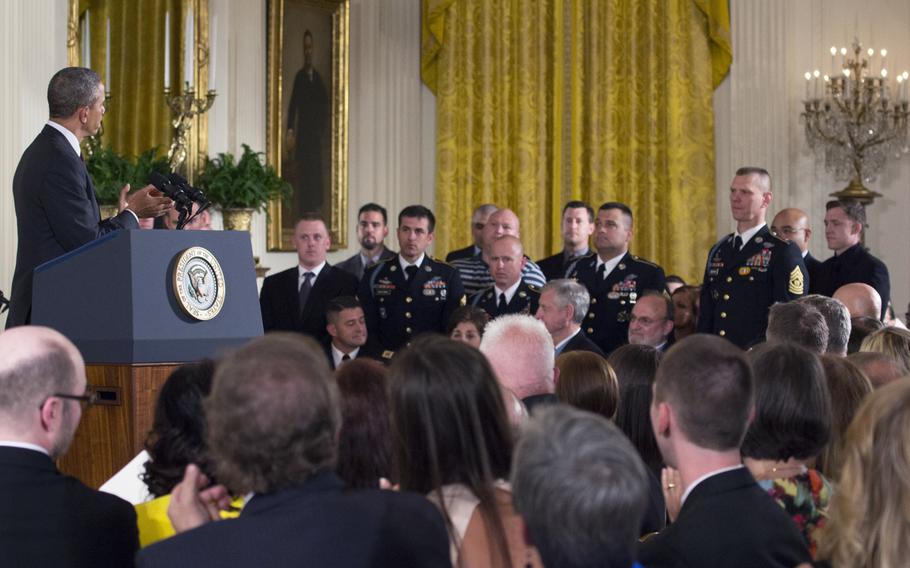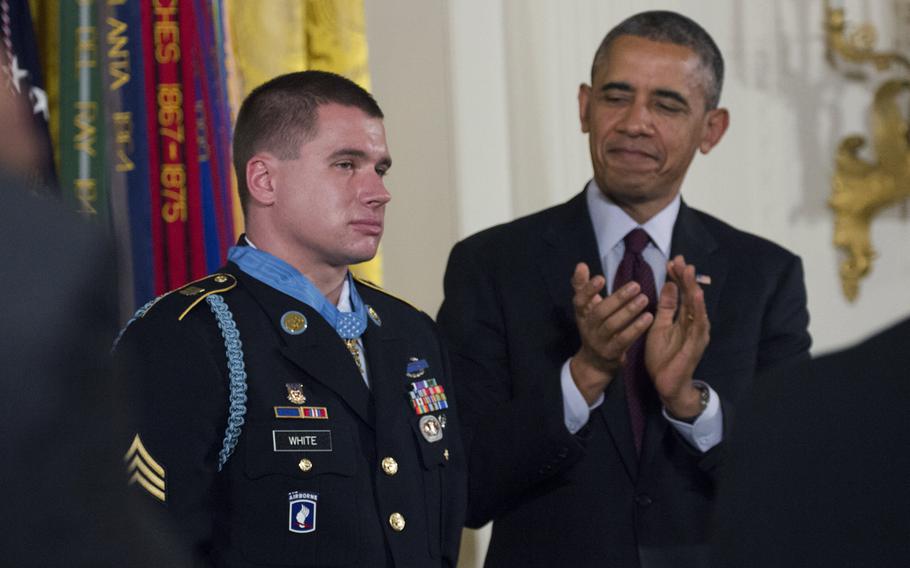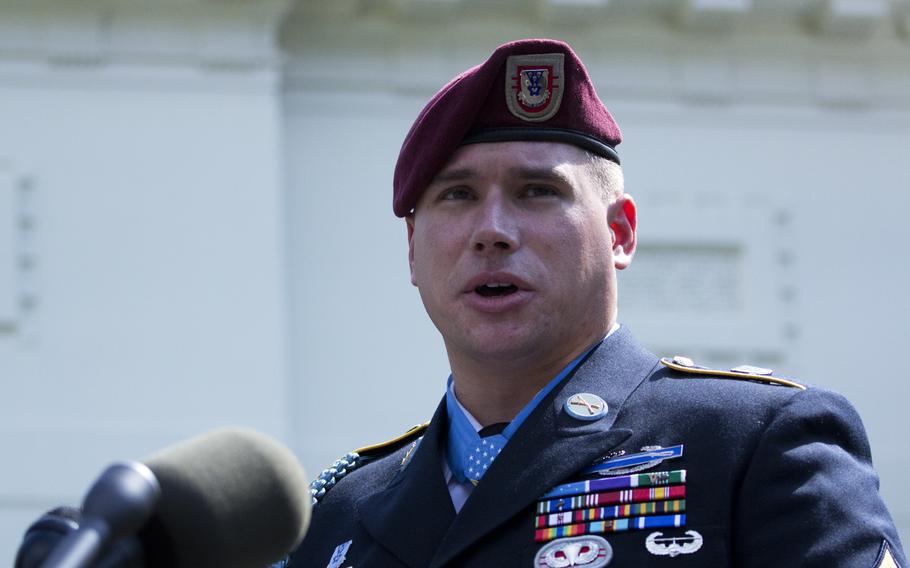 WASHINGTON — The stainless steel bracelet on former Army Sgt. Kyle White's right wrist far outshone the Medal of Honor that President Barack Obama placed around his neck at a White House ceremony on Tuesday.
White received the nation's highest award for military valor in recognition of his actions during a patrol in the steep, rugged mountains near Aranas in eastern Afghanistan. He was serving as a radiotelephone operator with C Company, 2nd Battalion (Airborne), 503rd Infantry Regiment, 173rd Airborne Brigade when his team of U.S. and Afghan National Army troops were ambushed on Nov. 9, 2007 by a larger and more heavily armed Taliban force after a meeting with Afghan villagers.
RELATED: More Stars and Stripes coverage of the Medal of Honor
Describing White as "a soldier who embodies the courage of his generation," Obama recounted how, after being knocked unconscious by an enemy grenade, the young soldier, barely 20 at the time, regained consciousness as bullet fragments spattered his face. Despite his wounds, White repeatedly braved enemy fire to try to save his comrades, including former Spc. Kain Schilling, who was one of White's guests at the ceremony. Twice during the battle, White used tourniquets, one of them his own belt, to prevent a severely wounded Schilling from bleeding to death.
"I'm here today because of Kyle's actions. He not only saved my life, but the lives of many others," Schilling told reporters on Monday.
White also used a radio to help direct air and mortar strikes against the Taliban to keep the enemy at bay.
"Base commanders were glued to their radios, listening as American forces fought back an ambush in the rugged mountains. One battalion commander remembered that 'all of Afghanistan' was listening as [White] described what was happening," Obama said.
After medevac arrived, White made sure that all the other wounded servicemembers were onboard the helicopters before he left, according to Obama.
White is only the seventh living Medal of Honor recipient from the wars in Iraq and Afghanistan. Another member of the 173rd Airborne Brigade — Staff Sgt. Salvatore Giunta — also received the award for his actions in Afghanistan.
Before presenting the award, Obama pointed out something that White wears every day.
"If you look closely at [White] on his way to work, you'll notice a piece of the war that he carries with him, tucked under his shirt sleeve: a stainless steel bracelet around his wrist, etched with the names of his six fallen comrades, who will always be with him," Obama said.
The six — 1st Lt. Matthew Ferrara; Sgt. Jeffery Mersman; Spc. Sean Langevin; Spc. Lester Roque; Pfc. Joseph Lancour; and Marine Sgt. Phillip Bocks — were White's battle buddies who died in the ambush.
Schilling made the bracelet for White and wears an identical one himself.
"I just kind of wear it as a reminder. And it kind of motivates me as well. It's like no matter what is going on in my life, like if something is hard… you look down and you'd be like, you know, these guys, if they were here right now they would not be complaining," White told Stars and Stripes.
Obama praised White as someone who has thrived after leaving the military, despite struggling with post-traumatic stress disorder. White used his G.I. Bill benefits to attend the University of North Carolina and now works as an investment analyst at the Royal Bank of Canada in Charlotte.
"When Kyle walks into the office every day, people see a man in a suit headed to work. And that's how it should be: A proud veteran welcomed into his community, contributing his talents and skills to the progress of our nation," Obama said.
"I really want to kind of help educate servicemembers that are thinking about leaving the service and going back into the civilian world… about the post-9/11 G.I. Bill and the importance of an education and really, you know, how necessary it is for certain jobs out there," White said in an interview with Stars and Stripes.
After the ceremony White told reporters that he is "still uncomfortable with hearing my name and the word hero in the same sentence."
"The Medal of Honor is said to be the nation's highest award for valor by one individual. But to me, it is much more. It is representation of the responsibility we accept as warriors and members of a team. It is a testament to the trust we have in each other and our leaders. Because of these reasons, a medal cannot be an individual award...That is why I wear this medal for my team," he said.
Then White talked about his bracelet.
"I also wear a piece of metal around my wrist…This is maybe even more precious than the metal symbol just placed around my neck. On it are the names of my six fallen brothers. They are my heroes," he said.
harper.jon@stripes.com Twitter: @JHarperStripes