Bipartisan group of senators urges Esper to keep funding Stars and Stripes
by
Corey Dickstein
September 2, 2020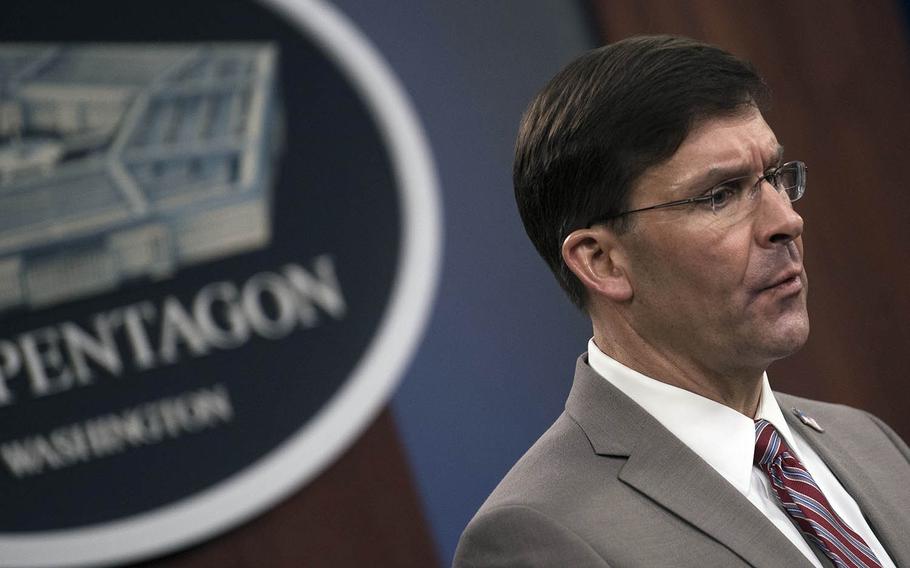 WASHINGTON — A bipartisan group of 15 senators urged Defense Secretary Mark Esper in a letter Wednesday to maintain support for Stars and Stripes, which could be forced to stop publishing by the end of the month without Defense Department funding.
"Stars and Stripes is an essential part of our nation's freedom of the press that serves the very population charged with defending that freedom," the senators — four Republicans and 11 Democrats — wrote in the letter. "Therefore, we respectfully request that you rescind your decision to discontinue support for Stars and Stripes and that you reinstate the funding necessary for it to continue operations."
In February, Esper proposed ending the Defense Department's funding of about $15.5 million to Stars and Stripes. But the senators wrote such a decision should wait until Congress finishes work on the Pentagon's fiscal year 2021 budget before moving to end the editorially independent news organization's operations.
Shutting down Stars and Stripes "would have a significantly negative impact on military families," the letter reads, highlighting the news organization's unique reporting on issues including the Defense Department's school system.
Last month, Pentagon officials instructed Stars and Stripes to prepare to cease publication on Sept. 30, the end of fiscal year 2020, despite House lawmakers' already having approved two bills that would provide funding for Stars and Stripes in fiscal year 2021. The bills now must be reconciled with the Senate.
House-passed versions of the fiscal year 2021 National Defense Authorization Act and the Department of Defense Appropriations Act each included $15.5 million of funding for Stars and Stripes. The NDAA sets annual Pentagon policy and authorizes spending priorities while the appropriations bill funds the department.
The Senate-passed version of the NDAA did not authorize funding for the news organization. The Senate Appropriations Committee has yet to consider its version of the annual appropriations bill and it has not scheduled hearings to draft that legislation. Nine members of that committee — the four Republicans and five Democrats — were among the senators who signed the letter to Esper.
The Republicans who endorsed the letter are Sens. John Boozman of Arkansas, Jerry Moran of Kansas, Shelly Moore Capito of West Virginia, and Susan Collins of Maine. The Democrats are Sens. Dianne Feinstein of California, Richard Durbin of Illinois, Patty Murray of Washington, Chris Van Hollen of Maryland, Jon Tester of Montana, Richard Blumenthal of Connecticut, Doug Jones of Alabama, Tammy Duckworth of Illinois, Sherrod Brown of Ohio, Margaret Wood Hassan of New Hampshire, and Kyrsten Sinema of Arizona.
The senators wrote Wednesday that there was "a real possibility" Congress would continue to fund Stars and Stripes in 2021.
Sen. Lindsey Graham, R-S.C., sent a separate letter to Esper last month to convince the defense secretary to allow Stars and Stripes to continue publishing until Congress has completed its appropriations process.
In Graham's Aug. 26 letter, he noted "strong support" for Stars and Stripes within Congress. The organization, he wrote, has adapted to the modern digital age and provides "timely and accurate news for more than 1.3 million readers a day" in print and online.
"As a veteran who has served overseas, I know the value that the Stars and Stripes brings to its readers," wrote Graham, a former Air Force Reserve lawyer who retired as a colonel.
With the defense budget bills unlikely to be finalized by the Oct. 1 start of the new fiscal year, Congress is expected to adopt a continuing resolution to fund the Pentagon at 2020 levels until the NDAA and appropriations bills become law.
Under a continuing resolution, the senators wrote, the Pentagon has "a legal obligation … to not act on a termination of a program until a full-year appropriations bill is enacted." Eliminating funds for Stripes before an appropriations bills is passed, they wrote "would preempt the funding prerogatives of Congress."
Stars and Stripes produces daily newspapers for U.S. military troops around the world and the news website stripes.com, which is updated with news 24 hours per day, seven days per week, free of editorial oversight from the Pentagon.
The news organization uses its annual stipend largely to print and distribute newspapers to troops across the globe and to fund reporting efforts in conflict zones such as Afghanistan and Iraq. Those funds account for about half of the newspaper's annual spending. The remainder of its funding comes from sales, subscriptions and advertising.
Esper moved to strip Stars and Stripes of funding after a defense-wide review of Pentagon spending practices. He told reporters in February that the money would be used for "higher-priority issues," like purchasing modern weapons.
Stars and Stripes first appeared during the Civil War, and it has been published continuously since World War II. Though it is part of the Pentagon's Defense Media Activity, Stripes retains its editorial independence and is congressionally mandated to be governed by First Amendment principles.
Officials with Defense Media Activity declined to comment Wednesday on the senators' letter, referring questions to spokespersons for Esper's office, who did not return immediately a request for comment.
The senators wrote Stars and Stripes was "historically significant" and continuing to fund it would have a "negligible impact on the department's bottom line."
dickstein.corey@stripes.com Twitter: @CDicksteinDC