Bergdahl judge says he can be fair despite Trump's comments
by
Corey Dickstein
October 23, 2017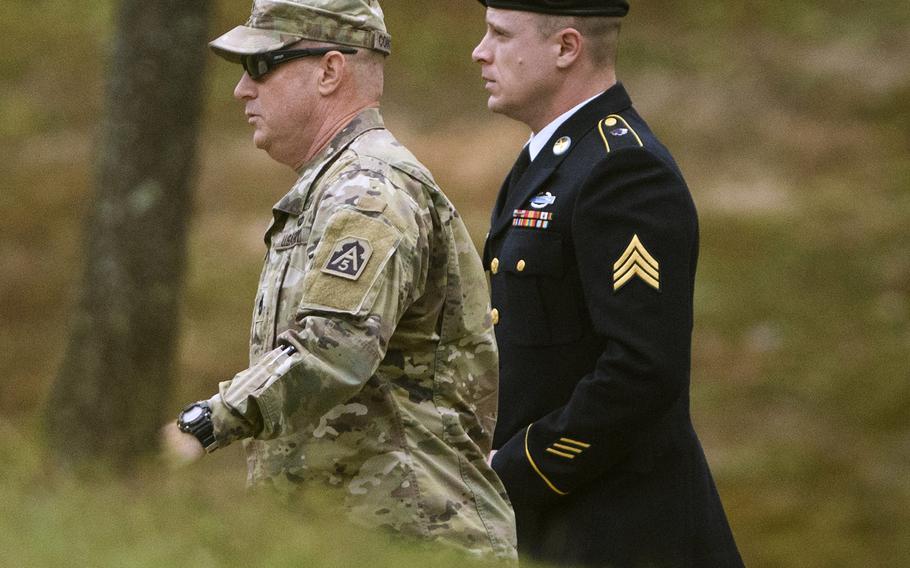 FORT BRAGG, N.C. — The military judge who will sentence Army Sgt. Bowe Bergdahl expressed concern Monday about a new comment made by President Donald Trump about the former Taliban captive, though he insisted the soldier's punishment would not be influenced by the president.
Trump recently referenced the disparaging comments about Bergdahl that he repeatedly delivered as a candidate when he was questioned Oct. 16 during a White House news conference about the soldier's court-martial.
Army Col. Jeffery R. Nance said during a pre-sentencing hearing at Fort Bragg in North Carolina that the president's remarks could impair the public's perception of a fair judicial process in the high-profile case. But he also said the comments won't affect his decision.
"I don't have any doubt whatsoever that I can be fair and impartial in sentencing in this matter," Nance said, adding he was unaware of Trump's new statement until defense attorneys raised it in an 11th-hour motion filed Oct. 17, one day after Bergdahl entered his guilty pleas.
Bergdahl, 31, has pleaded guilty to charges that he deserted his combat post in Afghanistan and endangered his fellow troops by misbehaving before the enemy. He faces a maximum punishment up to life imprisonment, reduction in rank to private, forfeiture of all pay and a dishonorable discharge.
Nance is expected to sentence Bergdahl next week following pre-sentencing proceedings set to begin Wednesday.
Eugene Fidell, Bergdahl's lead attorney, asked Nance on Monday to limit Bergdahl's maximum sentence to no punishment or at the least to no confinement to alleviate any perception the judge — an active-duty Army officer under Trump's command — and other Army officials were influenced by the commander in chief, which would amount to unlawful command influence.
Prosecutors countered Trump's statement Oct. 16 did not disparage Bergdahl or refer to any particular punishment the soldier should receive, thus Nance had no need to limit the maximum potential punishment.
Nance did not immediately make a decision on the motion. He is expected to do so before he sentences Bergdahl.
Defense attorneys earlier this year unsuccessfully attempted to have their client's case dismissed over Trump's campaign trail rhetoric. They documented more than 60 instances when Trump referred to Bergdahl, including calling him a "dirty, rotten traitor," and promising to review Bergdahl's case if he was elected president.
Nance in February called Trump's statements "disturbing" and potentially "problematic," but ultimately ruled they did not amount to unlawful command influence because Trump was a private citizen when he made them. Nance told Bergdahl's lawyers that they could revisit the issue if Trump were to raise it while in office.
"They're setting up sentencing, so I'm not going to comment on him," Trump said when asked Oct. 16 about Bergdahl's case by a reporter. "But I think people have heard my comments in the past."
The White House on Friday issued a statement that said Trump had no expectations that any servicemembers facing courts-martial face any specific sentences. The statement did not mention Bergdahl by name.
Bergdahl told Nance on Oct. 16 that he walked off Observation Post Mest on June 30, 2009 in an attempt to walk to a nearby base to complain about problems that he perceived in his chain of command. He said his actions were "inexcusable," as he entered a guilty plea without any pre-trial agreement with the Army to cap his potential sentence.
Within hours of leaving the outpost in Paktika province, Bergdahl was captured by Taliban fighters and eventually smuggled into Pakistan where he was held by militants for five years. He was released in May 2014 in a controversial prisoner exchange for five Taliban commanders who had been held in the detention facility at Guantanamo Bay in Cuba.
He was charged with "misbehavior before the enemy by endangering the safety of a command, unit or place" and "desertion with intent to shirk important or hazardous duty" in March 2015.
Bergdahl has remained on active duty since he was released, serving in a desk job at Joint Base San Antonio in Texas and has not been held in pretrial confinement.
dickstein.corey@stripes.com Twitter: @CDicksteinDC