Benning's Infantry Week to showcase Army's best Rangers, snipers, mortarmen and fighters
by
Corey Dickstein
February 18, 2020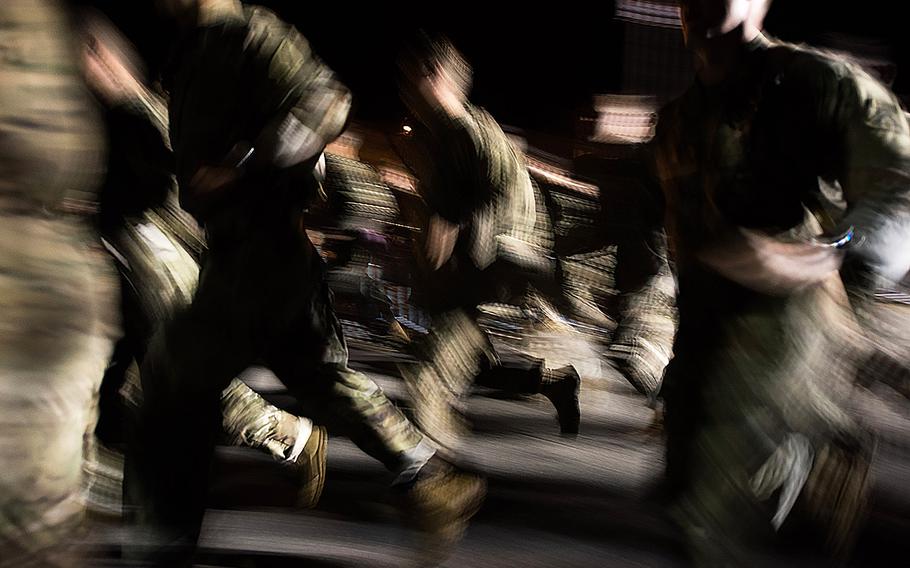 WASHINGTON – Some of the Army's best-skilled soldiers will gather at Fort Benning in mid-April for a quartet of challenging annual competitions during the Georgia post's Infantry Week meant to determine the service's best Rangers, mortarmen, snipers and fighters.
Between April 14 and 20, Fort Benning will host the 2020 Best Ranger Competition, Best Mortar Competition, International Sniper Competition and the All Army Lacerda Cup Combative Competition, the Army announced last week. The competitions honor the legacies of infantrymen, who have been the Army's critical ground fighters since the dawn of the United States, said Brig. Gen. David Hodne, the Army's infantry chief and its Infantry School commandant. "As it was in 1775, the infantry still looks at our enemy in the 'whites of their eyes,'" the general said in a statement. "So, this is a week that showcases how good our infantry is."
The competitions are each hosted by the Army's Infantry School at Fort Benning's Maneuver Center of Excellence. They are designed to determine who has the best skills under physically and mentally grueling conditions, Army officials said.
"Infantry soldiers have to be able to persevere," said Command Sgt. Maj. Robert Fortenberry, the senior enlisted leader for the Infantry School. "It's challenging yourself – if I'm placed into these situations for real, in a combat environment, do I have the intestinal fortitude, the mental capacity, the physical endurance, to fight all the way through? … We put them in a very difficult situation with a lot of physical endurance and a lot of physical hardship."
The David E. Grange Jr. Best Ranger Competition is the most grueling of the competitions – considered among the toughest military challenges worldwide, Army officials said. The three-day competition sees two-person teams of Ranger School graduates from units across the service compete in day and night exercises that test a wide variety of skills. Ranger teams go through a variety of obstacle courses, an urban-assault course, land-navigation courses, a combat water-survival test, runs and marches on little or no sleep.
This year's Best Ranger Competition will be held April 17-20. A team from the 101st Airborne Division from Fort Campbell, Ky., became the first team in the competition's 38-year history to repeat as winners. Capt. John Bergman and Capt. Michael Rose won last year after previously winning the competition in 2014 when they were assigned to the 25th Infantry Division at Schofield Barracks, Hawaii. It was Rose's third win. He also won with another partner in 2017 while he was assigned to the 75th Ranger Regiment.
Infantry Week will kick off April 14 with the International Sniper Competition and the Combatives Competition.
The sniper event sees two-person sniper teams compete with others from across the world, including from other U.S. and partner nations' military forces and law enforcement agencies. The Army said it expects about 30 teams to compete in the four-day event.
The competition will test the snipers' abilities to hit long-range targets, their camouflage skills and other techniques needed to move undetected in the field. The tests include challenges meant to stress competitors' critical thinking, according to the Army.
"That can involve, for example, having to demonstrate their ability to spot – from distances of up to 400 meters – objects as small as a pen, well-concealed inside a tree line," an Army statement said. Competitors will shoot targets at distances of 1,500 meters and possibly even farther, the service said.
The Army-only Lacerda Cup Combatives Competition will be held April 14-17 and feature 20 teams and some 180 competitors to contend for the championship in hand-to-hand fighting skills in various weight classes. Male and female competitors vie individually and as teams of eight representing each weight division -- bantamweight, flyweight, lightweight, welterweight, middleweight, cruiserweight, light heavyweight and heavyweight.
The competition tests soldiers' fighting skills in a mixed martial arts-like tournament, which sees soldiers fight in bouts of up to 10, 6 minute rounds. The team competition will conclude April 17 with a combatives skills challenge meant to test competitors' fighting techniques in a combat-like scenario, according to the Army.
In one past competition, for example, teams had to clear multiple rooms while searching for and subduing enemy fighters without weapons, the Army said.
The Best Mortar Competition will be held April 15-17. It will see four-person mortar teams representing their units complete a series of tasks meant to stress their ability to hit targets with mortar fire.
The competition will begin with the new Army Combat Fitness Test, include a series of tests on 60 mm and 120 mm mortars, a land-navigation course, and a written test on their knowledge of the Army's mortar systems.
In the 2020 competition, mortar teams will demonstrate their ability to put together a quickly planned attack on an enemy in a combat situation, including using the "hand-held method," which is firing a 60 mm mortar while holding onto its tube.
The mortar competition also will include a nighttime-occupation exercise, which will see teams demonstrate their ability to set up and secure a mortar position and possibly fire under the cover of darkness, according to the Army.
Fortenberry said the four competitions will demonstrate the critical skills infantry soldiers need to fight.
"I think that's what Infantry Week really highlights, that physical and mental toughness, and the ability to endure, and ultimately accomplishing the mission or task at hand," he said. "It takes a special caliber of person to be able to endure and be able to accomplish with those kinds of hardships that they're facing on a daily basis."
dickstein.corey@stripes.com Twitter: @CDicksteinDC