Gallery
At DC clinic, amputees get tips on improving their lives through sports
---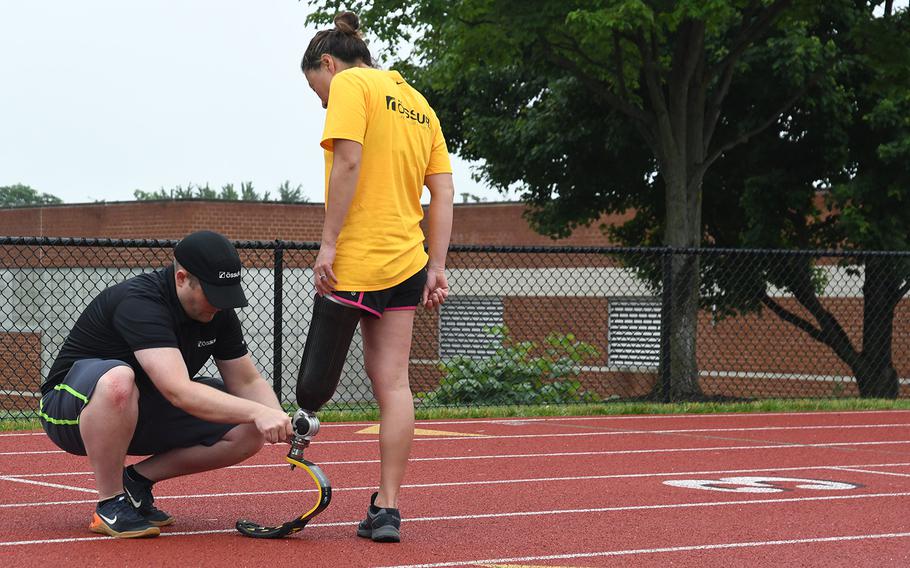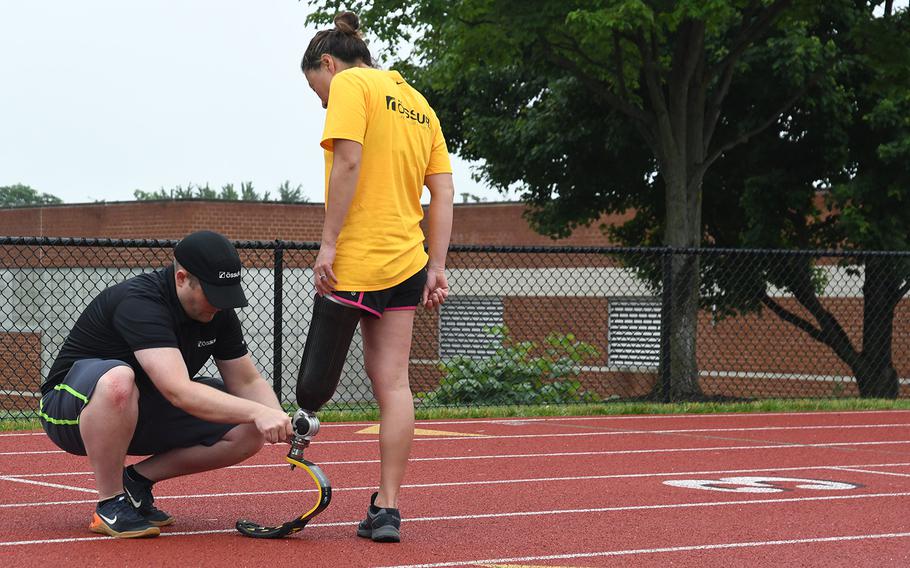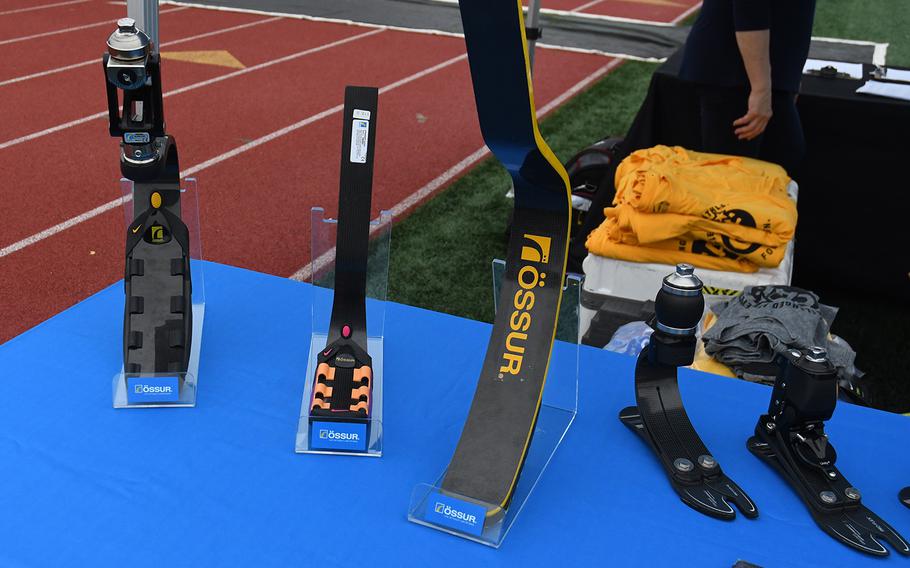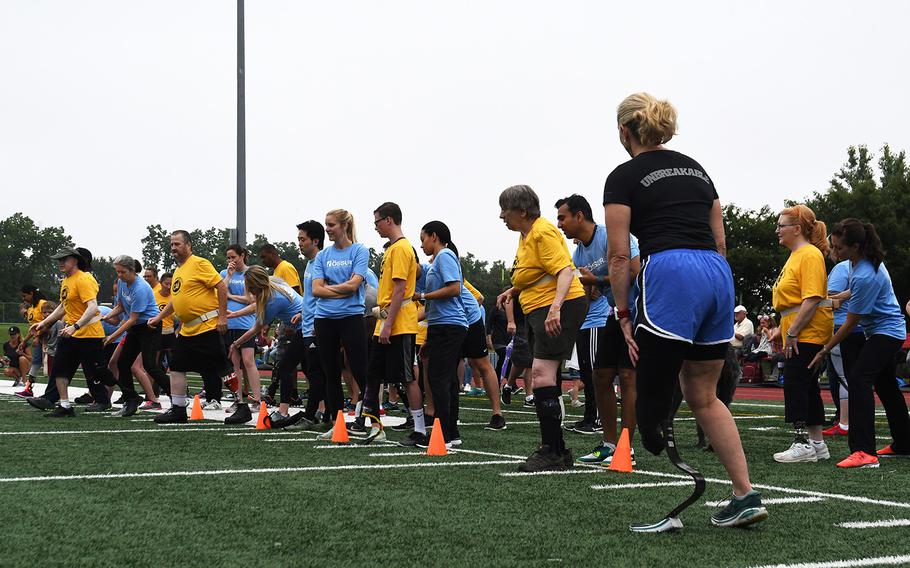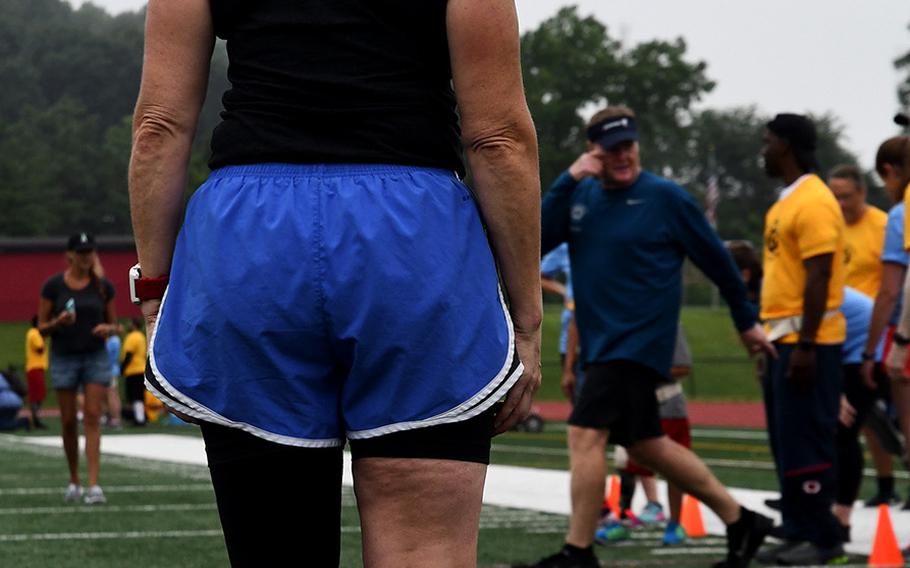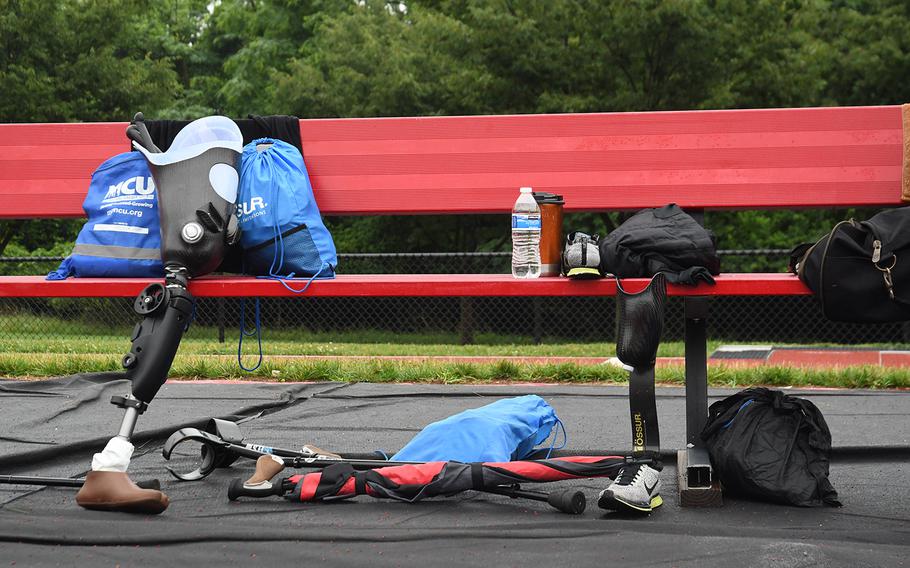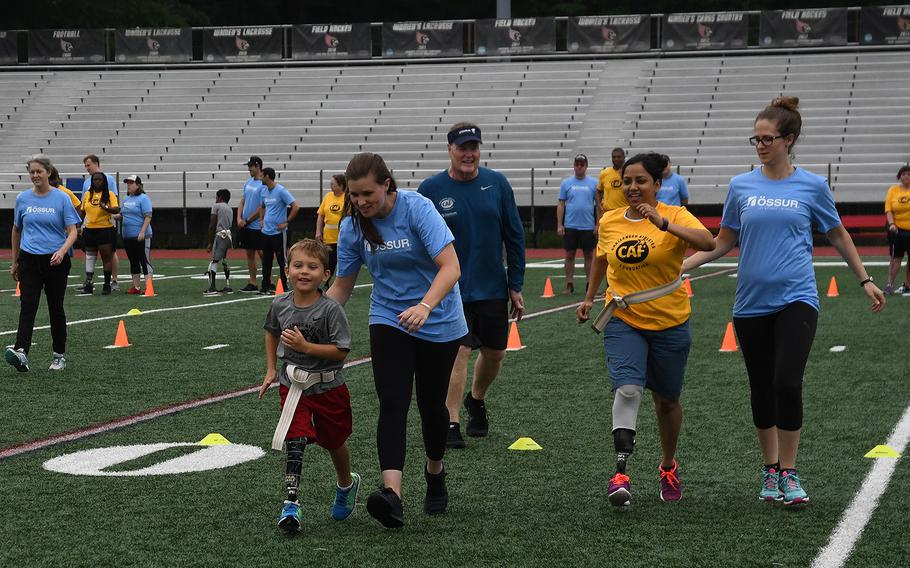 WASHINGTON — A rainy Saturday for most residents of the nation's capital turned out to be a life-changing day for one group of people, thanks to the Challenged Athletes Foundation.
At the Ossur Running and Mobility Clinic at Catholic University's football stadium, amputees of all ages and backgrounds learned walking, running and exercise techniques, and were inspired by two former U.S. Army officers, Col. Gregory Gadson and Col. Patty Collins, both amputees themselves.
The Ossur clinic is presented by CAF to support more than 50 amputees. Ossur is an orthopedic company that manufactures prosthetics, and CAF provides grants of these prosthetics to amputees and hosts clinics and events to provide athletic opportunities to those with physical challenges.
Some of the participants were trying on running blades for the first time. Others were seasoned professionals who have completed triathlons and, in the case of one amputee there, Nicole Ver Kuilen, a 1,500 mile run down the west coast to raise awareness about the need for access to prosthetics
Fifteen-year-old Scott Wren was surprised with a running blade prosthetic from CAF, and plans to use it to play basketball and try track and lacrosse.
Gadson, a 26-year Army veteran, lost both of his legs to a roadside bomb in Iraq in May, 2007. He got involved with CAF while feeling a need to connect with other athletes after his injury.
"I think one of the things to know about me is that I consider myself (to be) an athlete," he said Saturday. "I was a football player all the way through college at West Point, and so getting my life back together, getting connected with Challenged Athletes, was almost kind of a natural fit, in kind of understanding your capabilities and learning from others who are athletes, or want to be athletes."
As an outside linebacker for the Black Knights, Gadson never imagined that he would spend more than two decades in the Army. "I was recruited by West Point to play football," he explained, "so I never had any great designs on the military or having a military career. And even after graduating from West Point, we all have a five-year service obligation, but I never imagined I would make the military a career."
Since leaving the military, Gadson has also made it his mission to support and inspire other amputees. Saturday's clinic was part of an effort by CAF and Ossur to educate and inform amputees and those who are new to losing a limb about stretching, taking care of themselves, and, as Gadson said, "how to manage your life, because it is a very different existence when you lose a limb or a part of a limb."
It has also been 11 years since Collins lost part of her left leg in a biking accident, but she has not let her injury slow her down. A triathlete before becoming an amputee, Collins competes for Team USA as a paratriathlete, and is a paratriathlon world champion.
"So many different new opportunities presented themselves to me because I lost my leg," she said, "It really gave me an opportunity to take stock in what's important, and chase some dreams that maybe I didn't think were attainable. When you have that second opportunity to do things a little bit differently or do them over again or reach out to someone else, you don't let it go. You take advantage of it."
Collins stressed the importance of sports in her own life, and the potential of sports to make a difference in the lives of the participants at the clinic. While they would go home physically tired, she hoped the athletes would also return home "emotionally uplifted."
"Sometimes, through sports, when you accomplish something that unlocks something in you and you think, 'If I can do this on the playing field, what can I do the rest of my life? What kind of confidence did I gain today learning something new or achieving a new goal that I could carry into other areas of my life?' " she explained.
Gadson pointed out the importance of the participants proving their abilities to themselves, and the ability that athletics has to inspire them. "It's not about showing the world," he said, "it's about proving to ourselves and going after the dreams that we want to do."
A career in military service instilled in Collins a desire to serve others for the rest of her life, especially people whose challenges she shares in common. Taking part in the clinic, she said, was "an easy no-brainer. No place I would rather be on a rainy Saturday morning than right here."
---
---
---
---