Arrest is 'bittersweet' for family of Fort Hood soldier who was found shot to death
by
Rose L. Thayer
August 7, 2020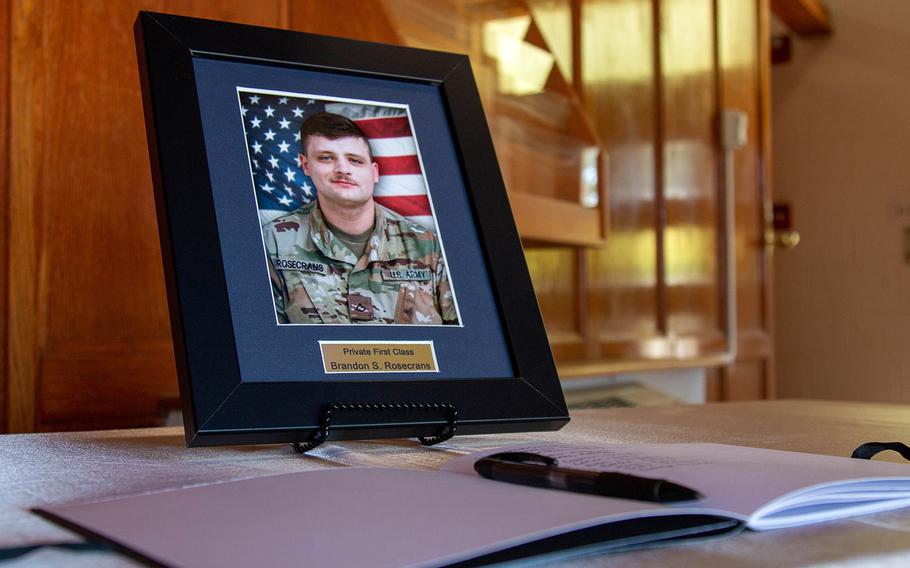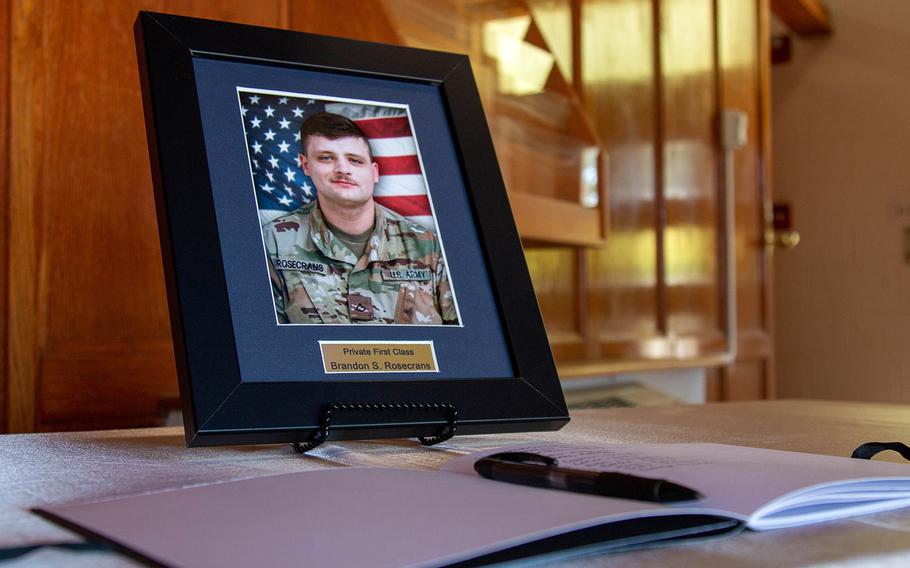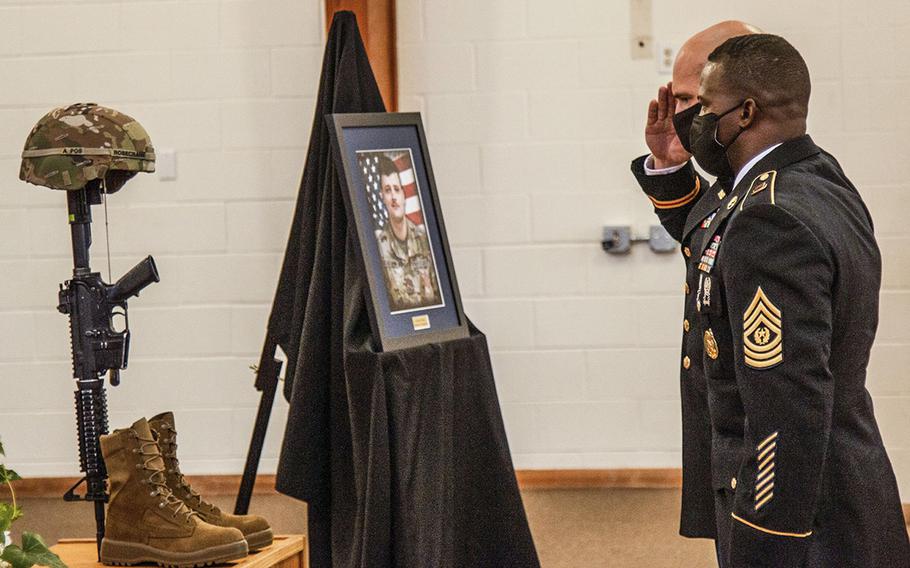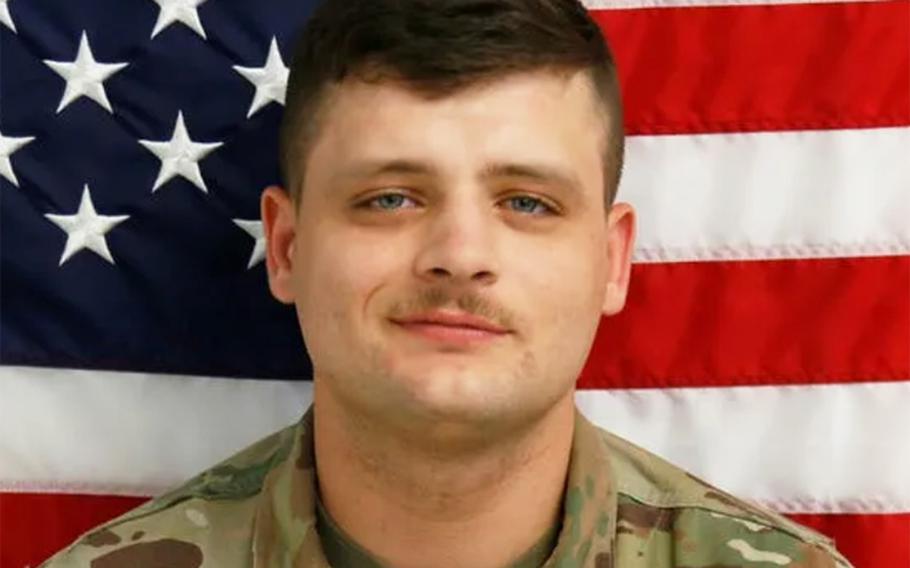 FORT HOOD, Texas — The family of Pfc. Brandon Rosecrans was in Texas on Thursday attending a memorial service hosted by the soldier's unit when police called to tell them that they arrested the man who they believe killed their son.
Brandon Olivares, 28, was already in Bell County Jail on Wednesday when he was formally charged with murder in the death of Rosecrans, the 27-year-old Fort Hood soldier who was found shot dead and his vehicle burned in Harker Heights, a small town near the central Texas Army base.
"It is a blessing that he is being brought to justice and we believe we have the right person who murdered our son," said Thomas Berg Sr., Rosecrans's stepfather. "It is truly bittersweet. Every time there's a break in the case it makes our son's death fresh in our minds again."
Berg said they still have many questions about their son's death and they believe police will continue to search for those answers. Berg also said investigators told him the case remains open and arrest warrants could be issued soon for other people involved in the killing.
Rosecrans was found unresponsive with a gunshot wound May 18 at about 10:17 a.m. on the 2100 block of Fuller Lane in Harker Heights, according to the Harker Heights Police Department. Investigators determined Olivares was in the vehicle with Rosecrans that morning when he shot the soldier and left him "in an area adjacent to the roadway," police reported.
Minutes after police were called about Rosecrans's body being found in the residential area, fire officials were notified of a burning vehicle on the 2500 block of Jubilation Drive, a residential street about 4 miles from Fuller Lane.
The vehicle, an orange 2016 Jeep Renegade, belonged to Rosecrans, police said. Harker Heights Fire Marshal Brad Alley said that investigation remains open and ongoing.
Officials issued an arrest warrant Wednesday for Olivares, who is a Killeen resident. He was already in custody of the Bell County Sheriff's Department on unrelated charges, and the warrant was served at the Bell County Jail, according to police. Olivares was arraigned Wednesday and his bond set at $1 million.
Police did not indicate whether Olivares would face any charges related to the vehicle fire. The jail log listed Olivares as charged with murder and a charge from June of being a felon in possession of a firearm.
Olivares is not an active-duty or former soldier, according to information provided to Fort Hood Public Affairs from Army Human Resources Command.
Rosecrans, who is from Kimberling City, Mo., entered the Army in May 2018 as a quartermaster and chemical equipment repairer and has been assigned to the 3rd Armored Brigade Combat Team, 1st Cavalry Division since November 2018, according to Fort Hood officials.
He was buried June 2 near his hometown at Philibert Cemetery, according to a news release from Fort Hood about Thursday's memorial service. Capt. Jordan Holmlund, Rosecrans' former company commander with the 215th Brigade Support Battalion's Field Maintenance Company, said the soldier was a "valued member of our team."
"He and his service mattered to the armed forces and to the soldiers in this company. The best way we can honor his memory, in my mind, is to work together every day to build our legacy," Holmlund said. "We can do that by continuing to ensure that this organization takes care of its soldiers, mentors them and makes them proud to serve this country."
Aside from Rosecrans, four Fort Hood soldiers have been killed this year and three of the deaths remain unsolved. Spc. Shelby Jones was killed March 1, Spc. Freddy Delacruz was killed March 14 in a triple homicide and the remains of Pvt. Gregory Wedel-Morales were found June 19 in a field. Each of those deaths occurred in Killeen, the city just outside of Fort Hood, and remain under investigation by the city's police department.
Spc. Vanessa Guillen was killed during the workday at Fort Hood by fellow soldier Spc. Aaron Robinson, who later killed himself.
thayer.rose@stripes.com Twitter: @Rose_Lori