Army ups some bonus pay in bid to retain soldiers in hard-to-fill jobs
by
Rose L. Thayer
August 29, 2019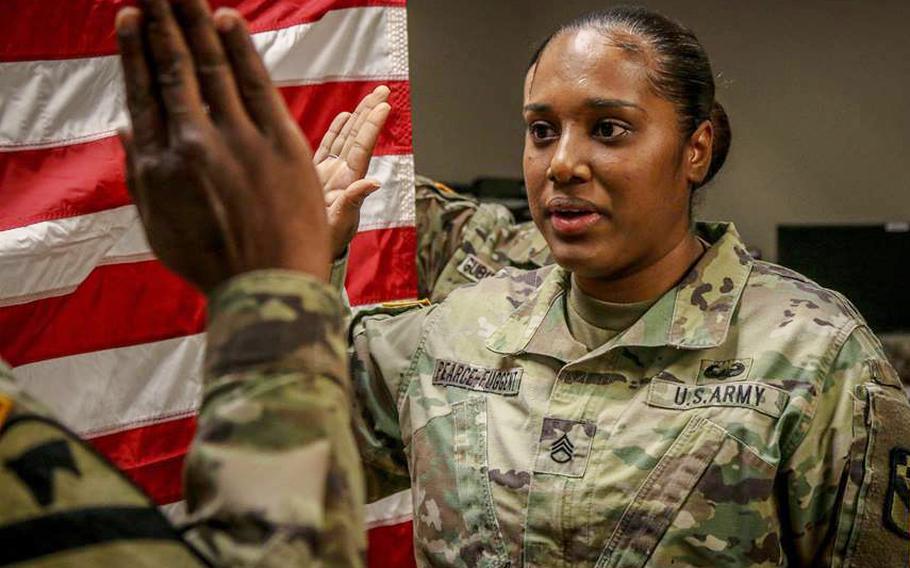 AUSTIN, Texas — The Army is upping bonuses for soldiers willing to reenlist for longer periods of time in hard-to-fill jobs such as cyber or special forces, which could mean up to $81,000 in a lump sum for some troops under the new payout structure, service officials confirmed.
New increases, which go into effect Sept. 9, up the top bonus by $9,000 and offer some of the highest payouts available in more than five years. About 45% of soldiers up for reenlistment are eligible for bigger bonuses.
"It's matching the Army incentives with the commitments from the solders. If they give more, they get more," said Sgt. Maj. Mark Thompson, senior Army career counselor at the Pentagon.
Selective retention bonuses are a tool used by the Army to get soldiers into jobs that can be more challenging to fill because they are in demand in the private sector or require a special skillset or additional training. Keeping soldiers with experience also allows the Army to maintain that knowledge as opposed training new soldiers for the job.
The increased bonuses come as the Army attempts to fill gaps in its force largely caused by its failure in 2018 to reach its recruiting goals, when the service came up some 5,600 recruits short. The Army met its retention goal in 2018 – and has again done so in 2019, officials have said. But the recruiting shortfall meant the service was not able to grow last year to its desired active-duty end strength of 483,500.
The Army is supposed to reach a force size of 487,500 active-duty soldiers by the end of September, and officials have insisted the service is on pace to meet its recruiting requirements for the year. However, the Army has struggled to fill positions in certain fields — including in newly formed cyber units and in traditional infantry billets.
The Army recently offered recruits bound for the infantry bonuses of $15,000 to $40,000 as the service seeks to add some 3,000 infantry recruits by the end of the fiscal year, which is Sept. 30. Recruiting Command officials have declined to provide fiscal year 2019 recruiting statistics, saying the service policy is not to release them before the fiscal year is complete.
When establishing bonuses, Thompson said the Army looks 18 months ahead to determine where soldiers will be most needed and will "bump and nudge" reenlistment payouts accordingly. Factors such as training time and recruiting goals also play a role in adjusting bonuses.
The increase in bonuses is not because soldiers aren't reenlisting, he said. Rather, the increases help the Army get soldiers where they are most needed.
"Bonuses assist in end strength, but it's not our main focus," Thompson said.
This latest update is the sixth one made to bonus charts this year and follows an Army initiative to pay more to soldiers willing to give longer time commitments, he said.
Though there are about 150 military occupational specialties in the Army, there are more than 700 variations of jobs included in the reenlistment bonus chart once rank, location and other factors are considered. About 80 of those jobs saw an increase in bonus amounts, while another 80 saw a decrease.
"It's dynamic on our end, because we're able to track all that data down to the individual soldier to figure out, 'What does the Army need and what is critical at this given time?'" Thompson said.
Right now, the Army needs soldiers willing to become Rangers or airborne qualified to fill jobs such as information technology specialists, paralegals or cryptologic linguists within units such as the 75th Ranger Regiment or the 160th Special Operations Aviation Regiment.
For example, an enlisted supply specialist who can graduate Ranger School and join the 75th Ranger Regiment can earn up to $65,000 for a five-year reenlistment. Previously, the bonus was about $58.000. A chaplain's assistant willing to go to airborne school could take home a bonus up to $41,600, Thompson said.
Thompson anticipates the higher dollar amounts will increase the average reenlistment bonus payout to more than $14,000.
Soldiers receive the bonus once they complete any courses or training associated with the new job, which varies depending on what type of training or reclassification is required.
The bonus chart includes 10 tiers of payouts that vary based on a soldier's rank and then various jobs and locations are given a designated tier. Nearly every bonus amount on the chart increased.
The biggest payouts are related to or in support of cyber and special forces. Any enlisted soldiers or noncommissioned officers willing to reenlist or reclassify to go to the 780th Military Intelligence Command [Cyber] at Fort Meade, Md., are eligible for top payouts between $5,400 for a private first class reenlisting for one to two years and $81,000 for a staff sergeant reenlisting for at least five years.
Higher bonuses go to noncommissioned officers willing to enlist for five or more years.
"They have a lot more experience," Thompson said. "If the Army loses a staff sergeant or sergeant first class, it takes 10 plus years to remake them."
Similarly, special forces jobs get higher payouts because of the time and cost to train those soldiers.
"It's cheaper for the Army to keep them and offer an $80,000 bonus than find a replacement," Thompson said.
Corey Dickstein contributed to this report.
thayer.rose@stripes.com Twitter: @Rose_Lori