Army's nonprofit is poised to help soldiers impacted by Hurricane Laura, other natural disasters
by
Corey Dickstein
August 26, 2020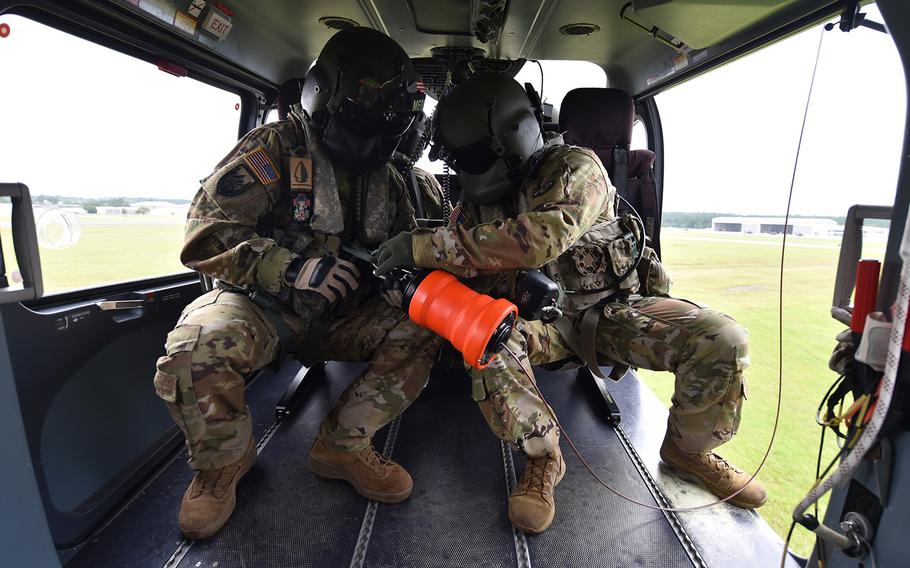 The Army's official nonprofit organization is prepared to provide financial help to soldiers impacted by Hurricane Laura, as the Category 3 storm in the Gulf of Mexico is expected to gain strength before crashing into coastal Texas and Louisiana late Wednesday.
Army Emergency Relief is poised to provide soldiers no-interest loans to help them with a range of issues hurricanes or other natural disasters can cause, such as home and vehicle repairs or help with temporary shelter should they be displaced, said retired Army Lt. Gen. Raymond Mason, the organization's director. The organization expects to be busy through the fall as it helps soldiers dealing with the ongoing coronavirus pandemic and as the National Oceanic and Atmospheric Administration predicts one of its busiest hurricane seasons ever with as many as 25 named storms.
The National Hurricane Center on Wednesday said Hurricane Laura had strengthened to a "dangerous Category 3" storm and warned it could become a Category 4 hurricane before making landfall between Wednesday evening and early Thursday morning. The center also warned the large storm could cause "potentially catastrophic" storm surge flooding.
The center issued a hurricane warning for areas stretching from Texas' San Luis Pass, just south of Galveston, to Morgan City in Louisiana, about 80 miles west of New Orleans. National Guard troops in Texas and Louisiana were ordered to prepare to respond to the storm, as local officials urged residents to evacuate coastal towns in the region.
Military officials at installations in the region, including at the Army's Fort Polk and Barksdale Air Force Base in Louisiana, said Tuesday that they were monitoring the storm and urging their troops to prepare for damaging wind and flooding in the region. Officials at Fort Polk on Wednesday said they were preparing to move training for thousands of troops at the installation's Joint Readiness Training Center into barracks on the post designed to withstand hurricane conditions.
The area was spared the brunt of potential back-to-back hurricanes as Hurricane Marco fizzled to less than tropical storm strength before making landfall near the Mississippi River's mouth late Monday.
If Laura strengthens to a Category 4 storm it would bring with it winds from 130 to 156 mph. The National Hurricane Center also warns of the potential for deadly flooding throughout the impacted area.
Army Emergency Relief has a long history of assisting soldiers, including when impacted by hurricanes, Mason said. Last year, the organization provided about $9 million in assistance for hurricanes and other natural disasters to about 5,000 soldiers, he said.
Soldiers impacted by the storm can apply for zero-interest loans through their chains of command by talking with Army Emergency Relief personnel at most installations or by requesting assistance through the American Red Cross. Mason said less than 1% of applicants are turned down for loans.
He also said a lot of soldiers are not familiar with Army Emergency Relief. Retired soldiers, their families and, in many cases, Army National Guard members and reservists are also eligible for benefits.
The other services have their own nonprofit organizations, the Air Force Relief Society and the Navy-Marine Corps Relief Society, which provide their service members similar benefits.
Mason wants soldiers to understand if they need financial assistance, they are better off applying for a no-interest loan from his organization than seeking needed money through other channels.
"The one thing that does keep me up is that there's some soldier out there who's hurting and doesn't know about us and goes out and needs some money and goes to one of these predatory lending places, you know, down off at the front gate of every military post around the world," he said. "That's a losing proposition because they can charge up to 36% [as an annual percentage rate.]"
Those loans can cost soldiers thousands of dollars, he said, and "way too many soldiers still do it." Many of the loans administered by Army Emergency Relief are eventually converted to grants, which soldiers do not have to pay back, Mason said.
In 2017, after Hurricanes Irma and Maria — a Category 5 storm — struck Puerto Rico and the U.S. Virgin Islands, the organization converted nearly $4 million of zero-interest loans into grants. Another $22,000 of zero-interest loans issued after Hurricane Harvey struck Texas were converted to grants, as well, Mason said. "You never want to see someone struggling," he said. "And so, we hope they will come to us, and we're here to help out our soldiers. We're always ready to help whether it's a hurricane or a [wildfire], or an earthquake, or a soldier needs help with a car repair."
dickstein.corey@stripes.com Twitter: @CDicksteinDC