Army's first woman to lead an infantry division wants to encourage others to serve
---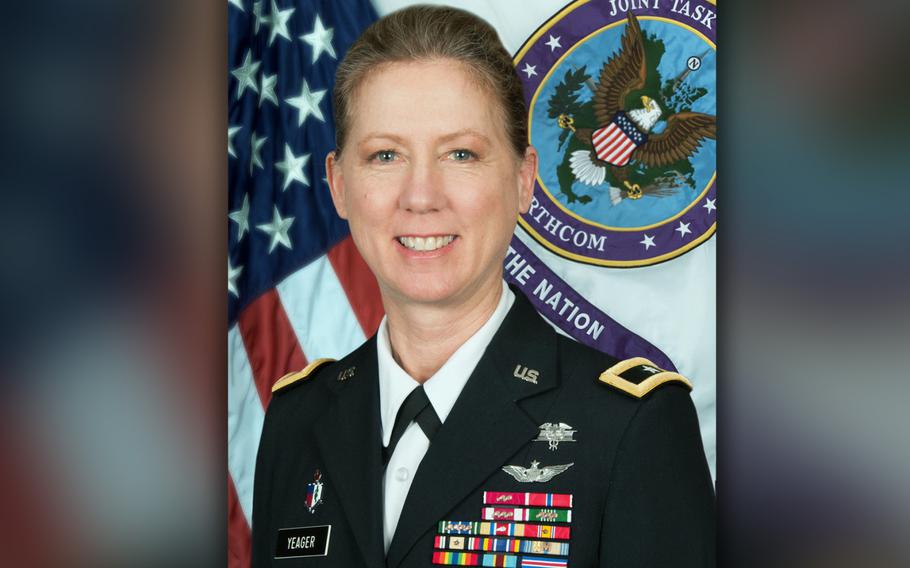 Brig. Gen. Laura Yeager joined the Army with the same intentions as many: She needed money for college. She surprised herself with how much she loved the work — and now, 33 years later, she will be the first woman to command an Army infantry division.
"To me this is just my next assignment, but I understand it's a milestone," Yeager said Thursday during a phone interview from Joint Forces Training Base, Los Alamitos, Calif., where on June 29 she will take command of the California National Guard's 40th Infantry Division.
"I'm hoping the novelty of the situation will fall away and we can focus on doing the work," she said, noting she was also the first woman to hold her previous assignment as the commander of Joint Task Force North, U.S. Northern Command at Fort Bliss, Texas. In that instance, she said the noteworthiness of her leadership never really came up.
Despite Yeager's preference to take command again without fanfare about her gender, she said she is taking the opportunity of the spotlight to share her story as a way to encourage men and women to join the military.
"I know that there are a lot of women who struggle balancing work and family life and wanting to have a career. But, also you feel guilty when you're away from kids and you feel guilty when you're not doing your job. So you just feel guilty all the time," she said. "As a female, I feel like the Guard and Reserve components are such a great way to serve and yet still have some good family-life balance."
The daughter of a Vietnam War veteran, Yeager began her active-duty military service in May 1986, receiving her commission from the California State University, Long Beach ROTC program. She completed military helicopter training in 1989, and served as UH-60 Black Hawk helicopter aeromedical evacuation pilot.
She married a fellow Army officer, Curtis Yeager, and when their first of four sons was born, she decided to leave active duty after eight years and take advantage of a separation bonus being offered at the time.
"It was very demanding for us to both serve," Yeager said. During her transition program, she learned about opportunities in the reserve components.
"It turned out to be such a blessing to be able to stay home mostly and to continue to be able to serve and be around adult people and continue to be on flight status," Yeager said. "I was able to find this path for myself."
When her husband retired as a lieutenant colonel, Yeager said he encouraged her to dive into her career again, so she took a full-time position with the California National Guard.
In 2011, she deployed to Iraq as the deputy commander of the California Guard's 40th Combat Aviation Brigade.
"I was so fulfilled by the work we were doing. You train many years to do a job, and you finally get to do it. It's a very satisfying feeling," Yeager said, also noting the challenge on all servicemembers to spend a year away from home.
She later commanded the brigade.
"All of those assignments along the way prepared me to do this division command," Yeager said. "I just would like to highlight how much the military values diversity, inclusion and equality. My assignment to this position highlights that commitment."
Soldiers of the 112-year-old 40th Infantry Division have fought in World War I, World War II and the Korean War. More recently, division soldiers deployed to Kosovo, Afghanistan, Iraq and other locations around the globe. In March, the division headquarters returned to U.S. soil after successfully completing a train, advise and assist mission in Afghanistan.
Yeager will take command from Maj. Gen. Mark Malanka, who is retiring.
---
---
---
---