Army requests millions to fix homes for high-ranking officers in the Washington area
by
John Vandiver
February 26, 2020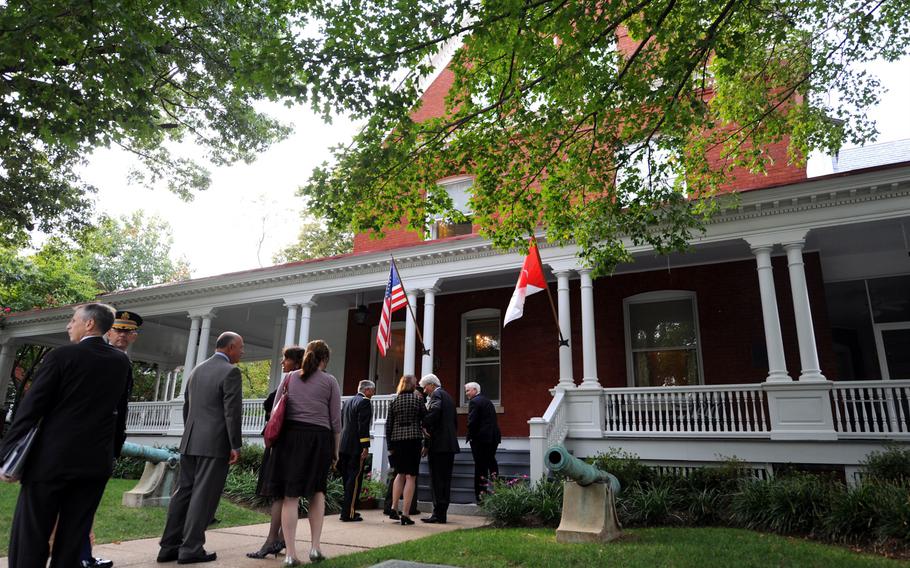 The Army wants major renovations at the homes of top military brass in the Washington area, where scores of multimillion-dollar projects are planned to restore aging historic properties, the service said.
The military is obligated to notify Congress when maintenance and repair costs for the homes of generals and flag officers exceeds $35,000. There are 33 properties in the capital area that exceed the threshold at a total cost of $37.7 million, the Army's 2021 budget request shows.
Most of them are connected to Joint Base Myer-Henderson Hall, which includes sites in Washington and Arlington, Va., according to budget documents.
"These houses are in a failed and failing state requiring major building components to be replaced to include electrical, plumbing, structural, fire and force protection requirements for historical homes that are between 90 to 130 years old," said Michael L. Howard, a Joint Base Myer-Henderson Hall spokesman.
Worldwide, the Army's 2021 request for general and flag officer housing is $47 million for costs connected to operations, maintenance and leases. The inventory includes 151 Army-owned and leased units and 191 private units, Army documents state.
Most of the money is focused on repairs at Washington's Fort McNair, a part of Joint Base Myer-Henderson Hall situated along the Potomac and Anacostia rivers.
The Army's vice chief and other top leaders reside at the post, which has been in use since 1791. There are seven homes along the base's 2nd Avenue that have been tapped to receive $3.6 million each in renovations, the Army said.
Work is slated to begin in the 2020-2021 time frame and would take six years to finish, Howard said.
The upgrades are expected to provide savings over the long-term operation costs of the historic homes, which the Army says have inefficient heating and cooling systems.
They also need landscaping and drainage work after two years of record rainfalls that raised concerns about moisture damaging the older homes, Howard said.
At Fort Myer in Arlington, many homes were built between 1892 and 1935. Ten homes are slated for improvements, including small projects for the homes reserved for the Army and Air Force chiefs of staff.
A $1.4 million project at Fort Myer is slated for quarters that Colin Powell called home during the early 1980s while working for then-Defense Secretary Caspar Weinberger. It's unclear who the home is meant for now.
However, not all of the big spending elsewhere is meant for historic homes.
At U.S. European Command in Stuttgart, the Army will spend $1.2 million to fix two homes along Patch Barracks' Florida Strasse, where generals reside. Both homes are vacant due to structural and foundation issues that make them uninhabitable, said Ray Johnson, spokesman for Installation Management Command-Europe.
"Neither of the 63-year-old houses has had significant upgrades over the last 25 years, except for piecemeal repairs," Johnson said.
About seven years ago, the Army spent millions fixing up other homes along Florida Strasse, but the newly budgeted projects weren't part of that effort, Johnson said.
vandiver.john@stripes.com Twitter: @john_vandiver