Army NCO of the year was motivated to compete by brain injury in Afghanistan
by
Chris Carroll carroll.chris@stripes.com
December 18, 2013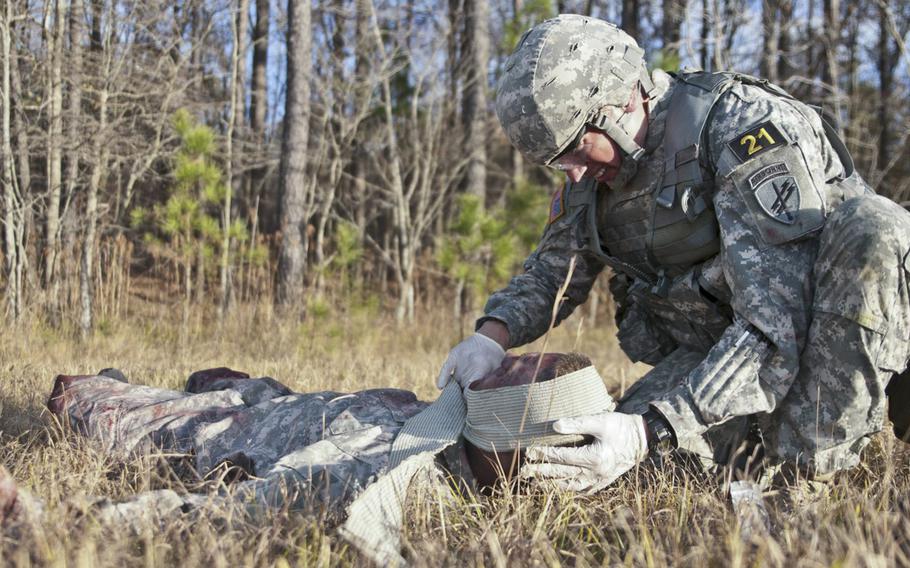 WASHINGTON – Homemade bombs rattled Jason Manella's skull many times while he traveled southern Afghanistan as an Army Reserve civil affairs specialist trying to build bridges with the local population.
"You're drinking chai with the local village elder, and then doing assessments of the village and briefing that back to the battalion commander or higher," he said. "The harder we work, the less our combat arms brethren get attacked."
But there were still plenty of attacks in the remote area west of Kandahar where Manella, then a staff sergeant, was working. Unlike thousands of troops during the last decade of war, however, he hadn't lost a body part or found himself riddled with shrapnel when the IEDs went off. He thought it would be "wussy" to pull out of the fight to seek treatment when he began experiencing dizziness and worsening headaches.
But then his fellow soldiers told him he'd started trying to have the same conversations with them repeatedly, and couldn't recall things they'd told him minutes earlier. So Manella was sent to eight weeks of therapy at a traumatic brain injury treatment center in Afghanistan.
It was there, disappointed to be separated from the members of his unit, that he started on the path that led to him winning the Army's noncommissioned officer of the year competition last month at Fort Lee, Va. Now a 27-year-old sergeant first class, Manella was awarded the title by Army Chief of Staff Ray Odierno and Sergaent Major of the Army Raymond Chandler on Wednesday at the Pentagon.
"Sgt. Manella is representative of the resiliency that we have in our Army, the physical and mental toughness to overcome adversity, to set goals and then most importantly, to strive forward to achieve those goals," Odierno said at the award presentation.
While recovering at the downrange TBI center in mid-2012, Manella was given the typical therapy regimen, but he found it boring.
"You come in from a situation where you're out in the field every day doing patrols and you have this sense of importance, utility, you have a mission – to sitting in this TBI clinic punching colors on a screen," he said.
So he devised his own recovery regimen. He'd had some success a few years earlier in the Army's soldier of year competition, and he began adding elements of the study curriculum for the competition to his daily therapy routine.
"It made me feel like I was doing something that was more useful," he said. "And my idea behind it was using my previous competing as a baseline, and if I could at least get to that baseline, it would give me an idea of how far I'd recovered."
It was challenging at first, and Manella found he could study Army regulations for no more than a few minutes before needing a rest. But his endurance soon increased, and the training became more than therapy.
In competition from Nov. 19 to 22, he squared off against a field of 24 of the Army's most accomplished soldiers in a competition that measured skills ranging from shooting to essay writing, with plenty of physical tests thrown in.
As the winner, Manella says he'll be carrying the message to troops suffering from TBI that there's no shame in getting treatment. And he wants to inspire the full spectrum of wounded warriors to keep pushing for greater achievement.
"I feel like one of the biggest things the Army teaches you is to adapt and overcome," he said. "So when you have an injury, you have to identify what your new limitations are and figure out a way to go around them."
carroll.chris@stripes.com Twitter: @ChrisCarroll_