Army leveraging virtual-reality market for plug-and-play battle simulation
by
Wyatt Olson
May 24, 2019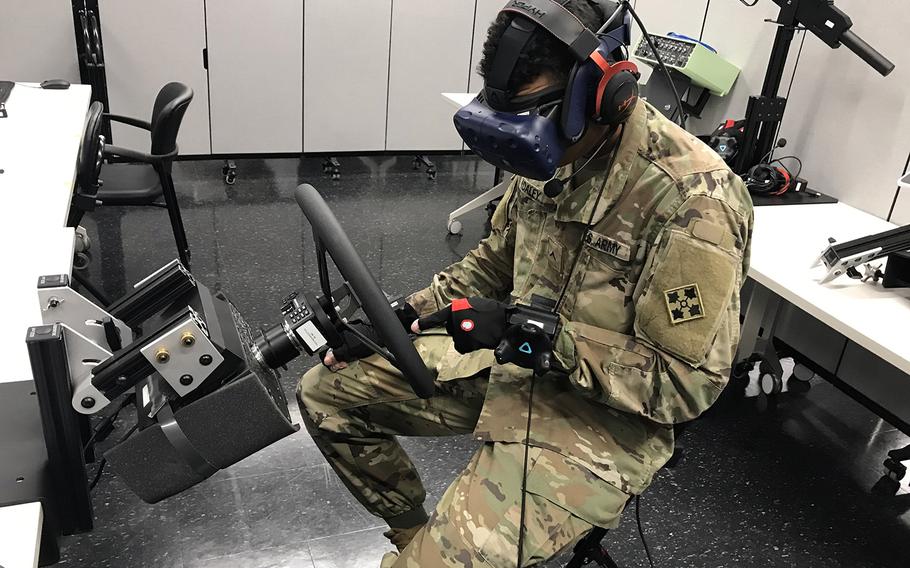 FORT SHAFTER, Hawaii — The U.S. Army will award contracts next month to produce software to run a simulated training platform that within two years will deliver "a second revolution in training" for the service, the major general overseeing the project said Thursday.
"What I think we're going to do with the Synthetic Training Environment right now is the most revolutionary thing since developing our live training environment at our combat training centers," Maj. Gen. Maria Gervais said during a panel she chaired at the Land Forces Pacific Symposium in Honolulu. "We see this as a second revolution in training for the United States Army."
Gervais is deputy commanding general for combined-arms training at Fort Leavenworth, Kan., but also leads a team overseeing development of the Synthetic Training Environment system.
"We are not going to replace live training," she told Stars and Stripes. "Live training will always be the pinnacle training. What we're trying to do is get the 'reps and sets' so that you can improve your proficiency, your mastery."
The Synthetic Training Environment will be a realistic and complex replica of weapons systems and operations, complete with civilians, enemies, weather conditions and even animals, Gervais said. It will integrate the domains of land, air, sea, space and cyber using live, virtual and augmented environments. It will also incorporate scenarios found in the Army's regular exercises.
The system's so-called One World Terrain will provide a 3D representation of the globe that participants could potentially connect into simultaneously from anywhere.
Most of the Army's existing simulation trainers are based on proprietary technology from the 1980s and '90s, Gervais said. Because of the proprietary nature, each was developed using different terrain formats.
"Terrain is our Achille's heel in all of this," she said. "If a unit needs to train and is going to deploy, wouldn't it be great to pull that terrain in immediately and put it in the simulators? We can't do that because of the simulators we currently have.
"We've had to spend all our time and effort hooking them together," Gervais said. "That's very costly, very time-consuming, requiring lots of contractors."
Months would be spent coordinating the 12 stationary simulators for a training event, she said.
"They're good and they met the need previously, but they're too costly, we can't change them quickly and they are very hardware-based versus software-based," she said. "That means you'd have to go to a big warehouse that would have all these simulators in it. Units have to schedule it and fight for time to use it."
The system now underway, which is projected to reach operating capability in late 2021, leverages the virtual and gaming markets and thus will use common data and a common architecture.
By using commercial standards, the Synthetic Training Environment will be "plug-and-play" and be readily useable by soldiers, even during deployments.
"We just concluded an evaluation of the operating system," Gervais said. "That's going to lead to an award of contracts for the inside software."
The Army is also awarding a contract for a virtual trainer that will simulate most of the Army and Marine Corps rotatory-wing and ground vehicles, which will be used in training from the squad level to the highest echelon.
"We'll award those contracts in June," she said.
Groups of soldiers have been assessing the software and offering feedback.
Among them have been soldiers with the Hawaii-based 25th Infantry Division, she said.
"For an infantry soldier, you have to be able to replicate the terrain from a jungle perspective," she said. "We are working with the 25th so that we can test technology and get to a jungle-type environment."
Soldiers at Fort Carson, Colo., provided feedback on aviation platforms, while tank, Bradley Fighting Vehicle and Stryker crews at Fort Riley, Kan., offered their advice, she said.
Speaking before an audience of several hundred U.S. and international soldiers Thursday, Gervais conceded that some might consider the Army's ambitious plan for seamless, global synthetic training as "a pipedream."
"Based upon what I've seen working with industry partners and academia, I'm just going to tell you," she said, "I think that's hogwash."
—
olson.wyatt@stripes.com Twitter: @WyattWOlson