Army leaders want to talk to soldiers about race issues, but won't immediately change Confederate-named bases
by
Corey Dickstein
June 25, 2020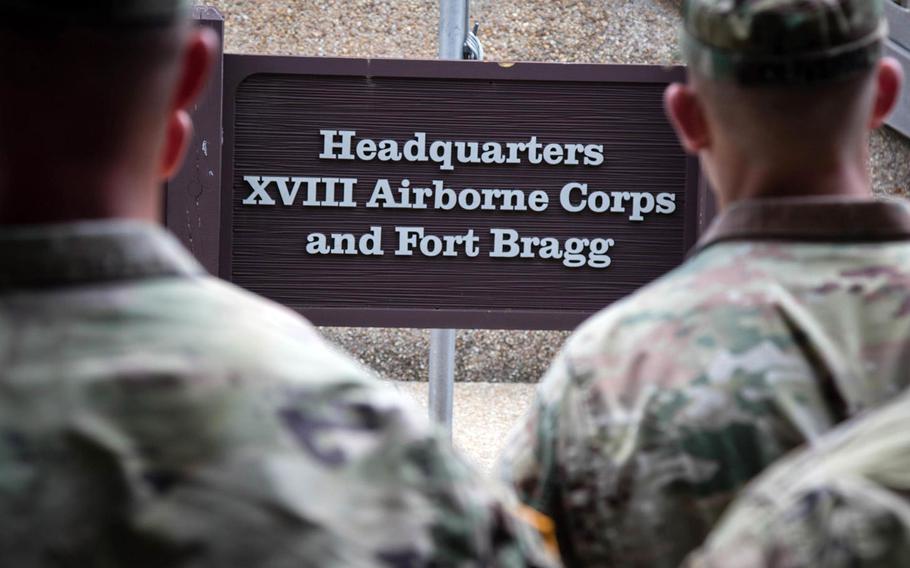 WASHINGTON — The Army's top leaders want to hear directly from soldiers amid a national conversation on racial issues and a renewed effort to strip military institutions of Confederate-linked names, which has pushed the military into the forefront of the debate.
The Army's senior leaders plan to spend the coming months visiting with groups of soldiers at posts around the globe for candid conversations on race and diversity meant to help them improve life for minorities in its ranks, top leaders said Wednesday. The effort, dubbed Project Inclusion, was announced Thursday by Army Secretary Ryan McCarthy, who vowed his leaders would have "hard, uncomfortable conversations" that would lead to improvement.
"These listening sessions across the force are going to give us some ideas on how we create the environment — inclusive, fair, free of bias. You can't do that if you don't understand perspectives," said Gen. Joseph Martin, the Army's vice chief of staff. "We don't have a path of 20 measures we're going to take. That's going to develop over time … This is not something [that is] one stop, we're [not] just coining a phrase."
The Army will take some immediate steps aimed at improving race issues within its ranks, said Martin and James McPherson, the Army undersecretary. Those steps — at least for now — will not include a ban on Confederate imagery on Army posts or name changes for the service's 10 southern installations named for Confederate generals from the Civil War, they said.
The initial steps that the Army will take include removing soldiers' photographs from packets submitted to promotion boards considering rank advancements for officers, said McPherson, the service's No. 2 civilian. The Army will also immediately launch a formal probe into its military justice practices, primarily aimed at addressing apparent racial biases that lead to black and other minority soldiers facing a significantly higher likelihood of punishment than white soldiers.
Martin said he has adjusted his upcoming travel schedule to include blocks of time dedicated to meeting with groups of 10 to 15 soldiers of various backgrounds for those conversations on race. He said he expects soldiers, even the youngest junior enlisted, to be honest about their experiences in and out of uniform. The general hopes such conversations will occur within Army units at all levels.
"Race isn't an easy thing to discuss," said Martin, who is white. "If you're going to have fit, cohesive teams, you've got to be able to communicate with each other. This isn't something that's going to fade away over time."
Martin and McPherson began those conversations with staffers in their Pentagon offices earlier this month as they watched unrest over racial injustice and police brutality spread across all 50 states in the wake of the May 25 killing of George Floyd by a then-Minneapolis police officer.
In a conversation that lasted more than two hours, Martin said he was surprised to learn of some of the experiences of the soldiers who he works most closely with on a day-to-day basis, including minority individuals who had been harassed by police officers.
"It was eye-opening," the general said. "I heard some things when I sat down with my squad that in my mind I said, 'Are you kidding me? In this day and age, these things are still happening?' And the answer is yes."
A similar conversation in McPherson's office spawned some introspection, he said.
McPherson, who grew up in rural Southern California, said he had never had a real conversation with a black person until he reached Army basic training after enlisting at 19 years old.
"I always prided myself in not having one little speck of racism in me," said McPherson, who went on to a 27-year career in the Navy, rising to a two-star admiral and the service's top uniformed lawyer. "But the whole conversation about unconscious bias really came to the forefront. How did that experience of never having a conversation with a black man until I was 19 years old form me? I've really had to deal with that. That came out of a listening session."
McPherson said he anticipates addressing the issue of Army posts named for Confederate generals in those conversations with soldiers. The issue has sprung up in recent weeks after McCarthy and Defense Secretary Mark Esper signaled they were open to considering name changes, amid the anti-racism demonstrations and as the Marine Corps moved to ban imagery featuring the Confederate battle flag from its bases.
But President Donald Trump appeared to put a stop to the Army making such changes, which by regulation it is empowered to do, announcing no military installations would be renamed during his administration and vowing to veto any legislation that would force the issue. Meanwhile, bills introduced recently in both chambers of Congress seek to change those names.
The Senate Armed Services Committee's approved draft of the 2021 National Defense Authorization Act, which sets yearly policy and funding priorities for the Pentagon, would strip the posts of their Confederate names after a three-year study. Another Senate bill introduced by more than 30 Democrats on Wednesday would rename installations and other military assets named for Confederates within one year. A similar measure was introduced in the House earlier this month.
McPherson said the Army is working with Esper's office on that issue. McCarthy on Thursday said the Army was also working with the defense secretary's office toward a Defense Department-wide policy on Confederate imagery on military installations.
The Army hopes removing official photographs from promotion board packets will eliminate any potential that some soldiers are not considered for advancement based on their appearance. McPherson cited a recent study that showed unconscious bias might be removed from the process without photographs.
The Army will stop including photographs in officer promotions boards in August, McPherson said. The service will also experiment during the summer with conducting promotions boards for potential sergeants major without official photographs. It will not immediately remove photographs from promotions board packages for other enlisted soldiers and warrant officers, but it could do so in the future.
While the Army is generally diverse — nearly 50% of the force are minorities — the officer corps is considerably more white. Army officials did not immediately have recent data to share on the percentage of minorities serving among its officers. And the service has admitted that while minority officers advance to captain at about the same rate as their white peers, they are not promoted to major or higher nearly as often.
The Army is uncertain exactly the reasons for the disparity, but Martin said the service is committed to improving. He said the service simply needs more minorities in its upper levels, including in the general officer's corps.
"How you address it is … making sure that promotion boards understand exactly why it is so important for us to be diverse at the highest levels," he said, adding minority officers often struggle to find mentors in their field.
The military justice probe will include input from the Army's top civilian and uniformed lawyers, its inspector general's office and its top military police officer, McPherson said. It will aim to uncover issues that lead commanders to open more investigations into minority soldiers than into whites, which officials believe leads, at least in part, to an elevated rate of punishment for nonwhite troops.
That issue extends to all of the military services. In the Army, black soldiers in recent years were 61% more likely to face punishment than their white comrades, according to a study published this month by the Alexandria, Va.-based watchdog group Protect Our Defenders.
That study followed a Government Accountability Office report last year that revealed similar disparities in actions taken against minority troops, but also showed that conviction rates at courts-martial were about the same for minority and white service members.
McPherson said it indicates the issue is likely not with prosecutors, judges or military juries, but more than likely at the unit level, where commanders begin the military justice process.
The study will begin by gathering data on "thousands to tens of thousands" of cases where soldiers received nonjudicial punishment, McPherson said. Investigators are instructed to assess whether data shows disparities in the severity of punishments faced by minority and white soldiers. The process will begin by looking at punishments doled out for soldiers accused of going absent without leave, committing sexual harassment or assault, and failing urinalysis exams.
"Part of the problem is we haven't been keeping [detailed statistics] regarding investigations — why they were opened, those sorts of things," McPherson said. "We'll see if there's a disparity there. It could very well be."
The Army intends to introduce other measures in the coming months as it looks at racial issues. Martin and McPherson stressed there was no place in the service for racism, which could lead to breakdowns in combat.
"If you've ever been under fire, you have to take a leap of faith with those [other troops] that surround you," Martin said. "There's got to be unconditional trust. I'm going to put myself out there to do something knowing that this person is willing to do the same and protect me while I do it. It's as simple as that."
dickstein.corey@stripes.com Twitter: @CDicksteinDC