Army is helping Lt. Col. Vindman deal with public scrutiny during impeachment hearings
---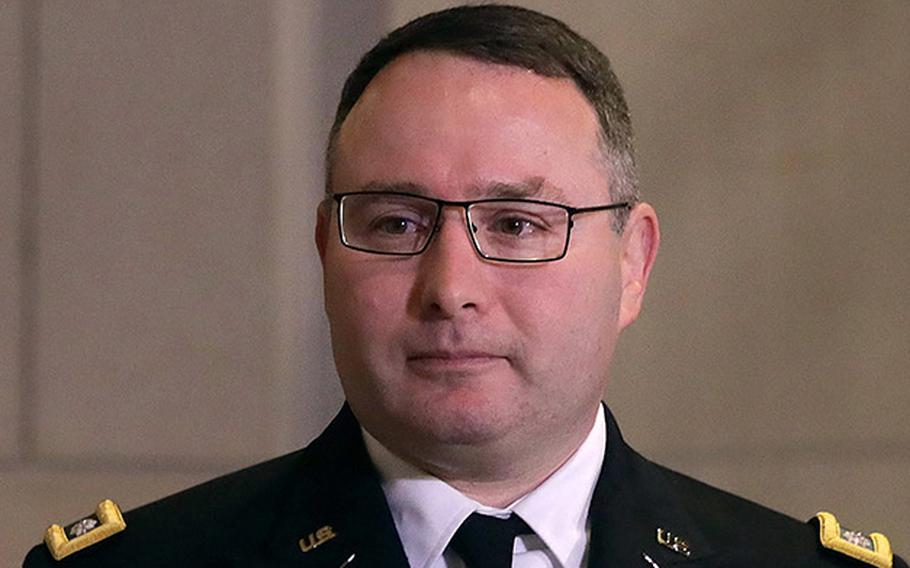 WASHINGTON— The Army confirmed Tuesday that the service is providing assistance to Lt. Col. Alexander Vindman to help him with the attention caused by his testimony in the ongoing congressional impeachment hearings of President Donald Trump.
However, Col. Kathy Turner, an Army spokeswoman, did not specify in a statement Tuesday what specific assistance the Army is providing to Vindman and his family.
Vindman is serving on the White House's National Security Council as the principal adviser on Ukraine. He is a career Army officer and deployed to Iraq where he received a Purple Heart for wounds sustained in an improvised explosive device attack. Vindman's public testimony Tuesday before the House Intelligence Committee focused on what he heard during Trump's phone call with Ukrainian President Volodymyr Zelenskiy on July 25.
During the call, Trump requested Zelenskiy start an investigation into 2020 Democratic presidential candidate and former Vice President Joe Biden and his son Hunter Biden, regarding Hunter's work at a Ukrainian company called Burisma. He also asked Zelenskiy look into possible Ukrainian interference in the 2016 U.S. election.
The public and media attention toward Vindman and his work on the National Security Council has increased since his first testimony behind closed doors with impeachment investigators in October. Citing U.S. officials, The Wall Street Journal reported Tuesday that the Army is prepared to move Vindman and his family to a local unnamed military base if they believe they are in physical danger. The U.S. officials also said the Army has been monitoring Vindman and his family "around the clock to make sure there aren't any imminent threats."
But the Army "would neither confirm nor deny any safety or security measures taken on behalf of an individual," Turner said in the statement. "However, as we would with any soldier, the Army will work with civilian authorities to ensure that he and his family are properly protected."
---
---
---
---