Army investigates recruiter on claims trainee was encouraged to hide autism diagnosis
By
Stars and Stripes
September 12, 2019
---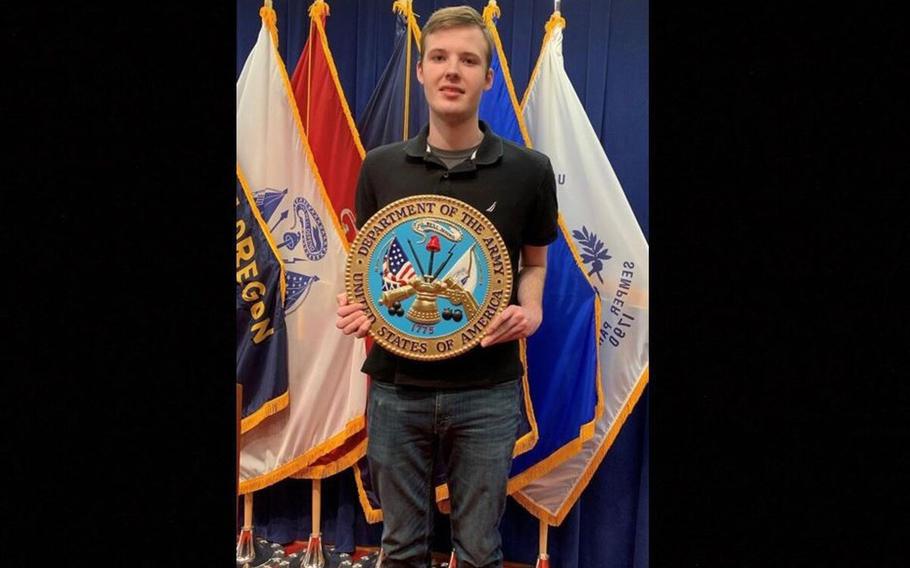 The U.S. Army is investigating the circumstances that led a recruiter to encourage an Idaho teenager to hide his autism and other medical disorders when enlisting, according to a report published last week in Army Times.
Garrison Horsley, 19, told the newspaper he was contacted by Staff Sgt. Jeffrey Gaunya, an Army recruiter based in Twin Falls, Idaho, after he was prohibited from enlisting in the Navy due to his autism diagnosis.
In a series of text messages from March provided to Army Times, Horsley mentions his rejection from the Navy shortly after Gaunya initiated contact, expressing uncertainty about his eligibility to serve due to his medical issues.
"They wouldn't let me in cause I [have] Aspergers Syndrome," Horsley writes. "Does that disqualify me from the Army?"
"Hey man just give me a call when you can," Gaunya responds.
"He knew all about [my autism diagnosis] and he just said that 'the Army only knows what you tell them,'" Horsley told the Army Times.
Speaking to a reporter from the Twin Falls-based Times-News, Lisa Ferguson, spokeswoman for the U.S. Army Recruiting Command, said Gaunya "has been taken off recruitment duty."
"The United States Army Recruiting Command will evaluate and, as appropriate, investigate this allegation," Col. Timothy R. Frambes of the 120th Adjutant General Battalion wrote in a letter to U.S. Sen. Jim Risch, R-Idaho, which was provided to the Times-News.
In addition to being diagnosed with autism, Horsley also suffers from radioulnar synostosis, a congenital condition that limits movement, and was being treated for recurrent depressive disorder at the time of his enlistment, according to the Army Times.
"My left arm is 50 percent weaker than my right, but I got a waiver for that," Horsley told the publication. "I've never been able to do a pull-up in my life and I max out on push-ups at 15 or 10. I can't turn my hand palm up."
According to the Department of Defense's "Medical Standards for Appointment, Enlistment, or Induction in the Military Services," applicants diagnosed with autism spectrum disorders are generally disqualified from serving in the military.
"All waivers are considered on a case-by-case basis, but generally speaking, autism isn't something normally waived if the diagnosis was appropriately given," Ferguson told the Army Times.
Although Horsley obtained a waiver for his arm condition, he did not receive a waiver for his autism diagnosis or depression. Despite this, Horsley enlisted as a human resources specialist and reported for basic training at Fort Jackson, S.C., on Aug. 20, the Times-News reported.
Horsley told the Army Times that, upon arriving at Fort Jackson, his autism diagnosis was not discussed by doctors at Military Entrance Processing Command, nor did they question him about his use of anti-anxiety medication — despite the fact both were extensively documented in Horsley's civilian medical records.
After spending an undisclosed amount of time at Fort Jackson, Horsley began experiencing anxiety attacks and ultimately "had a meltdown," his father, Ryan Horsley, told the Times-News.
The elder Horsley said he "disagreed" with his son's desire to enlist in the military but assumed his son's various medical issues would prevent him from completing the enlistment process.
"The fact remains that he is an adult," Horsley said of his son. "I still wanted to support him and respected him in his effort to try and to want to serve our country,"
The Army is recommending a medical discharge for Garrison Horsley, according to the Times-News.
"I want to be left alone," Horsley told the Times-News shortly after returning to Idaho. "I want to move on."
---
---
---
---