Army hopes quality-of-life improvements will reduce soldier suicides in Alaska
by
Wyatt Olson
February 5, 2020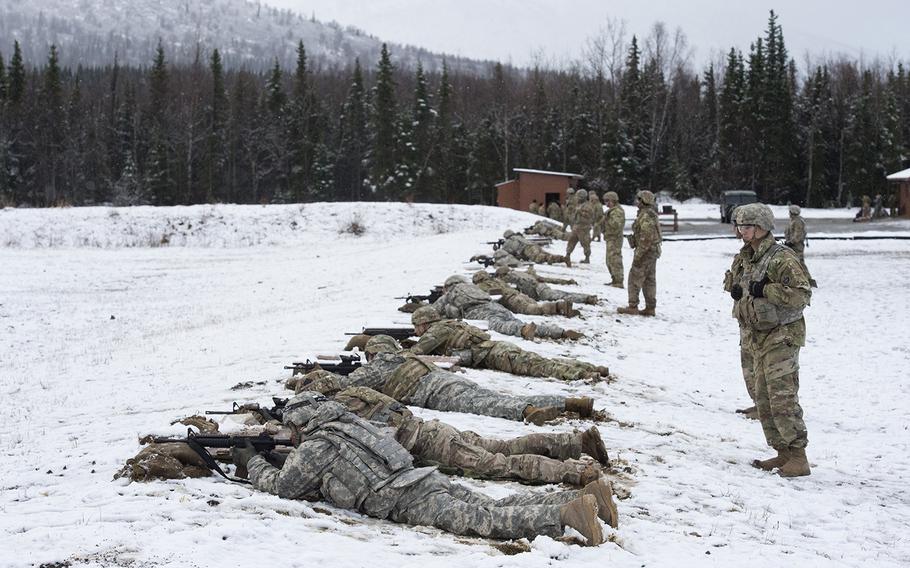 The Army has launched a series of improvements aimed at reducing the risk of suicide in Alaska after a spike in deaths that peaked last year, the service said Monday.
The short- and long-term initiatives — better access to behavioral health care, improved fitness facilities, healthier food options and blackout blinds to battle sleep issues — are an attempt to "enrich the morale and quality of life for troops and families" stationed with U.S. Army Alaska, an Army news release said.
In the wake of five soldier suicides in Alaska from May 2018 to April 2019, U.S. Army Public Health Center's Behavioral Health and Social Outcome Program conducted an epidemiological study to determine why the surge in suicides happened, the service said.
It identified 11 Army Alaska suicides from January 2014 through March 2019 and found multiple risk factors, including issues with pain, sleeplessness and relationships.
About 11% of Fort Wainwright soldiers reported having suicidal thoughts in the previous month, the Army's public health center found in an online survey.
The study found that the most common reasons soldiers did not seek mental health care were related to stigma – for example, being seen as weak or harming their career.
Soldiers also blamed chronic sleeplessness on Alaska's extended daylight during the summer, which can last for up to 21 hours, the Army said. Barracks windows are slated to receive blackout blinds by May 1.
"Suicide is a horrible, difficult issue and one in which our behavioral health scientists have worked very hard," Secretary of the Army Ryan McCarthy said during a press briefing Monday at Fort Wainwright.
McCarthy and Sgt. Maj. of the Army Michael Grinston spent Monday touring Fort Wainwright facilities and talking with soldiers to determine what improvements should be included in the 2022 defense budget, the Army said.
Most of the roughly 13,000 active-duty soldiers in Alaska are based either at Wainwright in Fairbanks or Joint Base Elmendorf-Richardson in Anchorage.
The Army said that at the urging of soldiers, access to workout facilities had been expanded to 24 hours a day. About $910,000 in new equipment is expected to arrive at Wainwright's two gyms by April.
The Army is also moving to provide easier access to high-quality and affordable food.
"We put investments in getting above and beyond the rate that is allocated per Soldier, so we can get higher-quality foods into those dining facilities," Maj. Gen. Peter Andrysiak, U.S. Army Alaska commanding general, said in the news release.
As of this month, the so-called basic daily food allowance at Alaska installations increased by 25%, which will give dining facility managers a bigger budget for higher quality food, the Army said.
Andrysiak said the Army had also installed Wi-Fi and new televisions in dining facilities.
The Army's Alaska Medical Department formed an outpatient behavioral health program that began taking referrals in December, with the first patients now receiving care, the Army said.
Another planned initiative would give soldiers more extended time off and more entertainment options for troops and families.
McCarthy said on Monday that identifying suicide warning signs "must become part of our DNA."
olson.wyatt@stripes.com Twitter: @WyattWOlson