Army halts sending recruits to basic training amid coronavirus pandemic
by
Corey Dickstein
April 6, 2020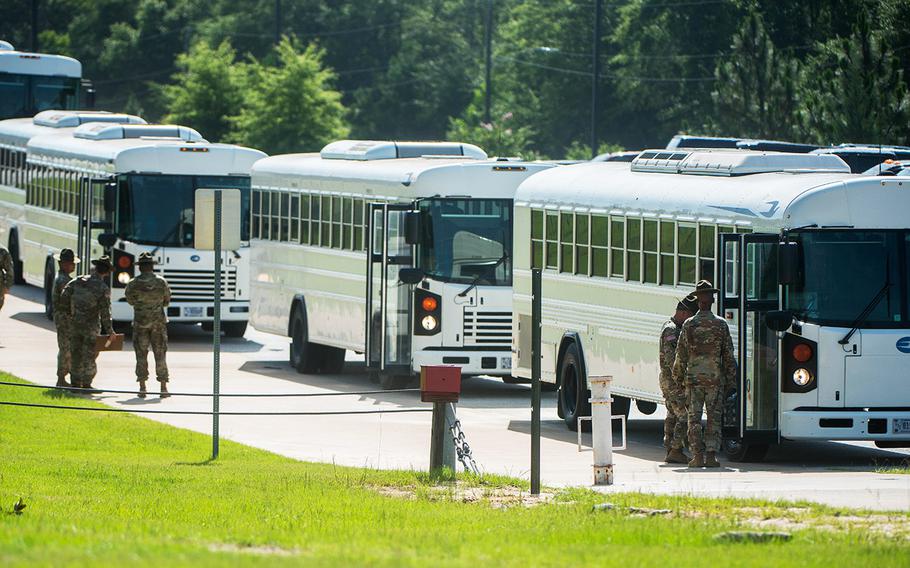 Stars and Stripes is making stories on the coronavirus pandemic available free of charge. See other free reports here. Sign up for our daily coronavirus newsletter here. Please support our journalism with a subscription.
WASHINGTON — The Army on Monday stopped sending recruits to initial entrance training amid the coronavirus pandemic that has restricted movement for troops worldwide and placed millions of Americans under stay-at-home orders, service officials announced.
The halt will last at least two weeks as the service looks to implement measures meant to guarantee it can safely move recruits from their hometowns to training bases without a risk of spreading the virus, said Army Gen. Paul Funk, the chief of Training and Doctrine Command. Funk said the pause, which does not impact recruits already in training, would be reevaluated in two weeks and could be extended further.
"During the pause our commanders will ensure we have the right, most current procedure and capabilities in place to screen and test our recruits," Funk told reporters during a telephonic news briefing. "We hold the safety of our force and our communities in the highest regard."
Funk said Monday that the decision to pause sending recruits to the Army's four basic training locations is not the result of a coronavirus outbreak on any of those installations: Fort Benning in Georgia, Fort Jackson in South Carolina, Fort Leonard Wood in Missouri and Fort Sill in Oklahoma.
Instead, Funk said service officials determined they could afford to pause temporarily because April and May – the weeks just ahead of typical high school and college graduation dates -- are traditionally the slowest months for sending recruits to initial training. For example, he said, only 219 recruits were scheduled to ship to basic training programs between Monday and the end of April.
"It really just happened that this is the lowest time for shipping [recruits] in the Army, and this is the right time to do it," Funk said.
Nonetheless, as recently as Friday, Army officials were adamant they were not planning to pause sending troops to basic training. In a Facebook post, Training and Doctrine Command wrote shipping recruits was "mission essential" to ensure the Army could retain its combat readiness as it faced the virus. The Army reported Monday at least 334 soldiers had been sickened by the coronavirus.
The general on Monday declined to provide the number of recruits among those positive virus tests, citing Pentagon policy not to release detailed information about such cases among its service members. But he said within the 54,000 recruits and soldiers now in some phase of Army training — such as basic enlisted training and initial officer training to advanced job- and skill-based training programs — 102 individuals had been diagnosed with the coronavirus, including 12 who have since recovered.
The Army's first coronavirus case among its recruits was announced March 23 when a recent arrival at Fort Jackson tested positive. That recruit was already in isolation when he was diagnosed after his answers to screening questions indicated he could have been exposed before arriving at training.
The Army's decision follows temporary halts issued by the other services. The Air Force halted sending recruits to basic military training for one week to clean facilities after at least four recruits contracted the virus. The Navy temporarily halted shipping recruits last week as well. And the Marine Corps has indefinitely stopped sending recruits to its boot camp at Parris Island in South Carolina, amid an outbreak there that has sickened dozens. Marine recruits are still being sent to the service's Sand Diego Recruit Depot for training.
When the Army resumes sending recruits to basic training, they will face a restructured program, Funk said.
New recruits will spend their first two weeks largely in classroom-style training and conducting some physical training while practicing social-distancing measures. After the first two weeks — during which the recruits will be isolated with their classmates and cadre to ensure anyone carrying the virus cannot spread it outside that group — they will spend eight weeks training to become soldiers, Funk said.
The Army will continue sending basic training graduates to advanced training programs in which soldiers learn the skills required for their jobs. Soldiers who graduate that training will then be sent on to their first assignments, the general said.
The service is taking measures to keep soldiers moving between training bases or to their first home station from contacting the general public, using chartered buses or aircraft to keep them isolated together in a "protective bubble."
Those efforts have been largely successful so far, Funk said. The temporary pause will allow the service to perfect the process, he added.
Recruits who were scheduled to ship to basic training could be eligible to begin receiving payment as though they were already on active duty, depending on their personal hardship situation. The Army approved a new program to pay up to 4,000 recruits who face unusual hardships because of the pandemic. Funk said such circumstances could include recruits who might have let their lease expire because they expected to be entering the Army or recently left their civilian jobs.
Other recruits could receive extra bonuses between $2,000 and $6,000 later, if they are unable to ship to basic when they expected.
Recruits should stay in touch with their recruiters for the latest information about when they will be sent to basic training through the pandemic, the general said.
"We're going to take care of them," Funk said. "It's the right thing to do."
dickstein.corey@stripes.com Twitter: @CDicksteinDC
---
---
---
---