Army expects to PCS hundreds of high-priority soldiers with new exemption to stop-movement order
by
Corey Dickstein
April 21, 2020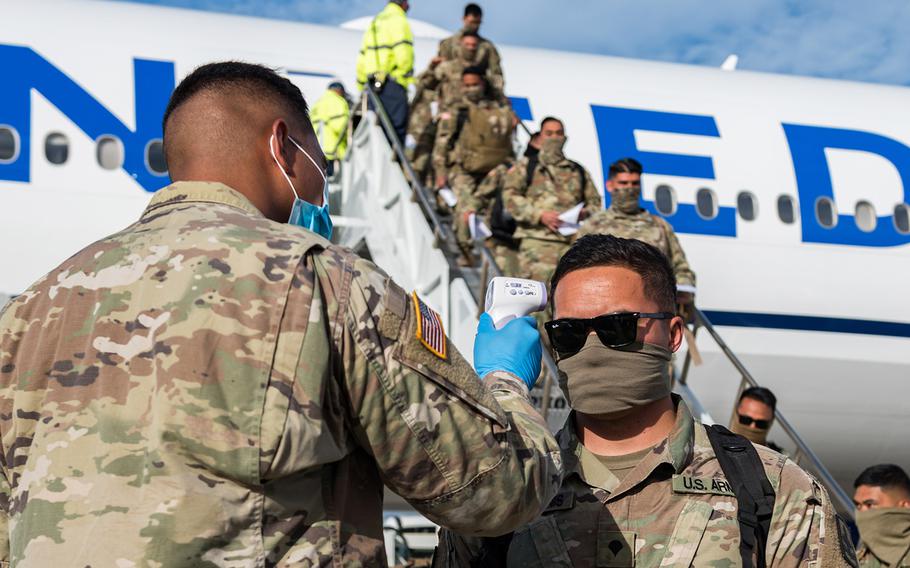 Stars and Stripes is making stories on the coronavirus pandemic available free of charge. See other free reports here. Sign up for our daily coronavirus newsletter here. Please support our journalism with a subscription.
WASHINGTON — Top Army officials expect to allow hundreds of soldiers to make scheduled permanent-change-of-station moves in the coming months following less-restrictive measures approved in the Pentagon's new stop-movement order.
The latest version of the Pentagon's stop-movement order, which is scheduled to last through June 30, is meant to curb the spread of the coronavirus among its troops. Issued Monday, the order allows senior service officials to grant new exemptions for service members whose new assignments are deemed essential to the Defense Department's overall mission.
The Army is working to prioritize who among the 48,000 soldiers on orders to PCS in the summer can move under the new exemption, said Lt. Gen. Thomas Seamands, the Army's personnel chief.
"There's not a one size that fits all to this," Seamands told reporters Tuesday in a telephone news briefing. "We've left it up to the command [gaining a new soldier] to say why this person is mission essential — it may be the [military occupational specialty] they have, it may be the strength in the location, and why this incoming person needs to be there."
Once the command identifies a soldier's move as mission essential that unit must then coordinate with the soldier's current unit to determine if they can afford to let that person move, Seamands said. If they can afford to lose that soldier, then the request will be sent to the Vice Chief of Staff Gen. Joseph Martin, who can grant exemptions on a case-by-case basis.
So far, Martin had received more than 500 requests from soldiers seeking exemptions to allow them to move and hundreds more were anticipated, Seamands said. It was not clear Tuesday precisely how many Martin was likely to approve, Seamands said.
In addition to the new exemptions allowing for soldiers to PCS for mission-essential reasons, the military services can also grant exemptions to the stop-movement order for reasons of personal hardship or if a service member is slated for a humanitarian mission.
Seamands said the Army would first prioritize moving soldiers who have been stuck in limbo after they had already begun the PCS process when the initial stop-movement order was issued in March, freezing them in place.
"If you were at Fort Hood, and you were out-processing and getting ready to go to Korea and then the stop-movement happened, you've been remaining in place," the general said as an example. "What we want to do is get those people kind of in limbo to be able to move on to their next location."
Others who likely could be approved for moves before the new order ends include certain medical personnel, some drill sergeants and some recruiters, Seamands said.
Individuals in those specialties are also likely to be among the first to PCS once the order is lifted, he said. Other priorities for determining who will move first will include the soldier populations at military installations — which posts can quickly take new soldiers or afford to let them move on.
Army officials hope moving some soldiers before the end of the stop-movement order will somewhat decrease the burden of conducting about five months of moves in July, August and September, assuming the order is not extended further.
They also expect to see an increase in soldiers, who were issued PCS orders before March, volunteering to stay at their current duty station for an extra year, said Maj. Gen. Joseph Calloway, the commander of the service's Human Resources Command.
So far, the Army has had about 100 soldiers volunteer for that unusual program the service approved in March called "stabilizing in place." Seamands said the service could consider allowing soldiers to stabilize even longer than one year, but a decision on that has yet to be made.
"As we move to the post-[coronavirus] environment … we have to balance [combat] readiness and what is best for the soldiers and their families," he said. "I think Army leadership has a very open mind to stabilizing and allowing people to stay in place longer, but we have to be able to maintain readiness across the force."
dickstein.corey@stripes.comTwitter: @CDicksteinDC