Army engineers look to build more hospitals in rural areas to prepare for potential virus peak in summer, fall
by
Rose L. Thayer
April 17, 2020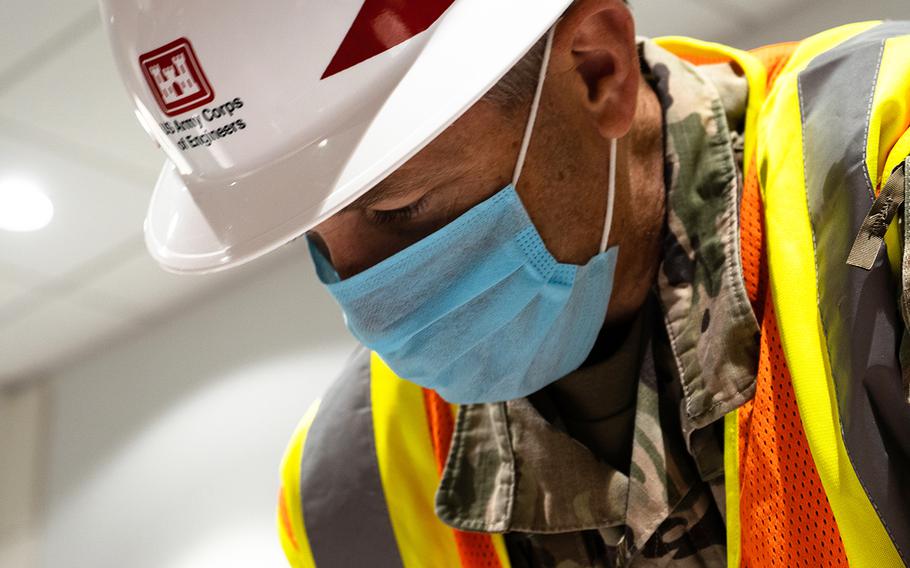 Stars and Stripes is making stories on the coronavirus pandemic available free of charge. See other free reports here. Sign up for our daily coronavirus newsletter here. Please support our journalism with a subscription.
The Army Corps of Engineers is working to provide extra hospital space to cities and states as local governments track the potential that the coronavirus pandemic could peak in rural areas during the summer or return in the fall, Lt. Gen. Todd T. Semonite said Friday.
"The virus is getting a vote," the commander of the Army Corps of Engineers told reporters at the Pentagon. "The virus has changed" in the last month.
In March, many officials believed the coronavirus would cause a huge spike, followed by a quick drop, which led to a rush for more hospital beds, Semonite said. Instead, many regions are seeing a delay in the peak — in part because of prevention efforts to slow the spread of the virus. This has allowed more time for the Corps to build alternate-care facilities that increase hospital bed space, particularly in places such as Alaska, Hawaii and Guam.
"The curve is elongated," Semonite said. "Where we thought it was going to come up and come back down, we seeing that curve stretch all the way out perhaps to as far as June."
By Friday, the United States had more than 662,000 confirmed cases of the virus and nearly 29,000 deaths, according to the Johns Hopkins Coronavirus Resource Center. While large cities remain the hotspots of the outbreak, rural areas are not expected to go unscathed.
In preparation for ongoing spread of the virus, Army engineers have conducted 1,099 of the requested 1,178 site assessments and are moving forward to build 28 alternate-care facilities totaling more than 15,870 bed spaces, Semonite said.
In 41 instances, state governments chose to take the corps design and build on their own.
Officials in Colorado asked the Corps to prepare the city's convention center with about 500 bed spaces and the capacity to more than double that, if needed, Semonite said. Those beds are projected to open Saturday at an estimated cost of $35 million.
In other instances, governments are signing seven-month leases for the facilities housing alternate-care sites to prepare for the possible return of coronavirus in the fall, Semonite said. He did not say which locations have made that choice.
"It's almost like insurance – a good reserve," he said, adding he tells mayors, "If you have hospital beds that don't get used, I don't think that's a problem because you had the ability to take care of the people for your city. It's a small cost to be able to have the capable to keep people alive."
Despite the rise in demand for the Corps, Semonite said only about 5% to 10% of their other ongoing projects have been impacted by pandemic work. That is mostly due to stay-at-home directives from area governments that limit construction.
Otherwise, work at military bases and along U.S. waterways remains steady, as does about $8 billion worth of construction for Department of Veterans Affairs hospitals.
Thayer.rose@stripes.com Twitter: @Rose_Lori