Army confirms troop cuts amid budget debates
by
Travis J. Tritten
July 8, 2015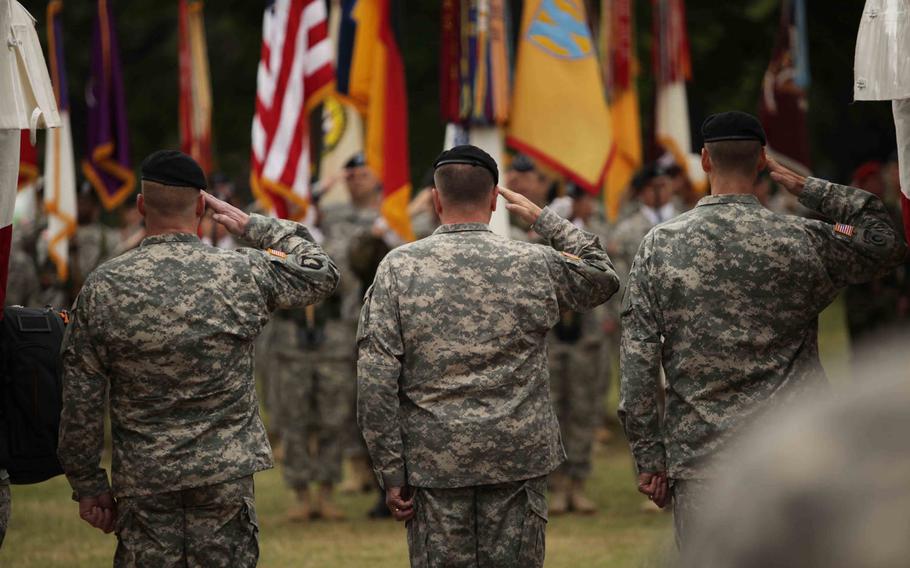 WASHINGTON — The Army confirmed Wednesday it will expedite plans to shrink the force by shedding 40,000 soldiers and laying off up to 17,000 civilians over the next two years due to a tight budget.
The changes will be officially unveiled at the Pentagon Thursday, an Army spokesman said, and come as Congress holds crucial debates over the fate of 2016 defense spending. The service's plan would fast-track troop reductions that were slated to take three years and will create a painful new budget scenario for lawmakers — who were already decrying the plan.
The Army is shrinking its ranks to 450,000 after swelling to handle a decade of wars in Iraq and Afghanistan. But the military also faces a budget clampdown from Congress that is creating more pressure on the overall size of the active-duty force.
"The Army faces an extremely difficult fiscal environment … Failing to maintain the proper balance between end-strength, readiness and modernization will result in a hollow Army," spokesman Lt. Col. Joe Buccino wrote in an email statement.
The service must shoulder $95 billion in cuts over the coming decade following a deal by lawmakers to cap federal spending, according to Boccino.
"These reductions include the loss of 40,000 soldiers and as many as 17,000 Department of the Army civilians over the next two years, impacting thousands of families," he said.
A force of 450,000 soldiers is considered by many to be the bare minimum needed for U.S. security and would represent a total reduction of 120,000 active-duty troops since a wartime high in 2012. The Pentagon has repeatedly warned lawmakers this year that the Capitol Hill budget caps endanger planning and security.
Sen. Dan Sullivan, R-Alaska, who is a member of the Armed Services Committee, told USA Today that the new plan for reductions "makes no strategic sense." The newspaper first reported the plan Tuesday.
"One person who's going to be very pleased with this is Vladimir Putin," Sullivan told the newspaper.
Rep. Steve Russell, R-Okla., a retired Army lieutenant colonel and Ranger, said any force under 500,000 could prove a hit to national security.
"I am confident that our forces will be able to succeed in whatever they are tasked to do, but with fewer troops, and resources for their missions, they will be forced to place themselves and the nation at greater risk," Russell wrote in a statement.
The Army announcement comes at a crucial point in the budget process — and amid widespread uncertainty on Capitol Hill.
The House and Senate are in the midst of conference negotiations on the annual defense policy bill, called the National Defense Authorization Act, and may release a final deal this month that would provide a blueprint for the Army and other services.
Meanwhile, a Senate fight is unfolding over the companion defense spending bill that supplies the money needed for military priorities. Democrats have threated to block the legislation if Republicans do not remove caps on domestic, non-defense spending.
On Monday, President Barack Obama assured troops that they will still get paid if the appropriations bill is held up by his party and the current budget expires this fall.
"Our men and women are going to get paid," Obama said during a visit to the Pentagon. "And if you'll note that I've now been President for six and a half years and we've had some wrangling with Congress in the past — our servicemembers haven't missed a paycheck."
tritten.travis@stripes.com Twitter: @Travis_Tritten