Army cancels summer cadet training for ROTC students amid pandemic
by
Corey Dickstein
May 12, 2020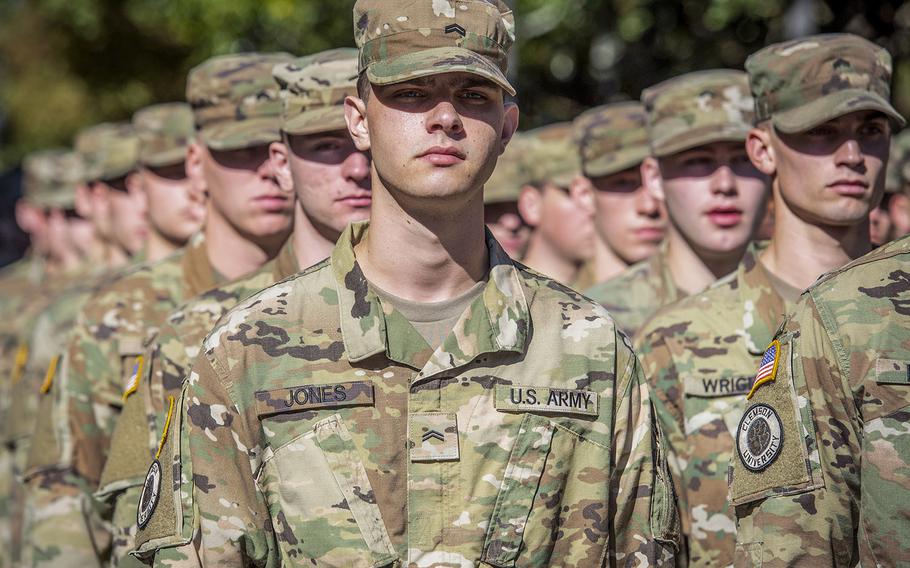 Stars and Stripes is making stories on the coronavirus pandemic available free of charge. See other free reports here. Sign up for our daily coronavirus newsletter here. Please support our journalism with a subscription.
WASHINGTON — The Army will not send ROTC cadets to Fort Knox, Ky., this summer amid the coronavirus pandemic, halting annual training camps aimed at preparing them to shift from college students to second lieutenants, the service's ROTC chief announced Tuesday.
Top service officials spent weeks analyzing how to safely move some 10,000 ROTC cadets across the nation to and from the Army post to conduct basic and advanced summer training courses, said Maj. Gen. John Evans, who is in charge of U.S. Army Cadet Command. Ultimately, Evans determined the Army could not risk the potential of sparking a virus outbreak in the camp and sending infected students back to more than 900 college campuses for their fall semesters.
"We were concerned that if the worst were to happen, we might send out a large group of cadets that might be carrying the infection — they may even be asymptomatic — back out into their college populations," Evans told reporters Tuesday during a news briefing. "We felt that risk … was just too great."
The Army, instead, will turn to increased training requirements for its ROTC cadets to complete during their academic year, including expanding required field training exercises each school year from a 48-hour event conducted during the weekend to a 96-hour event that will require them to miss some classroom time.
Evans will host a virtual town hall with his ROTC cadets via social media on Wednesday to detail the changes, he said.
It is not an ideal solution, Evans admitted. But he suspected universities would cooperate, and the command is reaching out directly to those schools to ask for their understanding and leniency on cadets who miss time in class.
The Army relies heavily on its ROTC program, which accounts for some 70 percent of the Army's new officers commissioned into the service each year.
The Fort Knox training programs are considered paramount for cadets' military education. During the summer months, the post sees rotations of about 700-cadet classes come through the basic and advanced camps for more than 30 days at a time.
The basic camp is for freshman cadets or sophomores who started late in the ROTC program and introduces them to Army life. Cadets typically attend the advanced camp in the summer between their junior and senior years. It tests their preparedness to enter the Army, assessing a variety of skills including their fitness levels, weapons proficiency, military tactics, and land navigation.
Cadets who were due to attend the basic course this summer will be provided additional on-campus instruction this year that will qualify them to attend the advanced camp later, Evans said.
Evans dubbed the plan to replace the summer advanced course Operation Agile Leader, which will prepare senior cadets for the Army via on-campus instruction and the expanded, more rigorous field exercises, which will be conducted on major military installations throughout the country.
Evans said he was confident the plan would properly prepare his rising seniors to enter the Basic Officer Leaders Course, which is required to train them on their specific jobs after commissioning.
For the roughly 400 senior ROTC cadets set to graduate from college in the coming weeks who were expected to attend the advanced summer cadet training because they were unable to last year, Evans said the requirement will be waived, allowing them to commission immediately into the Army.
Those individuals will face extra scrutiny from instructors during the Basic Officer Leaders Course to determine if they require additional training before they are shipped to their first assignments, Evans said.
The general said he anticipated a full return to cadet summer training in 2021.
"I've asked our cadets to stay the course with their academic curriculum and their ROTC requirements," he said Tuesday. "Success of this plan will require individual focus and effort to make it work. It won't always be easy, we will ask much of them over the next year, but the reward will be worth the effort."
dickstein.corey@stripes.com Twitter: @CDicksteinDC