Army announces Expert badge for soldiers outside infantry, medic, Special Forces fields
---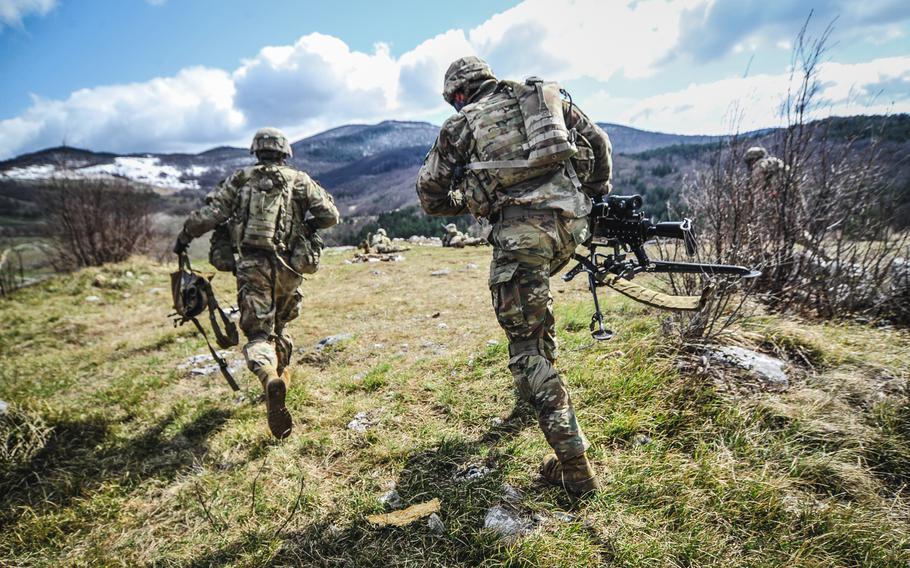 WASHINGTON — Soldiers outside the infantry, combat medic and Special Forces fields will soon have the opportunity to earn a badge acknowledging their experience at critical skills, the Army announced Friday on the service's 244th birthday.
The Army's Training and Doctrine Command recently approved the long-anticipated Expert Soldier's Badge, which will be awarded to top performing soldiers who pass a test demonstrating their prowess in physical fitness, marksmanship, land navigation and warfighting, the command said in a statement. The badge will be the equivalent of the Expert Infantryman Badge and the Expert Field Medal Badge, and it is expected to be introduced in early fiscal year 2020, according to the command.
"Like the EIB and EFMB, the ESB test will be a superb venue for individual training in units, and the badge will recognize a soldier's mastery," TRADOC chief Gen. Stephen Townsend said in the statement. "And it will be just as tough to earn as the EIB and EFMB because the soldier will have to demonstrate fitness, weapons proficiency, navigation and warrior task skill at the expert level."
Townsend is a holder of the Expert Infantryman Badge and has been confirmed by the Senate to become the chief of U.S. Africa Command later this year.
A mockup of the new badge looks similar to the Combat Action Badge but without the wreath around it. The rendering shows the same M9 bayonet and M67 grenade against a solid, gray rectangle in the background.
The exact test to earn the new badge has yet to be finalized, according to the command. The Army intends to approve the final version by September.
The test will take five days and is expected to be very similar to testing for the EIB and EFMB, sharing about 80% of the tasks with those tests.
To earn the right to test for the ESB, soldiers will have to pass the new Army Combat Fitness Test and qualify as expert on the M4 or M16 rifle and have a recommendation through their chain of command.
The ESB evaluation will include another round of the fitness test, day and night land navigation courses, individual skills testing stations and a final 12-mile foot march.
The test may also include commander-selected skills essential for specific use, such as reacting to an improvised explosive device attack, building fighting positions, searching individuals in a combat environment, or marking areas contaminated by chemical, biological, radioactive or nuclear materials.
Command Sgt. Maj. Timothy Gruden, the senior enlisted leader for TRADOC, said the testing will increase the Army's combat readiness.
"This is not a badge to award so that the entire Army now has an 'expert' badge to wear. As it is now, not every infantryman or Special Forces Soldier earns the EIB and not every medic earns the EFMB," he said. "This is a badge to award to those who truly deserve recognition as an expert in their career field — for those who have achieved a high level of competence and excellence in their profession."
---
---
---
---