Another setback: Air Force restricts cargo, passengers on KC-46 tanker flights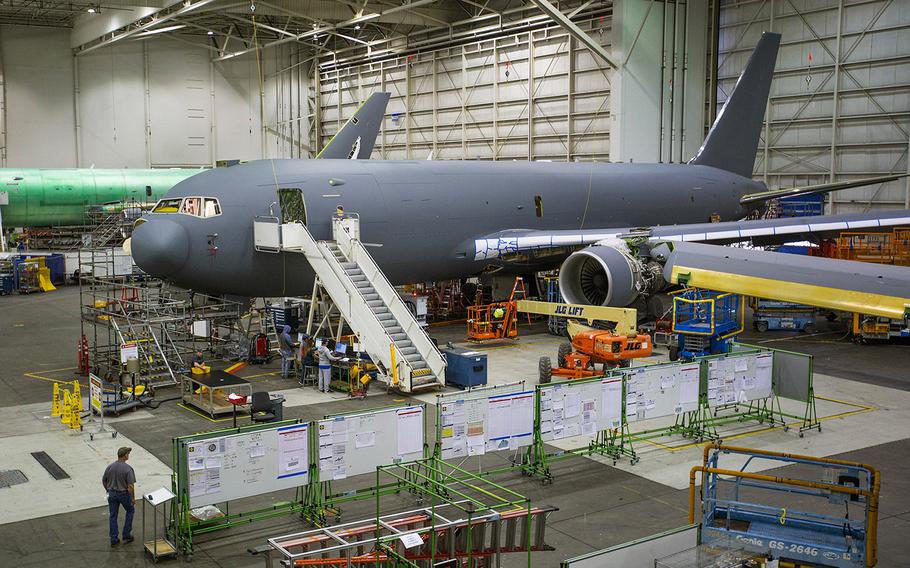 WASHINGTON – The Air Force has banned cargo and passengers aboard its KC-46A Pegasus tanker jets after floor cargo restraints unlocked during recent test flights, according to the service's Air Mobility Command.
The issue could cause cargo aboard the plane to become loose, potentially endangering individuals and damaging weapons system, said Air Force Col. Damian Pickart, a spokesman for AMC. It marks another problem in a line of issues that have delayed the KC-46 program, the Air Force's choice to replace the more than 50-year-old KC-135 Stratotanker.
Pickart said the Air Force and Boeing are working together to find a solution to the issue. He said the problem appeared to be with the restraint system, and not an error by crewmembers.
"Prior to departing for each of these missions, aircrew fully installed, locked and thoroughly inspected each restraint, and performed routine inspections of the restraints in flight," Pickart said in a statement Friday. "Despite these safety measures, the unlocking of cargo floor restraints occurred during flight, although no cargo or equipment moved and there was no specific risk to the aircraft or crew."
While the KC-46's primary mission is in-air refueling, it is also designed to haul crew and cargo. It can hold up to 58 passengers or carry 18 pallets, weighing up to about 7,500 pounds each.
AMC issued a Category I deficiency report after discovering the issue, Pickart said. Those are problems that could cause death, serious injury or major damage to weapons systems.
According to Defense News, which first reported the Air Force decision to restrict passengers and cargo from KC-46 flights, the issues occurred during overseas testing of the aircraft and could potentially unbalance the aircraft, rendering the plane "difficult, if not impossible" to control. Defense News cited an unnamed source familiar with the issue.
In a statement, Boeing said it was aware of the problem and would work to find a fix "as quickly as possible."
The latest problem with the KC-46 marks at least the fourth time that Air Force officials have filed a Category I deficiency report about the program.
The other issues stem from the aircraft's advanced cockpit vision system that allows boom operators to control refueling remotely from the plane's front via video and other sensors, instead of manually from the rear of the plane as they have done in legacy tankers. The plane has also faced issues with the stiffness of its refueling boom, making connection to the tanker for refueling difficult for lighter aircraft, such as the A-10 attack jet and F-16 fighter jet.
Boeing in January delivered its first KC-46A to the Air Force after years of delay. The program, which aims to build 179 aircraft by 2027, was initially supposed to deliver aircraft by 2016.
To date, the Air Force has accepted 19 of the air tankers, and 18 have been delivered, Pickart said. Eleven of the aircraft are stationed at McConnell Air Force Base in Kansas, five are at Altus Air Force Base in Oklahoma and two are at Pease Air National Guard Base in New Hampshire.
The planes delivered to the Air Force are undergoing testing, and are not yet being used to support contingency operations.
The KC-46A is a 165-foot tanker plane built on Boeing's 767 platform that can carry some 210,000 pounds of fuel and is capable of refueling every aircraft in the Pentagon's inventory able to do so, according to Boeing. It is capable of flying about 650 mph and it requires a crew of 15 airmen.
dickstein.corey@stripes.com Twitter: @CDicksteinDC
---
---
---