AMRDEC file transfer site is shuttered as Pentagon launches DOD-wide solution
by
Chad Garland
August 15, 2019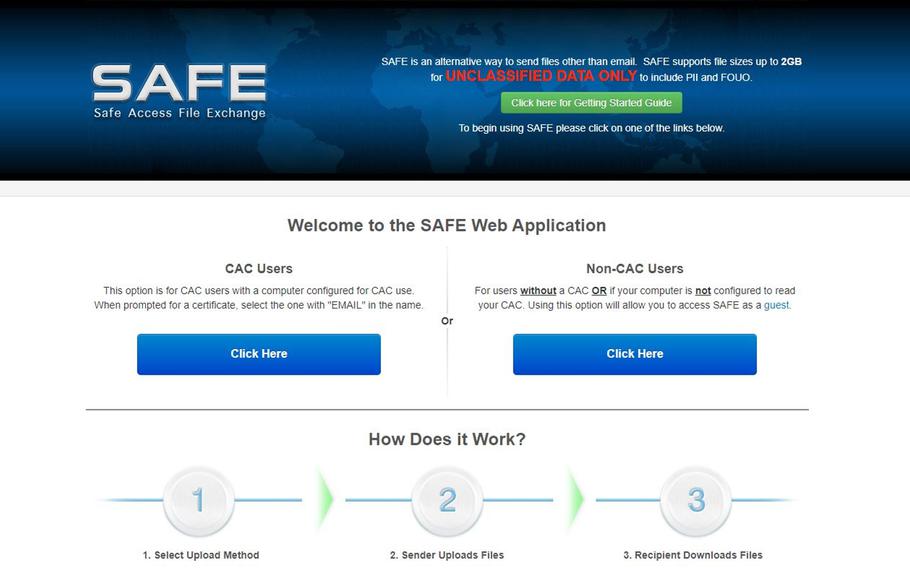 Users will be unable to download material from a popular military file exchange service after Thursday, as the Defense Department transitions to a new site with larger capacity and better security.
Aviation and Missile Research, Development and Engineering Center Safe Access File Exchange, known as AMRDEC SAFE, had become a hub for transferring large files. A message on the site Thursday announced its end and directed visitors to the new site, DOD SAFE.
An AMRDEC temporary shutdown last year caused hiccups for military commands and government workers who had come to rely on it to handle sensitive unclassified information. Pentagon officials were forced to find an alternative.
"It was never intended to be the enterprise solution for DOD members that it turned into," Sophie Johnson-Shapoval, a computer engineer with the Defense Collaboration Service, said in a statement Thursday.
The Defense Information System Agency, which operates DOD SAFE "will bridge the capability gap as AMRDEC sunsets," said Carey Burris, project manager for the Defense Collaboration Service, as quoted in the statement.
Found online at https://safe.apps.mil/, DOD SAFE offers several improvements, including larger transfer sizes and end-to-end encryption.
"We're working with [the missile center's] team to transition between the two services, and our goal is to provide an even better service," Johnson-Shapoval said.
Originally developed for the Huntsville, Ala.-based R&D center, now known as U.S. Army Combat Capabilities Development Command Aviation & Missile Center, AMRDEC SAFE was designed to allow government officials at Redstone Arsenal to exchange data with civilian industry partners.
It became the solution throughout DOD and other government agencies because it could handle information such as personnel and medical records, had capacity for files significantly larger than allowed by encrypted email, and could send messages to email addresses outside the military and government domains.
But it was shuttered in November after an unnamed government agency raised security concerns.
Though potential vulnerabilities were immediately remedied, it remained down until February "due to issues with sustainment and maintenance capabilities," the missile center said this week.
While it was down, the Navy and Marine Corps said optical discs such as CDs and DVDs were the only remaining way to securely send files containing private information that could not be sent via encrypted email.
Air Force and Army officials also said they lacked an online alternative to the site, and officials at the main military hospital in Germany said they were sending large files via fax or on optical discs via registered mail if they were too big to be sent via encrypted email.
While the temporary loss of the site and the lack of alternatives highlighted the need for the service, officials said this week that the cost to maintain it had surpassed the center's ability to support it.
The new site, which is in a "beta" development stage, supports transfers of up to 8 gigabytes — four times larger than its predecessor — allows users to download files more than once, and lets them send up to 25 files at a time. Files are automatically deleted seven days after upload.
Government users on DOD SAFE can send files to anyone at any time, just as they could with the old site.
But users outside the government can only upload files in response to a request from a government user.
On the previous site, they could send packages on their own, as long as they were sent to military or government email addresses.
DOD SAFE also allows for "package-level encryption" to protect files both at the user's workstation and while they are in transit, the statement said.
"It's enhanced protection of data," said Jeanelle Holder, an electronics engineer with DISA's emerging technologies division.
garland.chad@stripes.com Twitter: @chadgarland