Alcohol sales at exchange stores surged by 50% in March, AAFES spokesman says
by
Seth Robson
April 23, 2020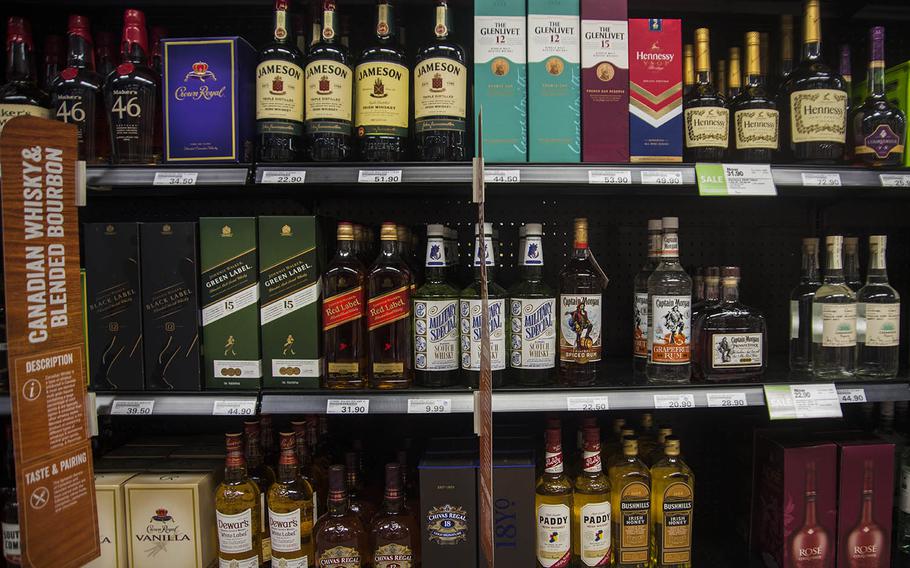 Stars and Stripes is making stories on the coronavirus pandemic available free of charge. See other free reports here. Sign up for our daily coronavirus newsletter here. Please support our journalism with a subscription.
YOKOTA AIR BASE, Japan — With many clubs and restaurants on military bases closed and civilian establishments off limits thanks to the coronavirus, retail alcohol sales on U.S. bases worldwide soared by 50% the third week of March, an exchange spokesman said.
"Alcohol sales across the retail industry have understandably seen increases as bars and restaurants have closed and demand has shifted to at home consumption," Army and Air Force Exchange Service spokesman Chris Ward said in an email Sunday.
According to Nielsen data, U.S. alcoholic beverage sales in retail formats jumped 55% in the third week of March compared to the same time a year ago, Ward said.
"AAFES worldwide sales during this same timeframe were slightly below with the broader industry trend, reflecting an increase of 50% vs. prior year," he said.
During the first half of April, however, AAFES worldwide alcohol sales are only up 10% on the same period last year, Ward said.
The Navy Exchange Service Command did not respond to emailed questions about sales at its stores.
A mask-wearing Air Force Staff Sgt. Sean McDonald, 28, of Seattle, pulled a six pack of lager from a convenience store refrigerator Wednesday evening at Yokota, home to U.S. Forces Japan in western Tokyo.
"It's my daughter's birthday and we're going to celebrate," he said but added that he doesn't think he's drinking more than usual despite restrictions in place at Yokota since March 26.
"I'm a competitive body builder," McDonald said. "We don't go out drinking very frequently."
To curb the spread of the coronavirus, 374th Airlift Wing commander Col. Otis Jones requires those living and working on Yokota to restrict their movements to the base and its immediate vicinity. Off-base residents are limited to a beeline to and from Yokota or essential services in their neighborhoods. No one affiliated with the base may patronize bars and restaurants other than take-out and drive-thru restaurants.
Another customer buying alcohol at the base convenience store, Marie Wolf, 40 of Dayton, Ohio, stocked up on a couple of bottles of pinot grigio and a carton of beer but said she's not drinking more than usual.
"I've got three kids at home," she said.
The World Health Organization warned in a statement April 14 that alcohol use, responsible for 3 million deaths a year worldwide, compromises the body's immune system.
"People should minimize their alcohol consumption at any time, and particularly during the COVID-19 pandemic," the organization said in its statement, referring to the disease caused by the coronavirus.
Ward said exchange stores also saw a spike in cigarette carton sales when shoppers were uncertain whether stores would remain open.
"Once this initial increased demand subsided, cigarette sales quickly returned to historic norms," he said. "Demand for tobacco products at Exchange facilities has declined significantly as unit sales have decreased 30% year-to-date as compared to prior year."
robson.seth@stripes.com Twitter: @SethRobson1