Alaska moose hunters rescued by Army National Guard helo crew
by
Wyatt Olson
September 7, 2018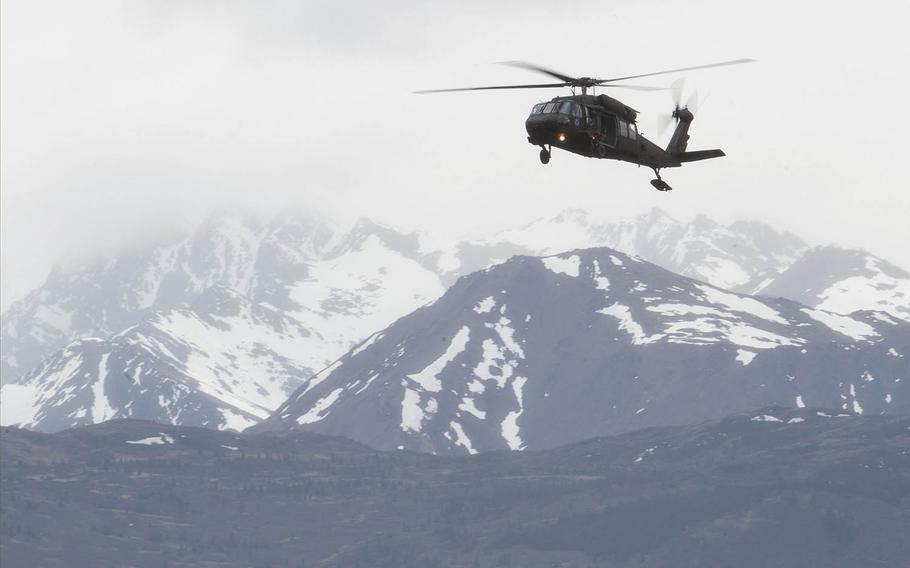 Army National Guard aviators on Monday rescued a pair of moose hunters in Alaska after their small plane crashed near the western coast of Alaska.
Soldiers with the Alaska Army National Guard's 1-207th Aviation Battalion rescued the pilot and two hunters around 10 p.m. near the small town of St. Mary's, about 450 miles west of Anchorage, the Army said in a new release Wednesday.
The aviators flew a UH-60 Black Hawk helicopter out of the Guard's Army Aviation Operating Facility in Bethel and arrived at the crash scene about an hour later.
"We found them on a hillside near the ridge line with the plane flipped over," Capt. Andrew Adams, the Black Hawk pilot and commander of the AAOF, said in the news release.
None were injured in the crash.
The men were not injured in the crash of the Piper PA-22, according to local news reports.
The National Transportation Safety Board is investigating the crash.
St. Mary's is a small Alaska Native village of about 550 people in the Yukon Delta National Wildlife Refuge of western Alaska.
Adams said the passengers had been moose hunting and after bagging one, they'd flown back to their vehicles to drop off all their gear. They were flying back to retrieve the moose when the crash occurred.
"They didn't have any of their gear, so they weren't prepared for the elements and had no source for a fire," he said. "They were huddled near the fuselage under a tarp or cover, waiting for us, and it had become pretty dark at that point."
Adams said they communicated with the pilot on the ground while en route to the accident location, and the pilot was instructed to flash lights from the plane's headlamps when the helicopter was seen or heard.
The pilot of the commercial air taxi service plane activated a satellite beacon, which notified the Alaska Rescue Coordination Center at Joint Base Elmendorf-Richardson. The center then requested assistance from the National Guard.
olson.wyatt@stripes.com Twitter: @WyattWOlson