Alaska gets four loaner F-35 fighters from Utah to hasten standup of new wing
by
Wyatt Olson
April 30, 2020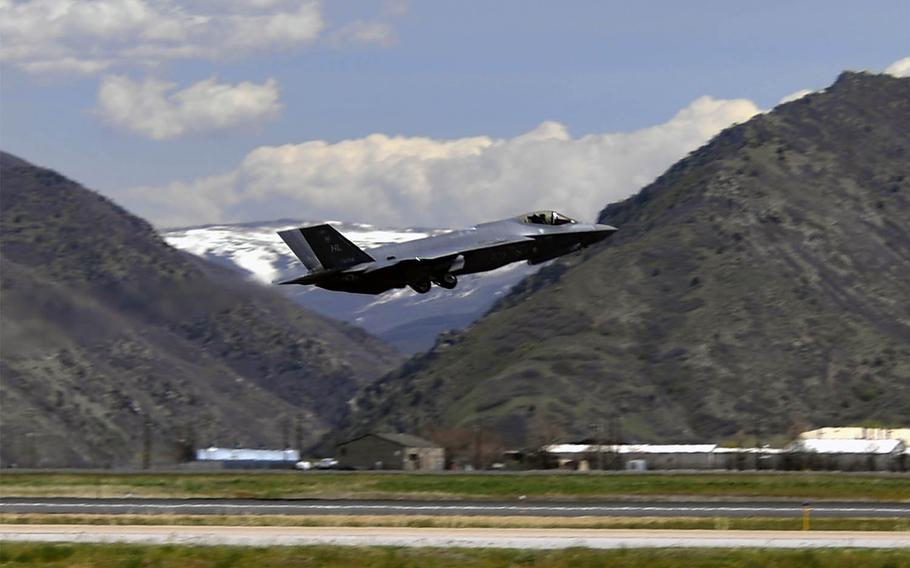 Four F-35A fighter jets based in Utah are in Alaska for two months to help Eielson Air Force Base stand up its fledgling squadron of fifth-generation fighters.
The four Lightning II multirole, stealth aircraft flew Monday to Alaska from Hill Air Force Base near Salt Lake City in about four hours, the Air Force said in a news release. A commercial flight between the two bases, about 2,000 miles, takes about six hours.
The loan of fighters from the 388th Fighter Wing at Hill to the 354th Fighter Wing at Eielson has been in the planning by the wings for some time, the Air Force said.
Eielson received its first two F-35s last week and is slated to get two to three each month until early 2022, when they will have 54 of the aircraft — enough for two squadrons, the Air Force said.
"From our experience here, we know that when you're standing up a new program, every day is critical," 388th Fighter Wing commander Col. Steven Behmer said in the news release. "By loaning them these four airplanes, we hope it helps fast-forward their ability to train and bring more capability to the Air Force as a whole."
The loan is helpful because in this early stage of F-35 operations in Alaska, there are more pilots than fighter jets, Col. David Skalicky, commander of the 354th Operations Group, said in the news release.
"We've been going [on temporary duty] to get the sorties and hours we need, but [the coronavirus] put an end to that," he said. "So, the timing of this loan couldn't be better."
The extra four fighters also give maintenance crews needed hands-on training.
"In any new mission startup, you've got a high demand for training in ops, maintenance and mission support," Col. Matthew Powell, 354th Maintenance Group commander, said in the news release. "These extra aircraft will help us get both the flying training and dedicated maintenance training for our newer crew chiefs, avionics and weapons technicians."
olson.wyatt@stripes.com Twitter: @WyattWOlson