Airmen are taking advantage of new policy for assignments near their children
by
Rose L. Thayer
August 28, 2020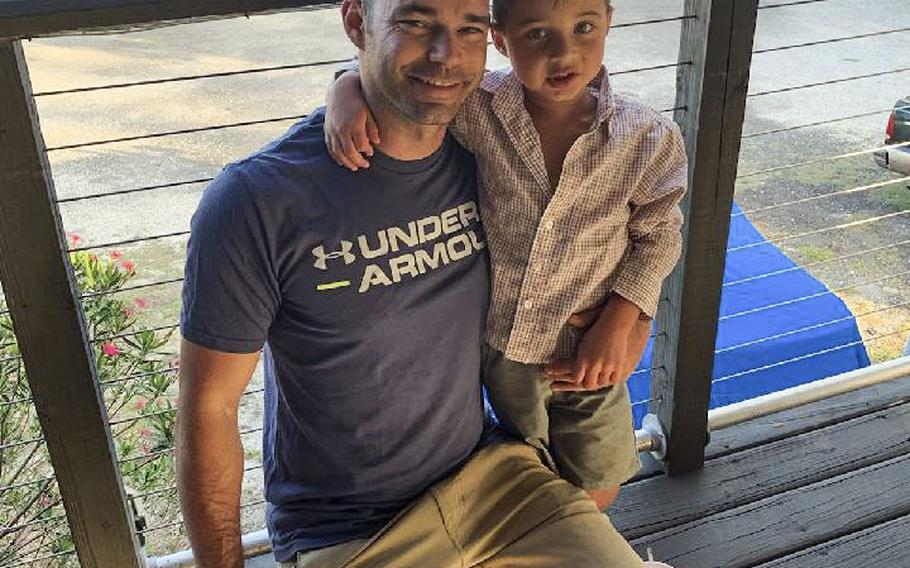 AUSTIN, Texas – A noncommissioned officer at Luke Air Force Base, Ariz., became the first member of the Air Force to receive a duty assignment based on a new policy announced this month to consider child-custody agreements during the process.
Master Sgt. William Rotroff, an F-35 integrated section chief with the 756th Aircraft Maintenance Squadron, got approval for the move to Eglin Air Force Base, Fla., to be near his son, Chevvy, less than 24 hours after he submitted the paperwork, according to a news release from the Air Force Personnel Center.
"It's everything for my son to have both of his parents," Rotroff said during a phone call from Arizona, where he and his son had enjoyed going camping, fishing and riding bikes together. He hasn't seen his son in more than four months and is finalizing his move in the next few weeks.
The new policy went into effect Aug. 17 and gives parents the ability to defer an assignment or be stationed near their children with a court-ordered child-custody decree. Assignment authorities can now consider requests for an assignment or deferment to a location near their children, even if the co-parents are not married.
Rotroff said he found himself in a unique position when orders for an unaccompanied overseas assignment beginning in May were delayed to July, then October and then canceled unexpectedly. He'd already helped relocate his ex-wife and their 4-year-old son from Luke AFB to Florida, where she would have a stronger support system in his absence.
"I push through here, even with the situation at hand, but it does affect you," he said of missing Chevvy. "Especially the longer the time goes by, I just want to come home to my child and spend time with him, educate him, have fun with him. Memories are everything and they don't last forever."
He submitted his paperwork the day after the policy went into effect, expecting a 30-day turnaround. The next day his commander, Maj. Joseph Langan, delivered the good news.
"One of the greatest parts about being a squadron commander is that I have the ability and authority to fix many problems for my Airmen relatively quickly," Langan said in a statement. "Sometimes the problems are messy and have complex solutions, but this was one of the easiest and most satisfying wins I've had during my time in command."
Nearly two weeks into effect, 70 airmen have submitted paperwork to use to request an assignment or deferment under the new policy, said Traci Howells, spokeswoman for the Air Force Personnel Center. An approval percentage for the program wasn't immediately available.
She said they've promoted the new policy to airmen through memorandums and the online personnel management system.
"I've been asked a lot of questions about the program since people know I got the assignment," said Rotroff, who'd been at Luke for more than six years and was eligible to move stations. "I recommend they read the guidelines, understand them and try to evaluate the options and what you can do. It definitely doesn't hurt to ask questions."
Assignment teams received training on the new policy before its implementation to ease the process and provide quick results, said Cristi Bowes, who leads military assignment policy and procedures at the Air Force Personnel Center.
"This program truly shows how the Air Force cares for their airmen and families," she said in a statement. "It provides an opportunity for airmen to continue serving in the greatest Air Force in the world and not have to choose between their career and their children."
The child-custody consideration program is available to officer and enlisted Regular Air Force airmen on active duty for those that meet the program eligibility requirements and when manning at current and gaining location will support reassignment action, according to a news release. Service members are still required to fill valid manning requirements, perform the duties in which they are trained, and meet all permanent-change-station eligibility requirements without waivers.
Airmen can read more about the policy, including how to apply, through myPers and the Personnel Services Delivery Guide.
Rotroff said he expects to arrive in Florida just in time for his son's fifth birthday and said that it would be a huge gift to both of them.
"Everyone's situation is different, everyone's urgency is different, but it's a blessing this program exists," Rotroff said. "I'm thankful my son will be able have his mom and dad; his happiness means the world to me."
Thayer.rose@stripes.com Twitter: @Rose_Lori