Air Force will take 'appropriate action' over viral POW/MIA emblem photo
By
Jon Harper harper.jon@stripes.com
February 15, 2014
---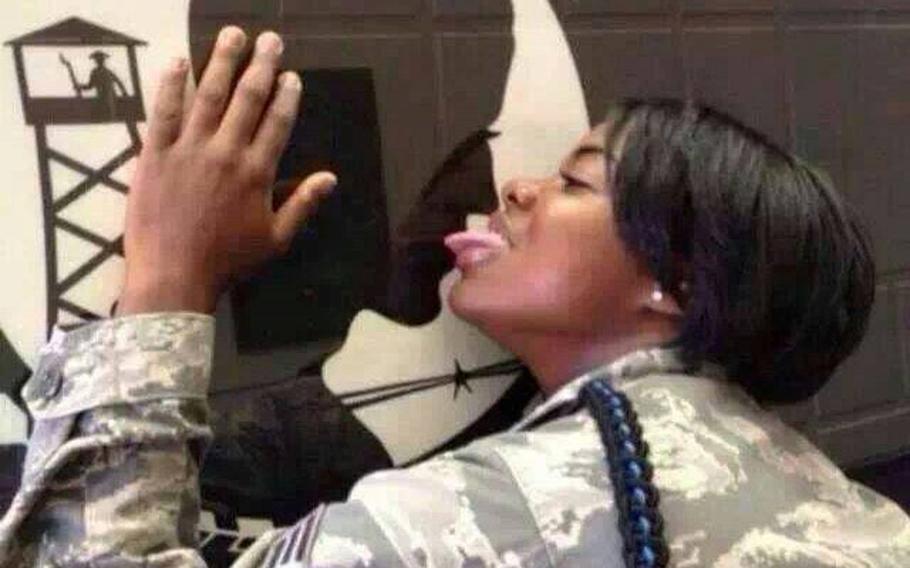 WASHINGTON — The Air Force is "disappointed" in the airman who appeared in a photo that is being circulated of her posing with her tongue in the mouth of the prisoner of war depicted on the iconic black-and-white POW/MIA emblem.
"We do not yet have all the details behind the photo, but it certainly is a concern; it's a concern any time someone shows disrespect for prisoners of war and those missing in action," Chief Master Sgt. of the Air Force James Cody said in a statement. "They deserve our utmost respect and we must always remember their sacrifice and the legacy they've left for us as men and women serving our nation.
"I want to make it clear that this is not a reflection of Airmen who wear this uniform; it is a case of poor judgment of one Airman … to say we are disappointed would be an understatement. We are gathering all the details and will take appropriate action at the appropriate level," he said. "Our Airmen fully understand the significance of the POW/MIA flag and the sacrifice of the men and women it honors."
Related: More Stars and Stripes coverage of the U.S. Air Force
Second Lt. Rachelle Smith, a spokeswoman for Fairchild Air Force Base, Wash., told Stars and Stripes that the airman in the photo is Staff Sgt. Cherish Byers. She is with the 92nd Security Forces Squadron stationed at Fairchild. Byers was a senior airman when the photo was taken.
An investigation into the incident was initiated Friday morning, Smith said.
Fairchild removed a comment thread about the photo from its official Facebook page after the image went viral on social media.
Joe Davis, a spokesman for the Veterans of Foreign Wars, was not amused by the photo.
"There is nothing funny about [being] disrespectful and crude," he said.
Ann Mills-Griffiths, the chairman of the board of the National League of POW/MIA Families, also criticized it.
"We find [the photo] as appalling and disgusting [as others who have seen it], not to mention disrespectful and crude," said Mills-Griffiths, the sister of a Navy Reserve officer listed as missing over North Vietnam. "It is hard to fathom why anyone would do such a thing, and in speaking for all the families, it is offensive!"
Byers did not reply to a Stars and Stripes email requesting comment. However, her Facebook contained the following post before her account was removed: "This pic is 3 years old. I was a young airman who didn't care (not uncommon). I was young and dumb. There are much bigger issues to be worried about than a 3 year old pic that was leaked. So get off of Facebook, and go to take care of your children, because one day it may be them in my shoes, getting called out of their name for a mistake that took a few second to make but a lifetime to make up for."
harper.jon@stripes.com Twitter: @JHarperStripes
---
---
---
---