Air Force units will pause operations to address alarming suicide rate
by
Jennifer H. Svan
August 2, 2019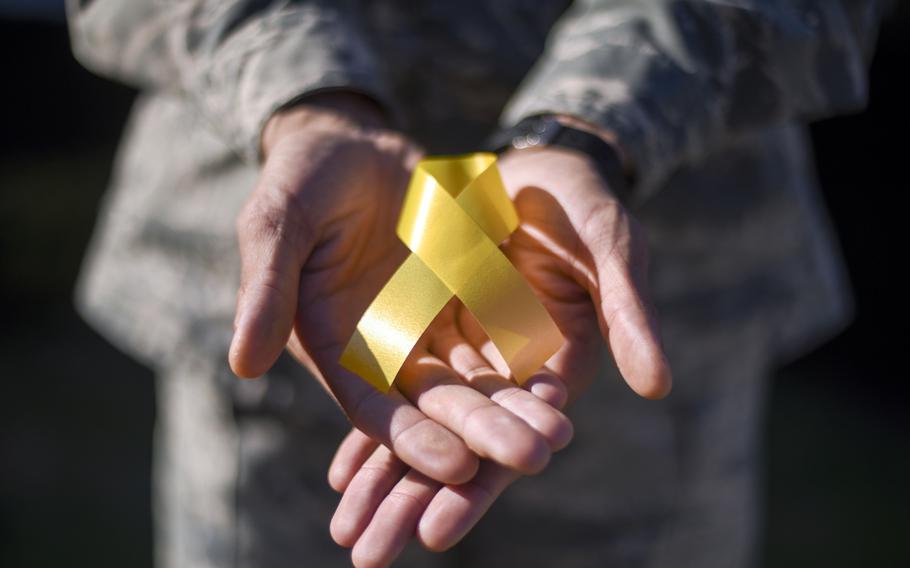 KAISERSLAUTERN, Germany — Air Force units will stand down for one day within the next six weeks to address the spiraling number of suicides among airmen, officials said this week.
"Seventy-eight of our brothers and sisters have given up on life this year alone," Chief Master Sergeant of the Air Force Kaleth Wright said in a video message posted online by the Air Force on Thursday.
"That's 28 more than this time last year," Wright said. "If we don't do something, we could lose up to 150, 160 airmen in 2019. We can't let this keep happening."
If airman suicides continue at their current pace, this year's deaths by suicide in the service would far eclipse last year's. In 2018, 60 active duty airmen, 17 Air National Guard and three Air Force reservists died by suicide for a total of 80 airmen, according to the Defense Suicide Prevention Office.
In a letter this week to commanders, Air Force Chief of Staff Gen. David Goldfein explained the decision for the stand-down, which Air Force Magazine was the first to report.
Goldfein reminded commanders how a year ago he had assigned them to visit airmen basic training at Lackland Air Force Base in Texas and consider why so many airmen "transition from unlimited hope on that parade ground to hopeless on our watch," according to the letter.
At that time last year, there had been 50 suicides in the Air Force, Goldfein said.
"I would have never predicted that a year later we would stand today at 78 suicides," he said. "Hopeful to hopeless … what is going on? It is our job to find out."
In February, after a total of 11 airmen and Air Force civilians died by suicide in the first four weeks of 2019, Goldfein and other senior leaders made an urgent plea to commanders to "act now" to drive suicides down.
"We need an Air Force culture where it is more common to seek help than to try to go at it alone," said the letter, signed by Goldfein, Wright and then-Air Force Secretary Heather Wilson.
But the numbers continued to rise. By the end of March, 26 active duty Air Force suicides had been reported — a rate of about one every three days and a number far higher than the nine reported during the first three months last year, according to a quarterly report by the Defense Suicide Prevention Office.
Researchers with the office have noted the most recent numbers are subject to change as more information about a death becomes available.
The 78 suicides so far this year are spread across the entire Air Force, officials said.
Wright in his message said the stand-down should be a "break in the daily grind" so commanders and supervisors "can focus on their airmen and their well-being."
Units won't be told how to do this, Wright said, but he stressed it shouldn't be "a one-day effort to check a box. This is the beginning of a much-needed dialogue between airmen, command teams, helping agencies and, frankly, our entire Air Force.
"We have to get this thing turned around," he said.
Stars and Stripes reporter Brian Ferguson contributed to this report.