Air Force training plane crashes in Oklahoma
by
Corey Dickstein
May 1, 2019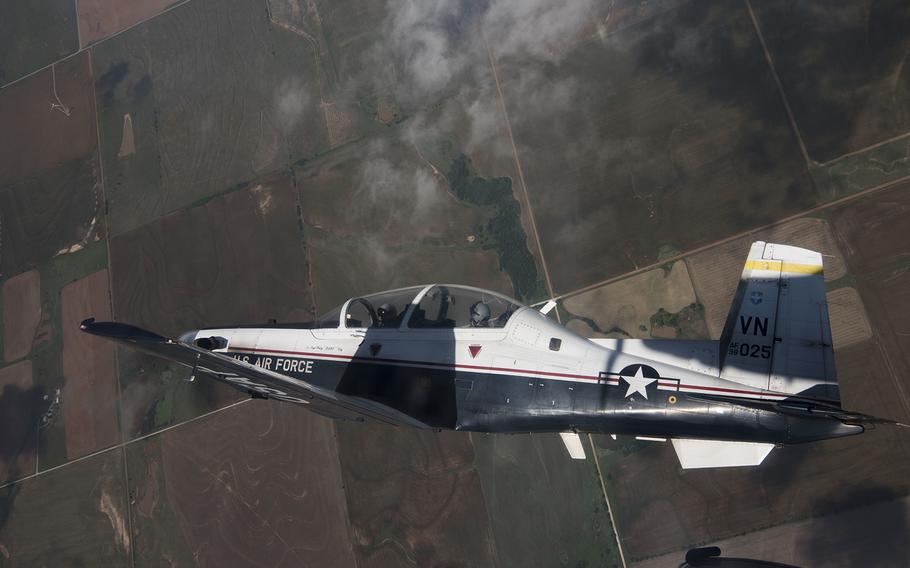 WASHINGTON — Military officials at an Air Force base in Texas said Wednesday that one of their pilot training aircraft crashed in southern Oklahoma.
Initial indications show the pilot and co-pilot safely ejected before the T-6 Texan II plane from Sheppard Air Force Base went down near Lake Waurika just across the state line in Oklahoma, according to a statement from the base. Emergency crews were responding to the crash that occurred just after 2 p.m. local time, base officials said.
The Air Force was launching an investigation, the officials said, declining to release further details about the incident.
Sheppard, just north of Wichita Falls in northern Texas, is home to the Air Force's 80th Flying Training Wing, which teaches American and partner nation student-pilots to fly using the T-6 Texan II aircraft, a single-engine, two-seat propeller plane, and the T-38 Talon, a twin-engine jet trainer.
The crash Wednesday was the second for a Sheppard aircraft in recent months. A T-38 crashed in September, but both pilots – a German and an American – escaped serious injury after ejecting.
dickstein.corey@stripes.com Twitter: @CDicksteinDC