Air Force makes history by selecting woman to become next senior enlisted leader
by
Corey Dickstein Caitlin M. Kenney
June 19, 2020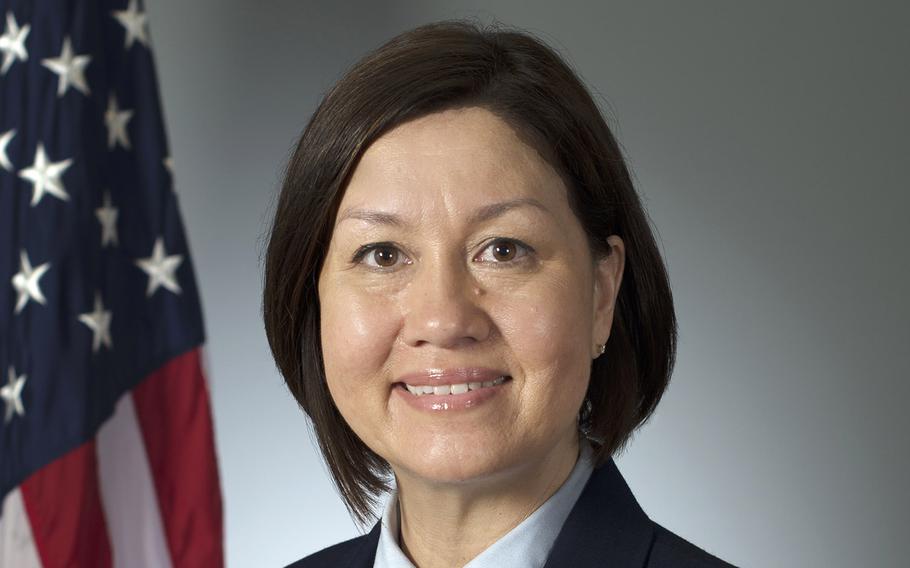 WASHINGTON — Chief Master Sgt. JoAnne Bass will become the next chief master sergeant of the Air Force, the first woman to be the senior enlisted leader for a military service, the Air Force announced Friday.
Bass was chosen to be the 19th chief master sergeant by incoming Air Force Chief of Staff Gen. Charles "CQ" Brown, who was recently appointed the first African American to be a military service chief.
"I could not be more excited to work side-by-side with Chief Bass," Brown said in a prepared statement. "She is a proven leader who has performed with distinction at every step of her accomplished career. I have no doubt that Chief Bass will provide wise counsel as we pursue and implement initiatives to develop and empower airmen at all levels."
In her new role, Bass will be responsible for guiding the Air Force's about 410,000 enlisted airmen and serving as the chief adviser to Brown and Air Force Secretary Barbara Barrett on issues facing the enlisted community.
She will move to the Pentagon from Keesler Air Force Base in Mississippi, where she has served since June 2018 as the senior enlisted leader for the 2nd Air Force, which is responsible for the service's training programs.
Bass will replace outgoing Chief Master Sgt. Kaleth O. Wright, who is slated for retirement later this year.
In a statement, Bass said she was "honored and humbled" at her selection to follow Wright.
"The history of the moment isn't lost on me," she said. "I'm just ready to get after it. And I'm extremely grateful for and proud of my family and friends who helped me along the way."
Bass has served about 27 years in the Air Force at a variety of locations including several assignments in Germany and a recent stint at the Pentagon as the chief of Air Force enlisted developmental education from 2016 to 2018. She has spent some time in special operations units, including the 24th Special Tactics Squadron at Fort Bragg, N.C.
The Air Force said she has also served deployments in support of the wars in Iraq and Afghanistan.
Service officials said 12 chief master sergeants were considered as Wright's replacement, but Bass was a clear choice because of her "chemistry" with Brown.
Wright endorsed her selection, as well, saying he has known Bass for many years.
"This is a historic moment for our Air Force and she is a phenomenal leader who'll bring new ideas and her own style to the position," he said. "She'll do great things for our airmen and she'll blaze her own trail as our CMSAF."
The Air Force has not officially announced a retirement date for Wright or precisely when Bass would take over the job. Wright was recently selected to become the CEO of the Air Force Aid Society, a charity program connected to the service. In a statement last month, the charity said Wright was expected to take that role Oct. 1.
kenney.caitlin@stripes.com Twitter: @caitlinmkenneydickstein.corey@stripes.com Twitter: @CDicksteinDC