Air Force is testing cruise missiles launched from cargo planes
by
Seth Robson
June 26, 2020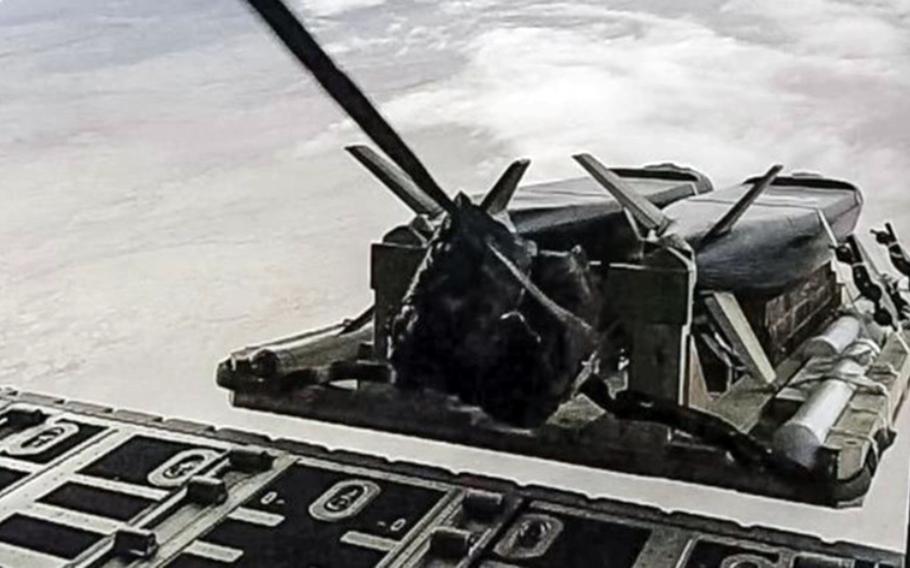 The Air Force is developing cruise missiles that could be launched in large numbers from the back of cargo planes, according to officials from the service's research laboratory.
The lab combined with the Air Force Special Operations Command to launch simulated versions of the missiles from an MC-130J special operations tanker in January at Dugway Proving Ground, Utah.
Researchers are seeking knowledge rather than aiming to field the weapons to troops in the field. A glide test is planned for next month, said Col. Gary Haase, director of the Air Force Research Laboratory Munitions Directorate at Eglin Air Force Base, Fla.
"Toward the end of the year in December we will do another flight test under engine power," he said in a telephone interview June 19.
The weapon they're developing — the Cargo Launch Expendable Air Vehicle with Extended Range, or CLEAVER — is a cruise missile that launches from a pallet that can be deployed in the same way that other cargo is dropped from planes, Haase said.
"It's not planned as a program of record or as an acquisition to turn into an inventory weapon," he said of the project. "We can share these lessons back with industry partners or roll them into another program of record."
Launching missiles from pallets makes it easy for flight crews to deploy them without much training, Haase said. The researchers plan to use the same pallet that Special Operations airmen already use for other missions.
"It's a known quantity for customers who have experience dropping things off on it," he said. "It would be like dropping anything else out of the back of a cargo aircraft."
Eight or nine missiles can be strapped onto a single pallet. When a missile is dropped, it separates from the pallet, deploys its wing, starts its engine and glides off toward a long-range target, Haase said.
The researchers will look at basic flight operations for CLEAVER, including navigation, waypoint management and terminal guidance, he said.
A C-130J Super Hercules can carry three or four pallets loaded with missiles and a C-17 Globemaster III can carry about 10 pallets, CLEAVER program manager Jerry Provenza said in a telephone interview June 19.
Cargo planes have been used to drop bombs in the past. An MC-130 dropped the 11-ton Massive Ordnance Air Blast, nicknamed the Mother of All Bombs, in Afghanistan in April 2017.
However, CLEAVER is the first effort to drop multiple munitions from cargo planes and to use pallets to deploy them, Haase said.
"The goal is to be able to carry these en masse," he said.
It's hard to estimate how much the palletized missiles might cost, since they're experimental but the goal is to learn how to make them cheaply, he said.
Launching missiles from a plane at altitude, rather than the ground gives them more range and requires less boost and weight, he said.
"It gives flexibility just from being able to position the aircraft in places where you may not be able to position ground-launched munitions," he said.
The January demonstration accomplished all its objectives, Provenza said.
Future demonstrations will involve the release of glider vehicles, powered vehicles and vehicles with optional warhead and terminal guidance, he added.
robson.seth@stripes.com Twitter: @SethRobson1