Air Force cuts service members with razor bumps a break, extends shaving waiver
by
Jennifer H. Svan
June 24, 2020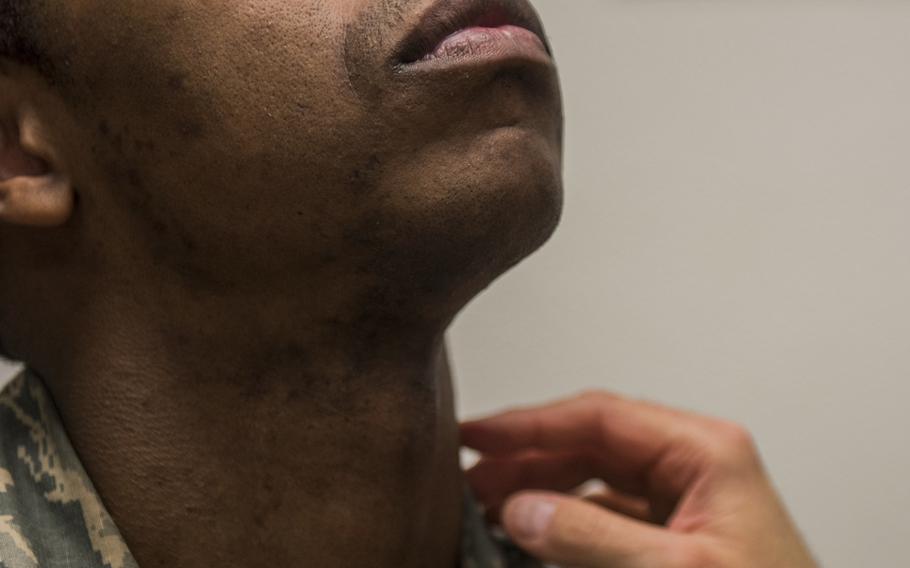 KAISERSLAUTERN, Germany — Airmen and Space Force personnel with razor bumps no longer need to apply for a shaving waiver every year after Air Force officials extended the exemption from regular shaving for those with the painful condition.
Air Force Surgeon General Lt. Gen. Dorothy Hogg authorized five-year shaving waivers for air and space professionals diagnosed with pseudofolliculitis barbae, the Latin name for the chronic skin condition commonly known as razor bumps, which are caused by ingrown facial hairs from frequent, close shaving, the Air Force said in a statement Tuesday.
Previously, waivers had to be updated annually.
The change was made based on "feedback from the field" and is intended to provide more time for skin to heal and prevent a recurrence, Air Force officials said.
The red bumps associated with the condition, which is most common in African American men, can cause secondary infection and excessive scarring.
The longer shaving waivers remain valid regardless of a member's deployment or duty station.
But they do not mean beards and other facial hair can be allowed to grow to any length. Rules that say facial hair cannot exceed a quarter of an inch and must be natural — meaning no patterns or words can be shaved into it — still apply, the Air Force said. Grown-out facial hair also must not interfere with the wearing of protective equipment, such as gas masks.
The Navy last year stopped issuing permanent shaving waivers for sailors diagnosed with razor bumps after two Naval Safety Center reviews found beards interfered with the face seals of devices such as respirators.
Sailors with razor bumps may obtain a temporary shaving waiver to grow a beard for up to 60 days while undergoing treatment for the skin condition.
Air Force personnel diagnosed with razor bumps receive instruction on proper shaving methods to prevent a recurrence, the Air Force said.
Stars and Stripes reporter Caitlin M. Kenney contributed to this report.
svan.jennifer@stripes.com Twitter: @stripesktown