After three USS George H.W. Bush sailor suicides in one week, commander calls for prevention ideas
by
Caitlin Doornbos
September 24, 2019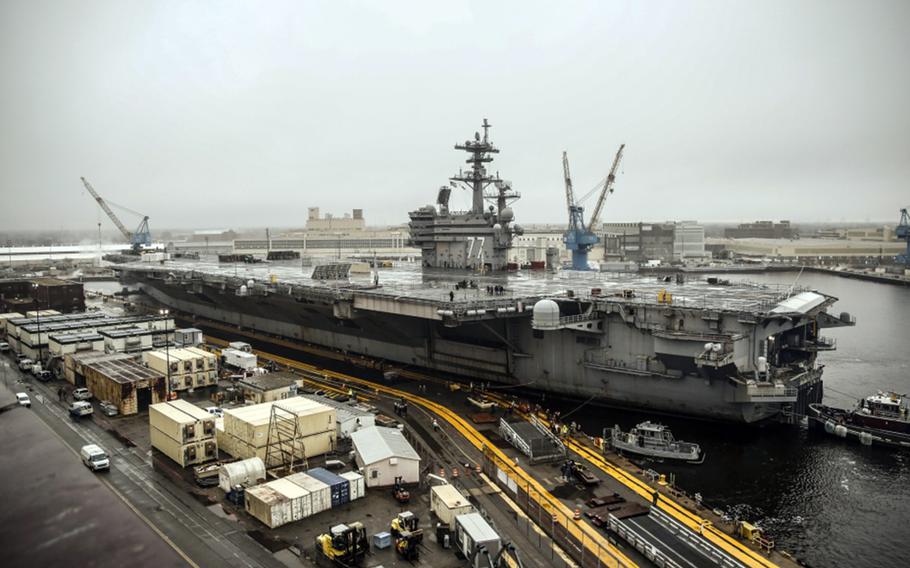 Three sailors aboard the aircraft carrier USS George H.W. Bush took their own lives last week, commanding officer Capt. Sean Bailey said in a post on the ship's official Facebook page Tuesday morning.
The deaths follow a rising number of suicides in the Navy since 2015. Bailey said the deaths "mark the third, fourth and fifth crew-member suicides in the last two years" on the Norfolk, Va.-based ship alone.
The three deaths occurred separately and were unrelated to each other, he said. They bring to at least 49 the number of active-duty sailors who have killed themselves this year.
In the post, Bailey said his "heart is broken" and called for ideas on suicide prevention, adding that "there is never any stigma or repercussion from seeking help."
"Now is the time to come together as a crew and as a family to grieve, to support each other and to care for those in need," he said.
Last year, 68 active-duty sailors died by suicide, the most in one year in the Navy since at least 2016, according to data from Navy Personnel Command. That followed a steadily increasing rate of 43 suicides in 2015; 52 in 2016; and 65 in 2017.
That represents an increase in the suicide rate from 13.1 per 100,000 sailors in 2015 to 20.7 per 100,000 last year, according to the personnel command.
Despite the increase in suicides, the Navy personnel command advises to avoid "presenting suicide as an 'epidemic'" so not to "normalize suicide to those at-risk," in line with U.S. Surgeon General National Strategy for Suicide Prevention, according to its website.
In the Facebook post, Bailey asked that shipmates "watch closely for stressors that anyone is experiencing when they face a significant life change such as relationship problems," as well as "personal or professional loss, recent career transitions, financial difficulties" or "disciplinary/legal issues."
"Chaplains, psychologists, counselors, and leadership are engaged and available on board at all times to provide support and counseling to those grieving," Bailey said in the post.
Those in crisis should call the Suicide Prevention Lifeline number, 1-800-273-8255. Servicemembers may also call the Military OneSource hotline at 1-800-342-9647, according to the post. Those in need can also text "home" to the Crisis Hotline at 741741.
doornbos.caitlin@stripes.com Twitter: @CaitlinDoornbos