Afghan War vet ends bid for Kansas City mayor, citing PTSD and depression
by
Nikki Wentling
October 2, 2018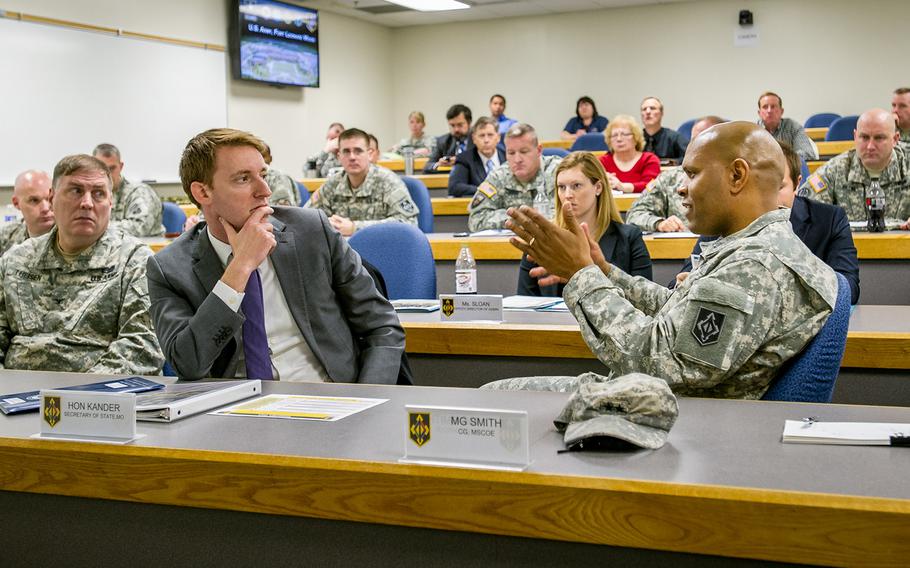 WASHINGTON — Jason Kander, an Afghanistan War veteran widely praised as a rising star in the Democratic party, withdrew Tuesday from the Kansas City, Mo., mayoral race to seek help for depression and symptoms of post-traumatic stress disorder.
Last week, Kander called the Veterans Crisis Line and told a crisis responder that he had suicidal thoughts. On Monday, he went to the Kansas City VA Medical Center, where he's planning to receive regular treatment.
"To allow me to concentrate on my mental health, I've decided that I will not be running for mayor of Kansas City," Kander wrote Tuesday.
Kander posted a letter on his campaign website and Facebook page explaining his mental health struggles. He hopes that being forthcoming will help veterans and others who are working through mental health issues, he said.
"I wish I would have sought help sooner, so if me going public with my struggle makes just one person seek assistance, doing this publicly is worth it to me," he wrote.
Kander, 37, was an Army intelligence officer in Afghanistan in 2005. When he returned home, he became involved in politics and won a seat in the Missouri House of Representatives in 2008. In 2012, he was elected to be Missouri Secretary of State, becoming the first millennial in the country elected to a statewide office. He was 32 at the time.
Kander entered the 2016 U.S. Senate election and won the Democratic primary, but he was defeated in the general election by Sen. Roy Blunt, the Republican incumbent. He entered the Kansas City mayoral race in June.
He detailed his wartime and political experience in a memoir, "Outside the Wire," which was published in August and is now a New York Times Bestseller.
Since 2005, his deployment in Afghanistan has affected him every day, he wrote Tuesday. For years, he rejected the notion of having PTSD because he felt he "didn't earn it."
"But on some level, I knew something was deeply wrong, and that it hadn't felt that way before my deployment," he wrote. "After 11 years of this, I finally took a step toward dealing with it, but I didn't step far enough."
Kander went to the Department of Veterans Affairs four months ago, but at the time was "too scared to acknowledge my true symptoms." He was afraid of the stigma and potential political fallout, he said.
His symptoms recently worsened.
"Last Tuesday, I found out that we were going to raise more money than any Kansas City mayoral campaign ever has in a single quarter," he wrote. "But instead of celebrating that accomplishment, I found myself on the phone with the VA's Veterans Crisis Line, tearfully conceding that, yes, I have had suicidal thoughts. And it wasn't the first time."
In "Outside the Wire," Kander wrote he was lucky to not experience PTSD. On Tuesday, he said when he wrote that he was "just trying to convince myself."
According to the VA, 11 to 18 percent of veterans from the Afghanistan and Iraq wars will struggle with PTSD when they return. That's higher than the rest of the population, among which 7 to 8 percent experience PTSD.
Kander thought running to be mayor of Kansas City, his hometown, would "fill the hole inside of me."
"After 11 years of trying to outrun depression and PTSD symptoms, I have finally concluded that it's faster than me," he said. "That I have to stop running, turn around and confront it."
In addition to dropping form the mayoral race, Kander said he'll step back from his work at Let America Vote, a voting rights advocacy organization that he founded.
In a statement posted on Twitter, Roy Blunt, Kander's former political opponent, praised Kander for speaking openly about his mental health issues.
"It's important to talk about mental health like all other health," Blunt said. "When people like former Secretary of State Kander are willing to do so, it moves the entire discussion in the right direction."
Kander ended his letter Tuesday by encouraging others to seek help.
"If you're struggling with something similar, it's OK," he wrote. "That doesn't make you less of a person."
To reach the Veterans Crisis Line, text 838255 or dial 1-800-273-8255 and press 1.
wentling.nikki@stripes.com Twitter: @nikkiwentling