Advocates paint differing pictures of the state of religion in the military
---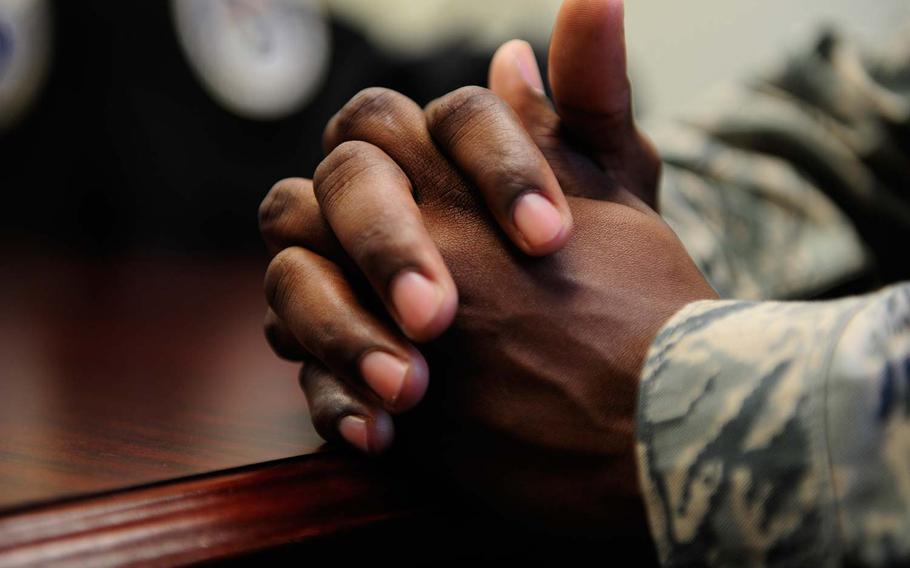 WASHINGTON — Religious liberty advocates painted widely divergent pictures of the state of faith in the U.S. military for House legislators Wednesday, with some claiming rampant proselytization and others complaining that believers are punished for expressing their faith.
The purpose of the hearing by the House Armed Services personnel subcommittee was to examine the effects of recent changes to federal law and Defense Department policies governing religious expression in the military.
The 2013 National Defense Authorization Act directed the Department of Defense to accommodate religious expression as much as possible without damaging the military, and exempted chaplains from performing religious duties they believe violate their faith. DOD followed up in January with a policy that critics and supporters alike say loosens the reins on religious expression.
Among other effects, policy change eases the way for members of religious minorities who believe their faiths require beards, turbans other types of traditional grooming or dress to receive official accommodation for not meeting uniform regulations.
But retired Navy chaplain Rabbi Bruce Kahn told legislators that the new policy may also open a door for those inclined to relentlessly try to bring others to their faiths.
"Where you have individuals who believe they're on a mission to bring others to their point of view … then you have cracks in unit cohesion and you have real problems with maintaining readiness and being prepared to go to war," Kahn said.
Religious conservatives who spoke at the hearing said the new legislation and policy is promising, but it's not yet being implemented consistently. As a result, they said violations of religious freedom continue.
"Our concern now is how that guidance is going to be interpreted by those on the field, particularly on the wing level, the brigade level, and their JAGs and how they will interpret that," said Ron Crews, a retired Army chaplain and executive director of the Chaplain Alliance for Religious Liberty.
Crews related an incident involving a Christian airman in the Ohio Air National Guard whose online article about his religion was quickly removed. Meanwhile, at Moody Air Force Base, Ga., an atheist airman was allowed to write about his beliefs on an Air Force website, Crews said.
"This double standard must stop," he said.
But Mikey Weinstein, head of the Military Religious Freedom Foundation and a vocal critic of what he terms the "Christian Taliban," said the new policy may embolden commanders who "wrongly believe that the First Amendment gives leaders an unrestricted right to proselytize or witness to their subordinates."
Unlike in civilian life, he said, "the subordinate must listen respectfully and deferentially or risk being punished under the Uniform Code of Military Justice for showing disrespect to a superior."
Courts have said the military may have valid reason to restrict some forms of religious expression, Weinstein said. He recommended severe discipline for commanders who attempt to proselytize their subordinates.
But Michael Berry, senior council and director of Military Affairs for the Liberty Institute, said Christians face an "alarming increase in incidents of religious hostility within our military, both in frequency and severity."
He cited cases including an 18-year Air Force member relieved of his duties because, Berry said, he disagreed with his commander on religion. An Army commander and 24-year service veteran faced the possibility of career-ending discipline for speaking against what he saw as an unjust religion policy, he said.
The result, Berry said, is a "chilling effect on religious freedom and expression that harms our entire military."
Disagreements over the role and conduct of the chaplain corps — which among other things has seen fights in recent years over the propriety of sectarian prayers in mixed groups — also reared its head.
Kahn said military chaplains have a unique duty to serve all, and the needs of servicemembers are more important than a desire for religious expression.
"As a Jewish chaplain, I don't pray in Hebrew or Aramaic when doing so defeats the point of my presence," he told legislators, an apparent comparison to some Evangelical Christian chaplains who have argued they have the right to pray in Jesus' name in any setting. "I don't counsel by citing the Talmud when I know that people with me have no awareness of or affection for that source."
But Rep. Walter B. Jones, R-N.C., said constraining chaplains from saying what they believe is un-American.
"I do not know how we in America can think that we should have control over the conscience of a man of faith, whether they be Jewish, Muslim or Christian," he said. "That is not America, military or non-military."
carroll.chris@stripes.com Twitter: @ChrisCarroll_
---
---
---
---