Advocacy groups hail military move to study transgender issues
by
Steven Beardsley
July 14, 2015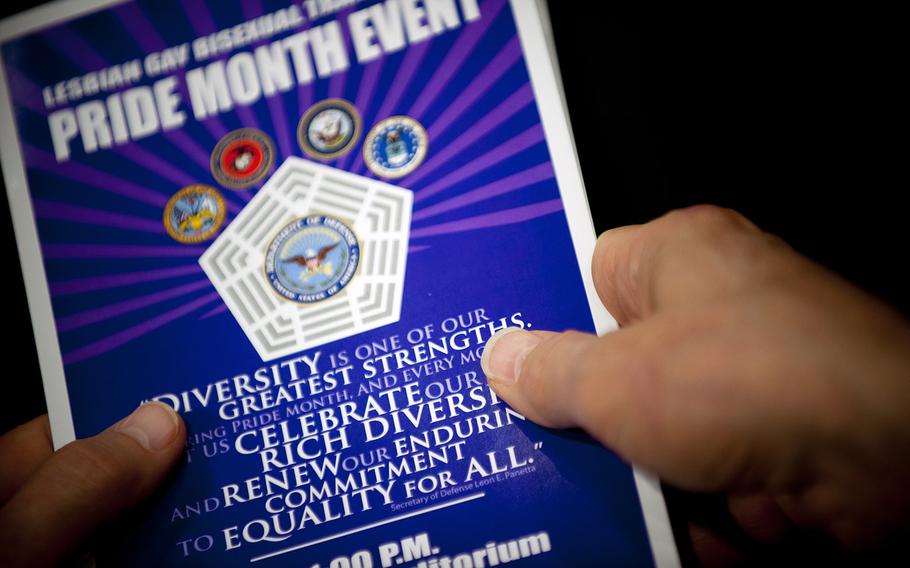 The military took a big step toward lifting its ban on transgender servicemembers on Monday by forming a working group to review the issue and making it more difficult for transgender men and women to be discharged in the meantime.
The announcement by Defense Secretary Ash Carter reflects growing scrutiny on the ban in recent years as the military overhauled other personnel policies, recognizing gay and lesbian troops and opening combat positions to women.
"The Defense Department's current regulations regarding transgender service members are outdated and are causing uncertainty that distracts commanders from our core missions," Carter said in a statement announcing the change.
Advocacy groups and transgender servicemembers and veterans applauded the announcement, which sets a six-month timeline for the group to finish its work and suggested the final result would be a lift on the ban.
"Six months is more than enough time to hammer out the details. This isn't new ground," said Allyson Robinson, policy director for the gay, lesbian and transgender advocacy group SPARTA. "A number of our military allies deploy transgender troops alongside American forces downrange, as do DOD contractors."
The working group will identify the medical, legal and administrative issues that would accompany a repeal of the ban, according to the announcement. Led by acting Undersecretary of Defense for Personnel and Readiness Brad Carson and staffed with representatives of each service and the Joint Chiefs, the group will begin its work from the assumption that transgender men and women can serve openly, Carter said, "except where objective, practical impediments are identified."
Carson will have final authority for any decisions to remove transgender persons from the services, a decision that had rested with each service.
The term "transgender" includes anyone who identifies with or expresses him- or herself as a gender different from the one assigned at birth. Some transgender people choose medical procedures as part of their transition.
As many as 15,500 current active-duty servicemembers, reservists and National Guard members are transgender, with another 135,000 veterans, according to a 2014 estimate by researchers at the UCLA School of Law. The majority appear to be male-to-female transgender women, according to a survey published in 2013 in the LGBTQ Policy Journal at the Harvard Kennedy School.
The military's current ban was based on older medical beliefs that transgender people suffered from an identity disorder, an idea scrapped years ago by prominent medical and psychiatric organizations. Last month, the American Medical Association adopted a policy stating there were no medical reasons for barring transgendered people from military service.
The repeal of "don't ask, don't tell" in 2011, which allowed gay and lesbian servicemembers to serve openly in the military, put a spotlight on transgender issues in the military. Attention to the issue grew in 2013, when Chelsea Manning, the Army private formerly known as Bradley Manning, announced her transition shortly after being sentenced to 35 years in prison for leaking secret documents.
The Army initially refused to pay for Manning's hormone therapy before relenting in February, after Manning filed a lawsuit.
The military asked services last year to assess their policies toward transgender servicemembers. Carter indicated his openness on the issue in February, days after his arrival in the department, while speaking to servicemembers in Afghanistan.
"I'm very open-minded about [it] provided they can do what we need them to do for us," he said. "That's the important criteria. Are they going to be excellent servicemembers?"
Some services made their own policy changes. The Army removed decision-making authority for discharges under the ban from unit commanders and doctors in March, giving it instead to a senior civilian. The Air Force followed suit in June.
Veterans Affairs hospitals provide hormone therapy for transgender veterans but do not provide sex-reassignment surgery.
Among issues likely to be reviewed by the working group will be whether transgender servicemembers undergoing hormone therapy can bear hardship posts, how the military covers medical expenses associated with transitioning, and integration into some units.
Advocates and transgender servicemembers say they've been serving for years, even if they've remained quiet about their identity. Some have deployed, and some say they would prefer to remain in the military if possible.
Army Spc. Robyn Reeves, with the military's American Forces Network, said she hopes to make a full career of the military if the ban is lifted. She said she's found acceptance within her command, and has been supervised by military doctors as she undergoes estrogen therapy.
"I've been written off more times than I can think from strangers on the street and even from my family. It was really difficult to deal with," Reeves said. "So having this support system of servicemembers from a variety of backgrounds that didn't write me off is worth gold."
Autumn Sandeen of San Diego, who served in the U.S. Navy from 1980 to 2000 as Stephen Sandeen, before transitioning to a woman, said a repeal of the ban would finally allow transgender servicemembers to be themselves.
"They get to serve with integrity and be who they are, just like all the other servicemembers," she said. "They get to bring their whole real selves into the workplace."
Stars and Stripes reporters Seth Robson and Chris Church contributed to this report.
beardsley.steven@stripes.com Twitter: @sjbeardsley