Advocacy group wants survivor benefits for all military families who lose a service member to coronavirus
by
Rose L. Thayer
April 27, 2020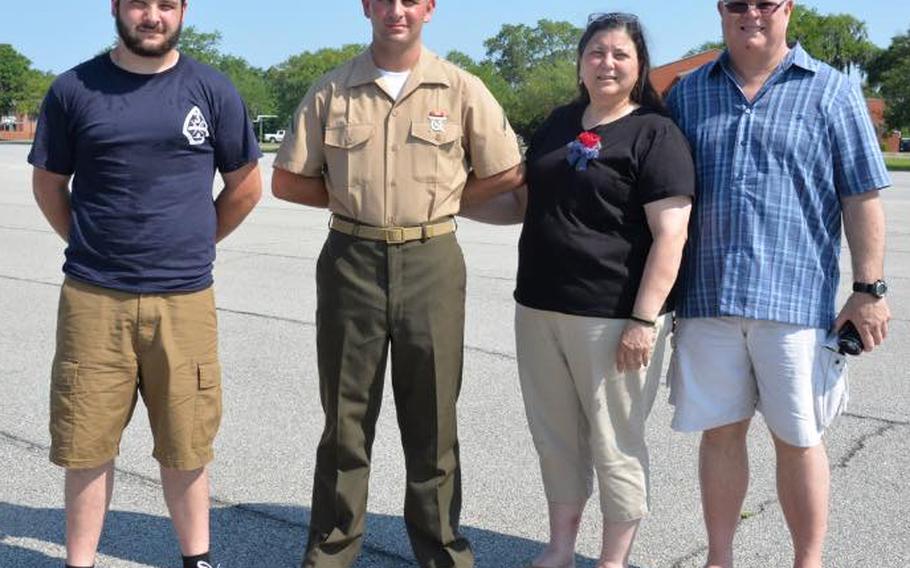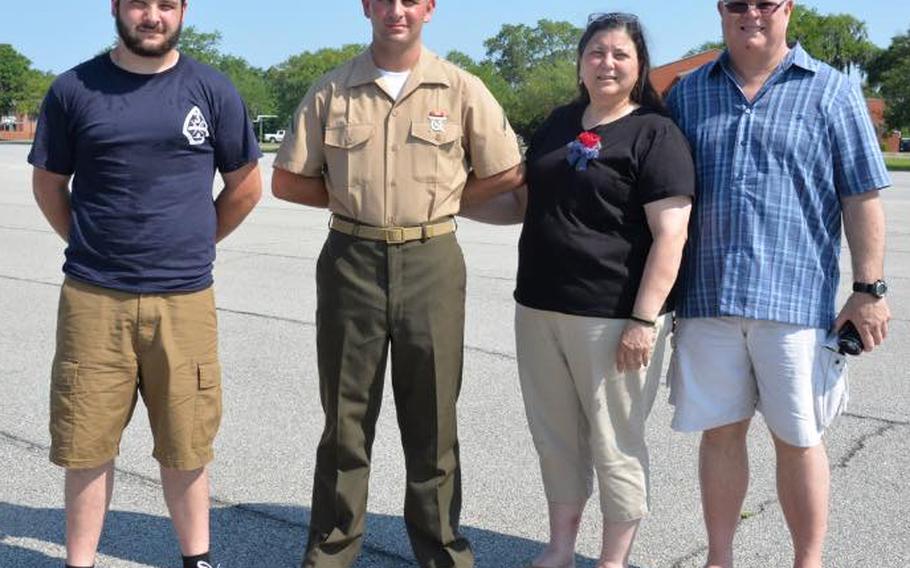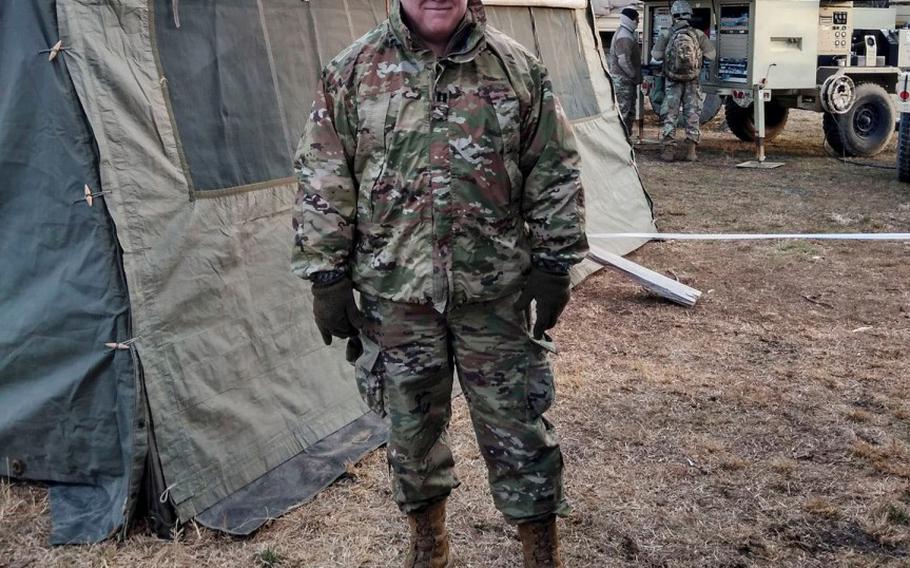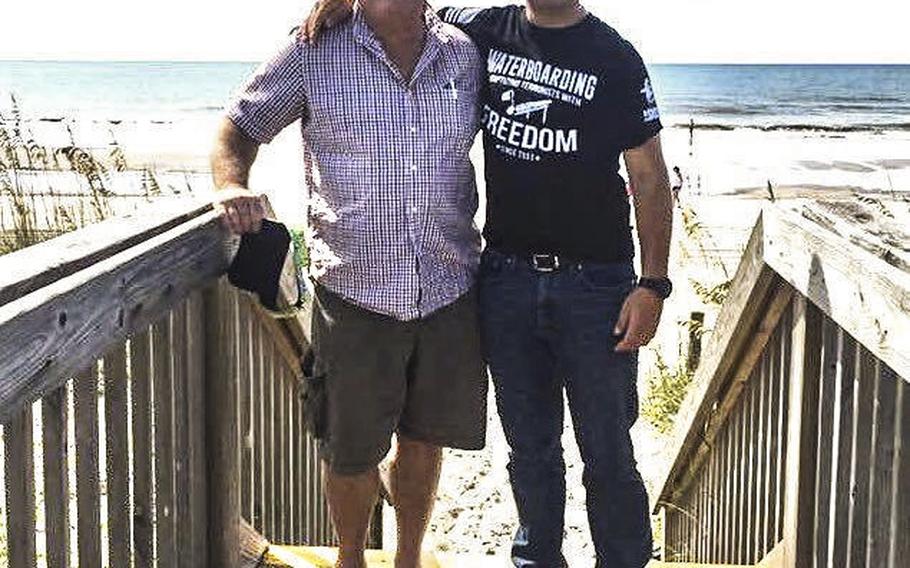 Stars and Stripes is making stories on the coronavirus pandemic available free of charge. See other free reports here. Sign up for our daily coronavirus newsletter here. Please support our journalism with a subscription.
Army Capt. Douglas Hickok was set to deploy with the New Jersey National Guard on March 21. Instead, he was admitted into a Pennsylvania hospital and died one week later from the coronavirus.
Days prior, the 57-year-old physician assistant attended a training session for his upcoming deployment on state orders to combat the virus. Had he been preparing for a federal deployment, his family would receive the benefits eligible to the survivors of an active-duty service member. But, as it stands now, his family will not.
On March 28, the day that Hickok died, President Donald Trump authorized New Jersey to activate National Guard troops on federal orders known commonly as Title 32, which could allow troops to receive financial aid, health care, retirement points and education benefits, as well as death gratuity. At that time, only about 12,300 Guard troops were activated in response to the virus and only those troops in New York, California and Washington had federal approval.
As of Monday, about 44,500 National Guard members were activated in the fight against coronavirus and about 80% of those service members are now on Title 32 status.
But the Tragedy Assistance Program for Survivors, or TAPS, a nonprofit and advocacy group for families of fallen service members, is looking to get the remainder of those troops on federal status and to backdate it to help Hickok's family receive federal benefits, such as monthly survivor compensation, education benefits or a death gratuity.
TAPS representatives sent a letter Friday to the leadership of the House and Senate Committees on Veterans' Affairs signed by 36 veteran-serving organizations to express concerns that the benefits for service members deployed across the country to combat the pandemic are uneven and some troops could be without coverage should they become ill or die, said Candace Wheeler, policy director for TAPS.
"We respectfully request that the House and Senate Veterans' Affairs Committees quickly pass legislation to secure federal survivor benefits to the families of Guard members activated under state orders who die of [coronavirus] related causes. The National Guard has always answered when our nation needs them and they deserve the benefits earned for such selfless service," according to the letter.
The letter is in advance of legislation being written to help get full active-duty benefits to National Guard and Reserve troops deployed in response to the pandemic.
"Our concern has been, first, that should they contract this virus they get the care they should be getting. Also, if they were to die from [the coronavirus], their family gets the full protections and benefits from [the Department of] Veterans Affairs and the Defense Department," Wheeler said.
Troops should not be left with only state benefits because they vary too greatly, she said. The hope is to get the legislation passed on its own or as part of another coronavirus package.
More than 740 members of the National Guard have tested positive for the virus as of Friday, according to the Defense Department. The information does not clarify which of those troops were activated at the time that they tested positive. About 3,919 service members of all military branches have tested positive. Hickok and Navy Chief Petty Officer Charles Robert Thacker Jr., 41, are the only two service member deaths from the virus, though another 97 were hospitalized by it.
Hickok's widow, Marianne Abbruzzi-Hickok, said Friday that she questions why the Guard is treated different.
"This is combat on American soil. It's a pandemic," she said. "They are all warriors, and they are out there fighting this. The Guardsmen and women do not have the same protections, their families do not have the same protections, yet they're all fighting the same fight."
Now the caregiver for her 97-year-old mother, Abbruzzi-Hickok said she's seen firsthand the lifelong impacts her father's service in the Navy had on his widow.
"My father was 100% service-connected disabled, and because of that my mother is taken care of," she said.
The Enlisted Association of the National Guard is one of the 30 organizations to sign TAPS letter to Congress, said Frank Yoakum, the organization's executive director and a Guard retiree. He said this isn't the first time that unequal benefits have been an issue for members of the National Guard.
In 2007, two pilots died in an Apache helicopter crash in Utah. One Guard member was on Title 32 federal status and the other was a part-time Guard member training.
"The survivors' benefits were absolutely different even though it was a common accident," Yoakum said. "Their spouses got totally different benefits."
The association worked with Congress and changed a federal law to allow for active-duty benefits to go to Guard members who die during a training weekend.
The only other similar circumstances occurred during the terrorist attacks of 9/11, when National Guard members from New York and Washington, D.C. deployed to help with recovery efforts, Yoakum said. Congress eventually offered federal retirement points because the troops were responding to a national event, despite being on state active-duty status.
"That gulf has been breached once, can we breach it again? Can we say even though Capt. Hickok was on state active duty, because this is a national emergency, can we convey federal benefits even though he wasn't in a federal status?" Yoakum asked. "That's why we threw our support behind it, because we say, 'Why not, breach it again?'"
Other organizations to sign the letter include the American Red Cross, the Association of the U.S. Army, the Association of the U.S. Navy, the Elizabeth Dole Foundation, the Fleet Reserve Association and the National Military Family Association.
Abbruzzi-Hickok said she's in her last semester of a nursing program and should she receive the federal benefits from her husband's death, she would use the education benefits to become a nurse practitioner.
"I would be able to go back then to continue my husband's legacy," she said.
The couple married in 2007 and Abbruzzi-Hickok said that aside from his own two children, Hickok influenced the lives of her two sons as well. One is now a corporal in the Marine Corps Reserve in New Jersey. She imagines the impact the TAPS legislation could have on other reservists and Guard members, including her son, should he get called up in the fight against the coronavirus.
"It's not about my husband, it's about his fellow brothers and sisters in arms," she said.
Thayer.rose@stripes.com Twitter: @Rose_Lori