Additional 540 troops heading to US-Mexico border to back up border agents during coronavirus outbreak
by
Rose L. Thayer
April 1, 2020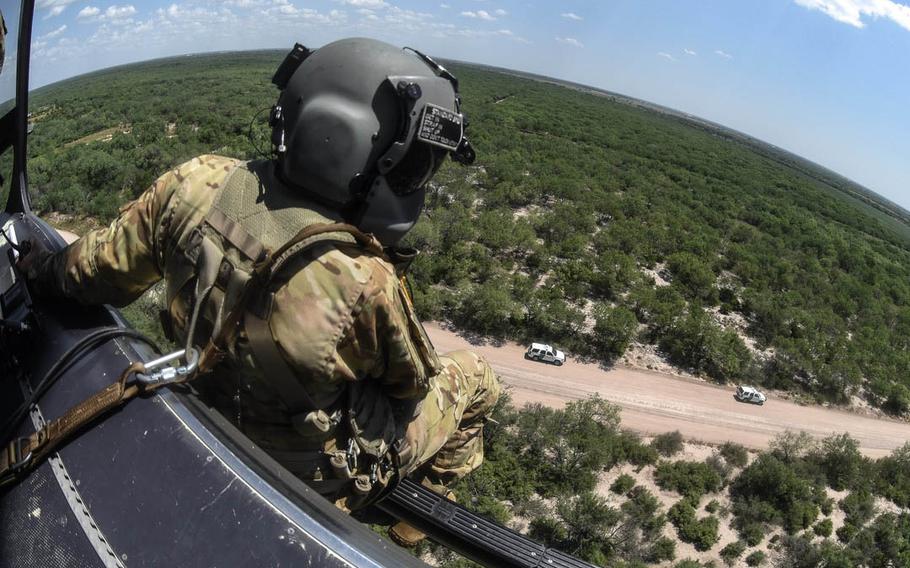 Stars and Stripes is making stories on the coronavirus pandemic available free of charge. See other free reports here. Sign up for our daily coronavirus newsletter here. Please support our journalism with a subscription.
AUSTIN, Texas — An additional 540 troops will deploy to the U.S.-Mexico border to back up Border Patrol agents capturing and deporting unlawful migrants during the coronavirus pandemic, Lt. Gen. Laura Richardson said Wednesday.
The additional troops were approved for deployment Monday by Defense Secretary Mark Esper, said Lt. Col. Chris Mitchell, a Pentagon spokesman. They will join roughly 5,200 service members — about 2,500 National Guard and 2,700 active-duty troops — already deployed to support U.S. Customs and Border Protection agents in states along the southern border.
The new troops will provide more military support to Border Patrol agents given new authority in the fight against the coronavirus pandemic, said Richardson, who commands Army North.
To help stop the spread of the coronavirus, the Department of Homeland Security announced U.S. Customs and Border Protection agents are now authorized to apprehend migrants who illegally enter the United States and return them immediately to the country from which they entered, either Canada or Mexico.
The authority was granted March 21 and is in place for 30 days. Prior to the order, agents would detain people and place them in holding facilities.
"We want to make sure we are supporting that [new authority]," and approving more troops "adequately supports them and their mission to further protect our country," Richardson said during a phone call with reporters.
Troops deployed to the southern border work alongside Border Patrol agents using mobile surveillance detection equipment, working in detention facilities, conducting administrative tasks and providing food service, transportation and medical. The additional service members will conduct similar work and allow for troops to better meet health safety guidelines that prevent the spread of coronavirus, Mitchell said.
National Guard troops were first authorized to deploy to the border in April 2018 and active-duty troops joined them about six months later. The mission is authorized to continue through fiscal year 2020, which ends Sept. 30.
Deployments initially began to support Border Patrol as apprehensions jumped to historic levels, peaking to more than 144,000 people apprehended in May 2019, according to Customs and Border Protection data. In February, that number was down to about 30,000.
thayer.rose@stripes.com Twitter: @Rose_Lori